How Spike Lee Can Fix His Kickstarter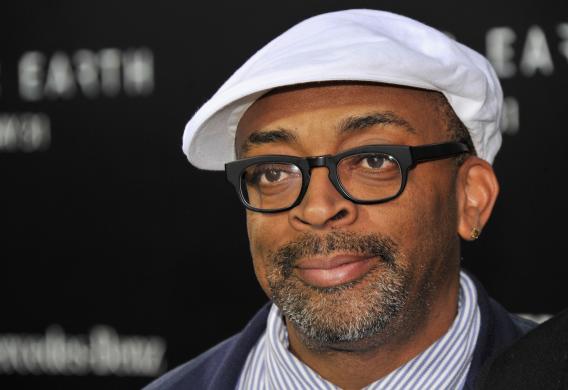 Following in the footsteps of Zach Braff and Veronica Mars' Rob Thomas, the latest filmmaker to turn to Kickstarter is none other than Spike Lee. Yes, that Spike Lee, the renowned filmmaker, artistic director of NYU's graduate film program, and Knicks season-ticket holder.
While some might think it unseemly for such a successful filmmaker to turn to his fans for extra cash, Lee has a long history of struggling to get funding for his projects. (Last year's Red Hook Summer was self-financed and shot in 19 days.) Lee has suggested that his inability to secure financing is due to the fact that the majority of his films deal with black characters and tell stories from a black perspective—the kind of subject matter Hollywood has often brushed off as "unmarketable."
Lee's cause may be worthy, but his crowdsourcing effort is off to a somewhat slow start. The project has received roughly $143,000 in pledges during its first three days, toward a goal of $1.25 million. Braff and Mars, by contrast, easily surpassed their goals of $2 million each within that same time frame. Why isn't Lee reeling in the dough?

The problem is in the pitch. The director seems to understand the basic idea of Kickstarter—the part where ordinary people donate money—but doesn't get how to convince those potential donors to open up their wallets. To his credit, he made a couple of savvy moves in his ask: He begins his video pitch standing outside the offices of his production company, 40 Acres and a Mule, in Fort Greene, Brooklyn, reminding fans of his loyalty to the borough where he grew up and the neighborhood where he produced his early films. He was also wise to remind viewers of all the performers whose careers took off after appearing in a Spike Lee joint, a list that includes Halle Berry, John Turturro, Kerry Washington, and Samuel L. Jackson. Yet the pitch is undermined by other well-intentioned yet misguided tactics, which demonstrate a lack of familiarity with Kickstarter and its denizens. As fans of Lee's work, we'd like to offer a few suggestions for how he can fix his pitch and save his movie.
Lee is very new to Kickstarter movement—and it shows.
Lee begins his appeal by explaining how he learned of Kickstarter. "Last week, one of my students told me about two big developments with Kickstarter," he says, before referring to the successes of Braff and the Veronica Mars projects as inspirations. It's not a promising start. For one, it makes the pitch seem like an undercooked idea—Lee's attempt to hastily imitate those models. It also makes him come off a bit cocky. His thought process seems to have been: If a guy who's only made one other feature and a television show that was prematurely cancelled can find success on Kickstarter, surely the director of Do the Right Thing and Malcolm X can count on his fans for their financial support. Lee's self-assuredness is often charming; here, it surely struck many viewers as grating. Lee also just seems out of touch—so as recently as two weeks ago, he was completely unaware that famous filmmakers were funding their own projects through Kickstarter?
Lee doesn't sell his financial struggles clearly enough.
Lee smartly anticipates those who would question why a filmmaker of his stature needs his fans to fund his next film. But this moment in the video is too brief. Rather than awkwardly reading the names of every single movie he's made since She's Gotta Have It, Lee would have benefited from making his appeal more personal. Why didn't he inform potential donors of his struggles to bring Malcolm X to the screen? The film was "saved" by several prominent black figures, including Oprah Winfrey, Bill Cosby, and Magic Johnson, who contributed to the project after Warner Bros. and the bond company controlling its finances refused to increase its budget.
And it's not just Lee's politically charged passion projects that have had trouble finding financing. He could have reminded us that Hollywood studios refused to fund a sequel for Inside Man, his highest-grossing film to date, and a global success that pulled in over $180 million. "I couldn't get them to fund a sequel to Inside Man, my most successful film ever," he told Business Week when explaining why he decided to self-finance Red Hook Summer. "If that wasn't a signal, then I don't know what is. I refused to go through the frustration of knocking on steel doors, hat in hand like Oliver Twist, saying "Please sir, can you make this film?" Why didn't he remind of us of this in his Kickstarter video?
Lee tells us almost nothing about his next project.
Lee's description of the movie he wants our help to make is shockingly vague. He describes it as a film about "the addiction of blood," though notes, not entirely helpfully, that the movie is not Blacula. (He's since offered only a smidgen more detail: It'll feature a lot of "butt-naked black people.") Part of the reason why the Veronica Mars project worked so well and so quickly is because it was funding a familiar property—fans had already connected with the characters and story, and thus had an idea of what they would be getting on the screen. Braff, for his part, laid out a brief, but informative summary of his upcoming film, Wish I Was Here, with character names and a basic premise.
One of Lee's greatest assets as a filmmaker is that his films have varied wildly in subject matter—interracial romance; a historical biopic; World War II soldiers on a mission; an elaborate bank heist; a drug dealer's last day before going off to prison. We never quite know what we're going to get from Lee, and that's a good thing—he missed an opportunity to entice us with the surprising turn he intends to take next.
There's still hope for Lee in the fundraising department: Steven Soderbergh has pledged $10,000 (and thus gets to sit courtside with Lee at a Knicks game, per one of Lee's rewards to donors). And he's still got 27 days to go. If he were to retool his approach, try to understand what makes successful Kickstarters kick, and tell us a bit more about how he plans to spend our money, he might still have a chance of hitting his goal—and we'll have a chance to see the crowdfunded Spike Lee joint we never knew we wanted.

Previously
Did Veronica Mars Ruin Kickstarter?
Trailer Critic: Spike Lee's Oldboy