Does Janelle Monáe's New Song Address Her Sexuality?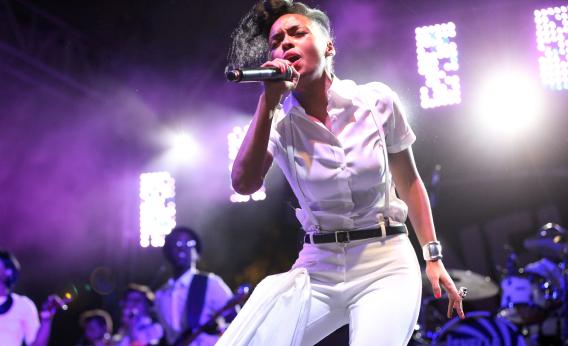 Q.U.E.E.N. was inspired by private discussions between Erykah and me. It is meant to make you JAM. DANCE. FUNK OUT. and dialogue later...

-- Janelle Monae (@JanelleMonae) April 22, 2013
At first listen to "Q.U.E.E.N.," you might be flummoxed as to what could be so "personal" and "private" about it that could make you "dialogue later." Over a decades-spanning mix of gospel vamps, funk guitar, super-freaky synths, and hip-hop bass, Monáe sings above all not about the deepest desires of her head or her heart but of her hips. "Am I a freak for dancing around?" Monáe sings on the chorus. "Am I a freak for getting down?" For her last album, Monáe took on the identity of alter-ego Cindi Mayweather, but here the message is about being yourself.
That message becomes more striking in the third verse, when Monáe, or her character, seems to sing about her attraction to another woman. "Say is it weird to like the way she wear her tights?" she asks. "Am I a freak because I love watching Mary?" She goes on to wonder whether God will accept her this way: "Hey sister am I good enough for your heaven?/ Say will your God accept me in my black and white?/ Will he approve the way I'm made/ Or should I reprogram the programming?"

Aspects of Monáe's look and persona have been described as queer before. Earlier this month, BuzzFeed took an image-heavy look at how "Monáe is queering music and fashion." Her signature tuxedo uniform, as New York magazine noted back in 2010, is inspired by gay icon Marlene Dietrich. Hailing from Kansas, she's also compared herself with one of the most famous gay icons of all, Judy Garland: "I'm Dorothy and we are all on a journey to Oz," she said in an interview with Pride magazine, referring to the help her mentors and collaborators have offered along the way.

And she's built up enough of an LGBT following to prompt questions about her sexuality in the past. When Rolling Stone brought up the subject, noting that her fashion choices had caused some to wonder about it, Monáe replied with good humor: "The lesbian community has tried to claim me," she said, "But I only date androids." At other times she's spoken more directly to the LGBT community. Referring to the difficulty of being an African-American female, she told AfterElton.com in 2011, "I want the gay and lesbian community to understand that I know what it's like to feel like the 'other,' and I'm writing a song that … will hopefully open up people's minds."

Above all, Monáe seems determined to break down labels and categories, not to confine herself to one. In this aspect, her persona's biggest influence, for all its references to Dietrich and James Brown (on her ArchAndroid tour, she began and ended each set in a cape), might be Prince, who spent years teasing that he might be gay. On "Controversy," he even asked the question himself, leaving it open-ended: "Am I straight or gay?" While part of this was arguably marketing, it was also about rejecting boundaries. "What is queer, what does that mean? I don't believe in categories," Monáe is quoted as telling The New Gay. Or, as she says in "Q.U.E.E.N.," "we break all your rules down … Categorize me, I defy every label."