How Do You Catch Up With a Show 8,000 Episodes Into Its Run?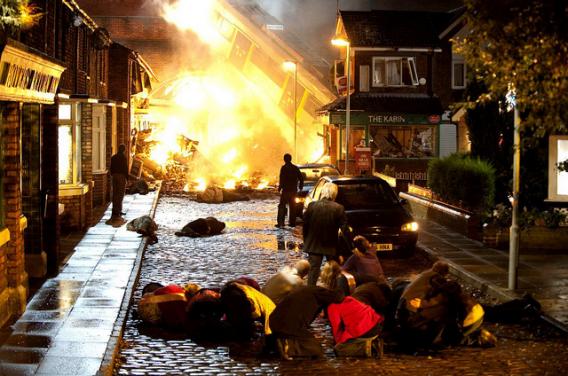 Coronation Street, the world's longest-running TV soap opera, has been on the air in its native Great Britain since 1960. A kitchen-sink drama about a working-class Northern English neighborhood, the show quickly went to no. 1 in the ratings and has stayed near the top ever since. (Since the similar, London-based, EastEnders was created in 1985, the two shows have battled for the top spot.)
Now, thanks to Hulu, Americans can experience the show's strange, hilarious charms just two weeks after episodes air in the U.K. But how do you jump into a show that is more than 8,000 episodes into its run? Slate spoke with the show's executive producer, Kiernan Roberts, about diversity, the challenges of keeping a long-running show fresh and relevant, and what makes Corrie—as Brits affectionately refer to the show—Corrie.
Slate: Coronation Street has only been available on Hulu for a couple of months, but it's been airing in the U.K. for more than 50 years. That's a lot to have missed. What's the most important thing American viewers need to know about the show?
Kiernan Roberts: Of course, there are stories and aspects of characters' lives that new viewers will have to catch up with, but the fact we've been around for 52 and a half years in the U.K., and have aired about 8,100 episodes must say something pretty good about the quality of the show, our characters, and storytelling.
The premise is very, very simple: This is a program about the sometimes extraordinary lives of some pretty ordinary people living in a back street in a fictional town called Weatherfield, which is somewhere in Greater Manchester. These are generally very down-to-earth, working people. They aren't rich or particularly glamorous, but their lives can be very, very exciting.
Although the show has been around for 52 and a bit years, most of our stories play out over months rather than years, and some are even shorter than that. So, hopefully, anybody coming new to the show will very quickly get hooked. I would also say that right now is a very good time to be coming in, because we've got a huge story that revolves around a fire in the Rovers Return pub. It's a big event, and it's very easy to see what's going on there.
Slate: Alongside all the high drama, there's a lot of humor and silliness in Coronation Street. There have always been characters that have roles somewhat akin to Shakespearean fools—they're there for laughs but also to point out larger truths.
Roberts: No matter how big, how dramatic, or how gritty a story we're telling, we must find room for humor. Back in 2002-03, we played a serial-killer storyline featuring a character called Richard Hillman, and in one of the most dramatic episodes in the program's history, when [spoiler alert!] Richard Hillman confessed to his wife, Gail, that he'd killed a neighbor and had tried to kill Gail's mother, and clearly her own life was in danger, she offered the immortal line, "You're Norman Bates with a briefcase," a reference to his day job as a financial adviser. We absolutely insist on maintaining that balance between drama and humor.
Slate: I've been enjoying the utter silliness of the Flash storyline—in which a middle-aged character, Mandy, believes her partner, Lloyd, has killed the tortoise she's had since childhood. It's incredibly touching to think that Flash is her oldest friend, but it's also being played for laughs.
Roberts: It's a nice way into a relationship. Lloyd and Mandy are very new as a couple, and we thought it would be lovely to explore that relationship and the fact that they were close 30 years ago and utterly lost touch and are now getting to know each other again, to explore that through a pet who goes back as far as they did—and then some. And then there's some classic comedy of errors. Lloyd thinks he's taken the tortoise to the tip and killed it, but perhaps he hasn't. That's another point for new viewers: A lot of our comedy stories run for much shorter periods of time than the big dramatic storylines. We'll often tell a comedy story in the space of a single week, so whenever somebody is thinking of joining the show on Hulu, they will find something to get their teeth into very quickly.
Slate: A show that's been running so long has obviously had a lot of viewer turnover. How do you keep recruiting new, younger viewers?
Roberts: We do have a loyal core audience who've been with us for decades. I'm often reminded of this in a family context because my wife's grandmother has been watching the show for 52 years. As a general principle, we have one eye looking at the great tradition of the show, making sure we're not unwittingly and carelessly trying to reinvent it, because that would be a disaster. If we lose our sense of identity, and lose the DNA of the show, we're all in trouble. The other eye is looking out at the modern world around us. We've got lots of young characters, many of whom have grown up on the show.
We also make sure the show has a contemporary feel and that it's addressing issues from the world around us. For example, we're currently reaching the climax of the story with Kirsty and Tyrone. It's a female-on-male domestic violence story. That makes it sound very dry, very issue-based—in fact, it's a gripping character-based story, but we've taken the issue bit of it very seriously. We've talked to experts, and we've liaised with charities. It's a story we're very proud of, because it's 100-percent Coronation Street, but it's breaking new ground. We don't think that particular kind of domestic issues has ever been tackled in a big mainstream soap in the U.K. before.
Slate: And in part you're able to do it because there have already been plot lines involving male-on-female domestic violence. You're not suggesting this is the only, or most prevalent, form.
Roberts: Absolutely. Over the years we've run several high-profile stories where the man has been abusing the woman in the relationship. If we were inadvertently suggesting this was the only kind of domestic abuse that would be very dangerous. But we know it does go on out there, and it's largely unreported because there's stigma and shame for the men involved.
Slate: When I left Britain 25 years ago, the regular cast was all-white, entirely straight, and uniformly able-bodied. Today, there are Asian, black, gay, and disabled residents on the street. Is it important to you to reflect the changes in places like Weatherfield and the mix of people that you'd have on a street like Coronation Street?
Roberts: It's absolutely essential that the program is diverse onscreen in every way possible. We have several black and Asian characters and a disabled character who is anything but token. And gay characters as well—it's no secret that Tony Warren, the show's creator, is a gay man. To be honest, I think we could have had our first gay character on the show sooner than we did, but now we have several well-established gay characters. We have to make sure that we continue to be diverse, and not in a token way—our characters who are nonwhite, disabled, gay, whatever, must be at the center of big stories and not just on screen as part of a box-ticking exercise. Weatherfield is a fictional district of Greater Manchester, but it's got to be more than that. It's got to represent a sort of microcosm of U.K. society if this program is going to continue to be a national institution.
Slate: It's also striking how much intergenerational diversity there is. Partly it's that there are some longstanding characters—like Ken Barlow, who has been on the show since the very first episode. Is it hard to come up with storylines that involve young people and older folks?
Roberts: Actually, we've never found it difficult, and we do think it's really important. We love nothing better than to get a household where there are three or four generations under the same roof. I love watching scenes that involve very young characters and much older characters, where you skip a generation or two. It's fascinating to see those interactions. Another area where I think Coronation Street is a little bit groundbreaking is the number of older characters we have. There's been a big debate about ageism on U.K. television in the last few years, suspicions that people have possibly lost jobs because they're considered to be too old. I don't know if any of that's true with the other shows, but we love and we absolutely celebrate our older characters and actors. We have several cast-members who've been with the show 40-plus years and a couple who've been with the show 50 years or more.
Slate: What's your favorite Coronation Street moment?
Roberts: One of the all-time great stories has to be the Ken-Mike-Deirdre love triangle, when Deirdre Barlow had to decide whether to leave her husband, Ken, for Mike Baldwin, with whom she'd been having a fling behind Ken's back. The nation was absolutely gripped; 20 million or so viewers were watching this story. It was a national event. One of the other great Manchester institutions is Manchester United Football Club, and when Deirdre finally made the decision to stay with Ken, the result of the story was flashed up on the scoreboard at Old Trafford during half time. It was considered such a big deal that they felt the 60,000 or 70,000 people at the stadium couldn't wait until they got home to find out.
This interview has been edited and condensed.