Beyoncé Wants You to "Bow Down"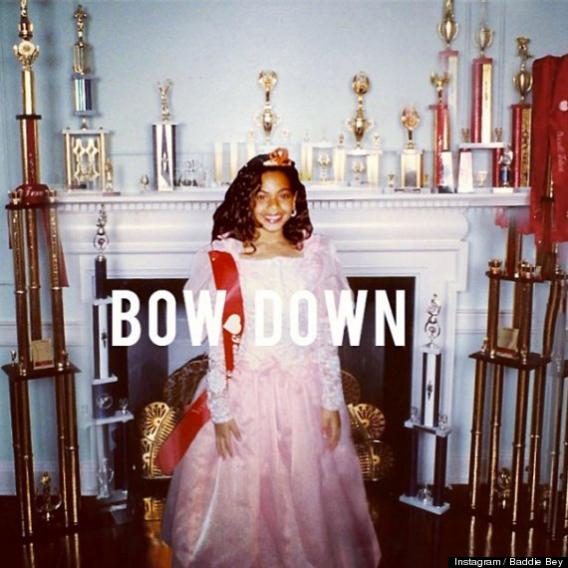 Though it had been over a year since she released any new solo material, Beyoncé-mania reached a new peak earlier this year when the singer performed at Obama's second inaugural, headlined an epic Super Bowl half-time show, and then released a self-directed (and fairly unrevealing) documentary. She shows no signs of slowing down, dropping a new song unceremoniously on her Tumblr last night. Produced by Hit Boy, who also worked on Jay-Z and Kanye West's "Niggas in Paris," "Bow Down / I Been On," is an aggressive, cocky anthem that finds Beyoncé experimenting with vocal distortion and all the ways she can say that she occupies the throne atop the pop music landscape.
What's interesting about the better (and shorter) portion of the song, "Bow Down," is not so much the grandiose, rap-style boasting, nor the repetition of "bitches" (or sometimes, "bishes") in the chorus; Beyoncé's been trading on the "Queen Bey" thing for quite some time, on similarly styled tracks like "Diva" and "Run the World (Girls)." What's alarming is that it seems to be directed at a very specific audience: The women who have criticized her. The opening lyric begins, "I know when you were little girls/ You dreamt of being in my world/ Don't forget it, don't forget it/ Respect that: Bow down, bitches."
Beyoncé has typically reserved her egocentric anthems for a vague audience of "haters," but here chooses to pinpoint the women who aren't her biggest fans. (Some have suggested this is a direct shot at singer Keri Hilson, who has a history of expressing disdain for Mrs. Knowles-Carter.) As someone who has championed female friendships and spent over a decade speaking to women from an empowerment perspective, this seems to add to the complexities of Beyoncé as a feminist icon.
The rest of the track, "I Been On," finds Beyoncé riffing rather than actually singing, her vocals slowed down and distorted to a male-sounding timbre, employing uninspired lyrics seemingly cribbed from generic rap songs. ("I heard your boo was talking lip/ I told my crew to smack that trick.")
Vulture points out that this probably isn't the lead single to her forthcoming album, since the full track list for that has supposedly already been leaked. And that's probably a good thing. While this is a decent filler track, it's fairly underwhelming, and will probably only satisfy the most ardent of Beyoncé fans—those already inclined to bow down.