Veronica Mars Movie on Its Way, Thanks to Kickstarter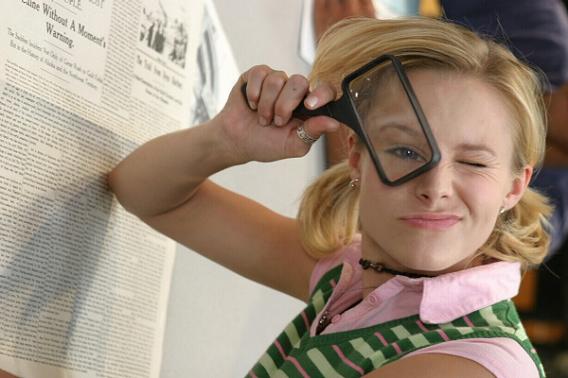 Fans of Veronica Mars, the beloved teen drama/detective series canceled in 2007, have long gotten used to movie rumors. But this morning they woke up to something more than a rumor: a Kickstarter project, launched by series creator, Rob Thomas (not that one), with the support of the show's star, Kristen Bell.
Many TV shows with cult followings have died before their time, but the guillotining of Veronica Mars was especially cruel: It got canceled in the middle of its third season, with various plot points—including a recurring romantic triangle involving two of the shows leads characters, Logan (Jason Dohring) and Veronica (Kristen Bell), plus Piz (Chris Lowell)—still unresolved.* A trailer for Season 4 hit the Web a few years back, prompting some new hope, but this Kickstarter campaign is the first real sign that the story will continue. If the movie comes to fruition, it will apparently be released in 2014 and center around a 10th high school reunion.
Like any good fangirl, I'm excited about the Kickstarter campaign—but also a bit confused. The funding platform is a way for creators of everything from iPad cases to mason jar martini shakers to raise money in order to bring projects to life. Those who donate typically receive incentives based on how much they donate. (The incentives for the Veronica Mars movie are really something; one donor has already paid the $10,000 it took to get a speaking part, as a waiter/waitress.) If the project doesn't receive all the money it needs to move forward, they're refunded. Typically the money raised by a Kickstarter campaign directly funds the work that's being done. (When it's not used that way, people sometimes get upset.)
But Thomas does not spell out explicitly what the $2 million he's trying to raise will go toward. In response to the question, "Where is my money going?" the campaign's FAQ simply says it "will go into a Veronica Mars Movie Project production account which has been set up by Warners Bros. on our behalf." Presumably once Warner Bros. actually gets on board, the actual budget for the movie, when you factor in advertising and other additional costs, will exceed $2 million dollars.
The Kickstarter campaign, then, seems to be largely about convincing Warner Bros. that enough people want to see the movie. And it also serves as free advertising, generating coverage in the press (like this blog post). As Thomas explains, a few years ago he pitched a movie that centered around Veronica's college graduation, but "Warner Bros. wasn't convinced there was enough interest to warrant a major studio-sized movie about Veronica and the project never got off the ground." By donating to the Kickstarter campaign, you are partly paying to sign a petition, proving that you really want the characters to come back.
Thomas does say that if the campaign raises enough money, it could change how much they can spend on the movie. If it raises $10 million, for instance, then maybe "the Neptune High class reunion takes place on a nuclear submarine! A Hobbit shows up! There's a Bollywood end-credit dance number!" But those examples suggest that he's joking, at least a little.
If this campaign is successful, then, it could help change the nature of what Kickstarter does—not just providing funding, but perhaps increasingly serving as a promotional platform. "If it works," Alan Sepinwall argues, "this could change the game for fans of canceled shows with a similar profile, where the overall audience wasn't big enough to keep it on the air, but passionate enough to fund some kind of follow-up project like this." But why wait until the show is canceled? Couldn't a TV series launch a campaign like this in order to keep a show on the air? Maybe if Kickstarter was around in 2007, we'd already know whether Veronica ended up with Logan or not.
In any case, given that the campaign launched this morning is already a quarter of the way to that $2 million goal, we're likely to find out soon enough.
Update, March 13, 8:55 p.m.: The campaign has reached its $2 million target.
*Correction, March 13, 2013: This post originally misspelled the name Piz, the character played by Chris Lowell.