Does RuPaul's Drag Race Have a Camp Problem?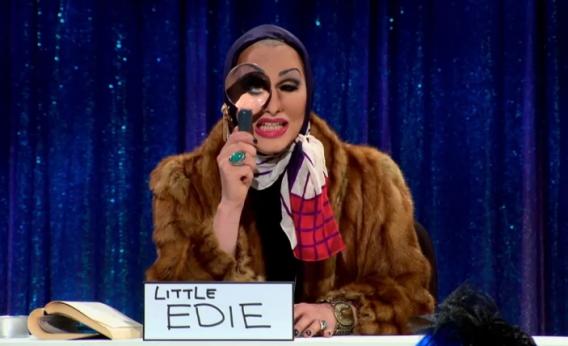 Since it sashayed into the reality show landscape in 2009, RuPaul's Drag Race, now in its fifth season, has proven itself to be a glamour queen—which makes sense, given that host and show-creator RuPaul's style of drag could be described as high glamour with an edge. But there are other styles of drag in the world—punk, genderqueer, goth, campy—and when queens on the show dare champion them, the judges tend to be critical rather than accepting. If I could point to one flaw in an otherwise perfect show, it would be this outsized preference for pageant beauty at the expense of everything else.
Regular viewers will rightly point out that Sharon Needles—the very definition of goth with her gallows humor and Elvira-styling—triumphed in Season 4. I was thrilled with that unexpected development and had hoped that it represented an aesthetic turning point on the series. But in Season 5, it appears we're back to glamour-land, with a slate of queens who, with a few execptions, seem to value being "fishy"—i.e., as convincing in their imitation of women as possible—above all else. I challenge you to find a five-minute block of any episode that doesn't contain that word flopping around on deck.
But fishy has its limits, and they were never more apparent than in this week's episode, which featured the Snatch Game, a fan-favorite over the past few seasons. Styled on the 1960s hit Match Game, the contest begins with Ru asking an innuendo-laden question of a duo of guest "celebrities." The queens, who are all meant to be impersonating specific celebrities (Cher, Madonna, and so on) record their answers on cards. Ru then compares the celebrity answers with the queens' to see if there is a match. This rarely happens; the point of the exercise is comedy, not points.
As you might expect, much of that comedy comes from the impersonation skills of the queens themselves. They not only need to look like their star, but also must channel that figure's idiosyncrasies, clichés, and neuroses to humorous effect—they need to be, in a word, campy. Unfortunately, Monday's edition of the Snatch Game revealed almost all of this season's contestants as fish out of water. Alaska and Roxxxy Andrews were passably funny as Lady Bunny and Tamar Braxton, respectively, but the clear winner of the night—partially because she had no competition—was Jinkx Monsoon as Little Edie, the troubled and transcendent cousin of Jackie Kennedy featured in the canonical camp documentary, Grey Gardens.
Jinkx's interpretation of Little Edie was excellent, and she deserved to win. But, based on the admittedly edited version of events that we saw, none, not one, of Jinkx's peers seemed to know what Grey Gardens even was. And worse than that cringe-worthy ignorance was the embarrassing gall some of the queens displayed in making fun of Jinkx for her camp knowledge. When Coco Montrese, until now a favorite of mine, tried to "read" (that is, artfully insult) Jinkx during the Snatch Game by asking Ru who Little Edie was, I almost felt pity for how stupid she looked. Almost.
I get that a drag queen needs to be capable of glamour and exhibit some facility in working the runway—that's an important part of the job. And to be sure, Jinkx Monsoon could step up her game a bit in that regard. (Her outfits sometimes give a little too much "off-the-rack," so to speak.) But drag queens, first and foremost, are the high priestesses of camp—or perhaps its monks: They, more than anyone else, must study its manuscripts, illuminating them for future generations through performance. To not even know the title of a well-known classic of the camp canon like Grey Gardens is a sin worthy of excommunication. And forget Little Edie—what about the fact that Ivy Winters didn't even catch the most basic reference to Marilyn Monroe (i.e. "Happy Birthday, Mr. President") that Ru tried to softball-toss her way during the game? If you were hoping for some Seven Year Itch call-outs, tough luck.
I don't expect every queen to quote chapter and verse—though I encourage it—from every camp movie or figure who ever existed. But these contestants' utter lack of familiarity with the history of their art and milieu was just sad. Being fishy is nice, but ladies, you're not women. You're drag queens, and a huge part of that is camp literacy. Otherwise, you're just one of those weird, humorless, and vaguely misogynistic "gender illusionists." As far as I'm concerned, until the other ladies stop reading each other long enough to read a book (try this one to start), Jinkx Monsoon is the only gal qualified to call herself a queen.
Correction, Feb. 27, 2013: This post originally misspelled Jinkx Monsoon's first name.