The Grey Album Gets Remastered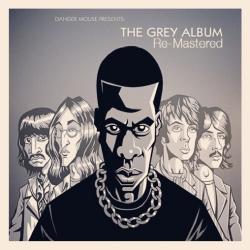 The idea of yet another mashup album may seem tiresome in 2012, but just a few years ago, in 2004, it felt fairly revolutionary. Sure, some had heard things like the Christina-Aguilera-with-The-Strokes remix "A Stroke of Genie-us," but most such tracks couldn't stand on their own without punny titles and high-concept juxtapositions.
The Grey Album helped show that a mashup could be more than a novelty. Its creator, DJ Danger Mouse, now one of music's hottest producers, was one of the first to pair two artists together for a full-length album: All the instrumentation came from the Beatles' The White Album and all the vocals came from Jay-Z's The Black Album. And he mixed the music together better than anyone else had. By putting in more than 200 hours of work, he crafted a remix album good enough that Pazz & Jop chose it as one of the 10 best albums of the year. It didn't hurt, of course, that it stirred up a lot of controversy: EMI requested that Danger Mouse and his fans cease distribution of the album. This only provoked fans to share it more.
So it's appropriate that The Grey Album's new remastering, uploaded this week, is, once again, unauthorized. According to Forbes, Colorado recording engineer John Stewart, who has worked on tracks featuring artists like Kanye West, Big Boi, and John Legend, was struck with flaws in the original's mix, and so decided to "put the sonics on steroids." The result is a clear improvement upon the 192 kbps version I downloaded back in the mid-2000s. You can download the full remastering on MediaFire or listen on SoundCloud below.