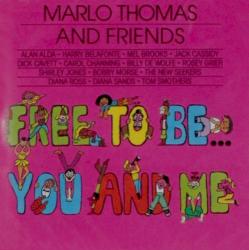 When I was writing my insanely overlong multipart series about Free To Be … You and Me, I was often impressed by the seriousness with which Marlo Thomas and everyone else involved approached their task in 1972: to make a children's album free of gender constraints that would inspire children to be whatever they wanted to be. It was a big deal, what they were doing! And they worked like dogs for nine months to make it happen.
Seriousness isn't the same as humorlessness, though, and I'm inclined to think that Thomas, Carole Hart, Letty Cottin Pogrebin, and the gang would enjoy It's OK To … Do Stuff, the short parody album performed by a cavalcade of comedians, actors, and Twitter personalities, available for download on Rooftop Comedy's website. Written by Rob Kutner, Stephen Levinson, and Joel Moss Levinson, the project even features a few actual musicians (Barenaked Ladies' Steven Page and Go-Go Jane Wiedlin, specifically).
Is it worth your five bucks? Sure, if just barely. (It helps that, according to the creators, proceeds will go to St. Jude's Children's Research Hospital.) The nine tracks total 11 and a half minutes in runtime, and as with all non-Weird Al song parodies, the results are hit and miss. The Lizzy Caplan and Fred Willard spoof of Mel Brooks' and Marlo Thomas' baby-meets-baby sketch, "Girl Meets Boy" basically contains two jokes—far fewer than the subject of the parody, although one more than its follow-up, "Girl Meets Droid." In general, the songs pegged to specific Free To Be tracks are less successful here, dependent as they are on one-upping tunes and skits that were pretty self-aware to start with.
On the other hand, Colin Hanks' and Kimmy Gatewood's "Divorce Makes a Family Twice as Big" is a mean, funny, sharp take on the overarching concept of Free To Be … A Family. And Wiedlin's "It's OK To Do Stuff" is hilarious—it cheerfully skewers not just the concept but the spirit of the whole Free To Be project, that endlessly recursive circle of acceptance that might never end:
Once there was a boy or maybe a girl
From a faraway land nearby
They wanted to do a thing but a person or people
Said you shouldn't even try.
But he or she tried anyway and that boy or girl succeeded
And even if they didn't that's still okay
So enjoy a thing or go to a place
Do the shit out of some stuff today!