The Best Joe Biden Parodies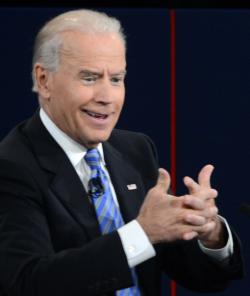 As last night's debate proved once again, Vice President Joe Biden remains an endlessly quotable and oddly magnetic figure on the current political scene. And he's particularly ripe for parody: Countless send-ups of the VP and his impassioned outbursts and wacky gaffes have created hours of satirical entertainment. Who does Biden best? Herewith, a top five.
The VP debate left many liberals fired up, and hopeful that Obama was taking notes for his next turn at bat against Romney. This difference in their personalities—Obama the cool communicator, Biden the loose cannon—is comedy gold, a vein SuperNews! mined well in "Obama & Biden's 'Drummer Boy Duet,' " which you can watch below. See also their "Euro-bama" sketch, in which the president calmly discusses America's improved relationship with Europe, while a hyperkinetic Biden bustles around the Oval Office calling Obama "a big fat spliff of American hope." The Biden voice is a bit too deep, and the jokes aren't as good as the ones higher on this list, but the dynamic between him and the president feels right on the money.
There are countless Twitter takes on the VP, but @VeepJoeBiden is probably the best. It is almost certainly the most prolific, providing stream-of-consciousness musings on a daily basis. Last night, VeepJoe was in full-on debate mode, sharing, e.g., his prep music (Springsteen, Steely Dan, John Cougar Mellancamp) and gloating expertise. Following the Veep was a good way to get psyched for another raucous Biden outing.
3) Jason Sudeikis, Saturday Night Live
Sudeikis first debuted his Biden on SNL back in 2008, saying of John McCain, "God love him, but he's a raging maniac. And a dear, dear friend." But the best of Sudeikis' Biden parodies have portrayed him as a whiny child barely tolerating Obama's parental caution. Locked away in a room labeled "No presidents allowed," surly because he's been told he has a big mouth, Biden receives a visit from his imaginary friend George W. Bush (Will Ferrell, naturally.) Bush gives him an O'Doul's and says, "Heck, those smarty-pants types are never going to understand think-first types like us… They're all brains. You and me, we're all gut and balls."
When the president jets off to Europe, Biden spends some quality time in the "big boy chair" in the Oval Office calling for Jack Bauer. When the President returns, he's disappointed Obama didn't bring him any presents, not even a duty-free Toblerone.
2) Bill Barol, The New Yorker
Biden employs the fairly hokey debate tactic of directly addressing the American people as much as any major politican. In "My Name is Joe Biden And I'll Be your Server," Bill Barol shows us exactly what the VP would be like if he was trying to sell you a Chicken Fontina Quesadilla with Garlicky Guacamole that can rival his hard-working mother's dinners. Here he is getting "emotional talking about José," the food prep guy.
"Do you know what José does? I'll tell you what he does, and folks, folks, this is the point I want to make. With his own hands, he sprinkles fresh house-grown rosemary on those potatoes (raises voice to a thundering crescendo), and they are golden brown on the outside and soft on the inside and they are delicious!"

Still, no one has topped the vision of Biden bequeathed to the world by The Onion. Their Biden is so good he got written up in the New York Times, and deservedly so. The paper's VP debate piece, "Eloquent Biden Brings Entire Audience To Tears In Debate Stunner," is another gem: During his closing remarks, Biden tosses aside his notes, stands on the debate table, lights a cigarette and waxes poetic about life. Like Kevin Costner's criminal reluctantly instructing Buzz in A Perfect World, Biden says that he has made some mistakes ("the fast cars, the hitchhiking, the trips to Juárez"), but hopes he can be treated as a human being:
Over the years I have been made an object of mockery and ridicule… A dope. A fuckin' jester among kings. But don't be fooled. I am also a man who has touched sorrow. And I am a son of a bitch who has spent nearly seven decades on the razor's edge and lived to tell the tale.

The Onion News Network has also gotten in on the satirical act, suggesting that "Biden's sly trademark grin and international playboy status" would make him the ideal Hennessy spokesman. And to accompany Michelle Obama's Let's Move campaign, The Onion's Biden launched his own initiative to tone American women between the ages of 18 and 45. "America's lack of hot bods and beach babes has reached near crisis levels," Joe explained.