The Godfather of Brazilian Soul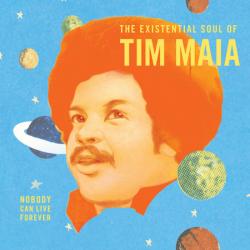 Tim Maia would have turned 70 this Friday. The musician was a superstar in his native Brazil, but he never made it big in the U.S.—despite beginning his career here, arriving in Tarrytown, N.Y., illegally at age 17. He got deported back to Brazil after a marijuana arrest in Florida and hit it big back home a few years later. But not here.
The album opens with "Que Beleza," one of the songs Maia recorded for Energia Racional. The title of the song translates to something like "How Lovely," and while I can't tell what, if anything, the song has to do with flying saucers, that title certainly seems appropriate. You can listen to that song and the rest of the album below. If you like what you hear, you might find your way to one of the Tim Maia birthday parties the label is throwing in cities around the world this Friday. The album itself hits stores next week. Enjoy.