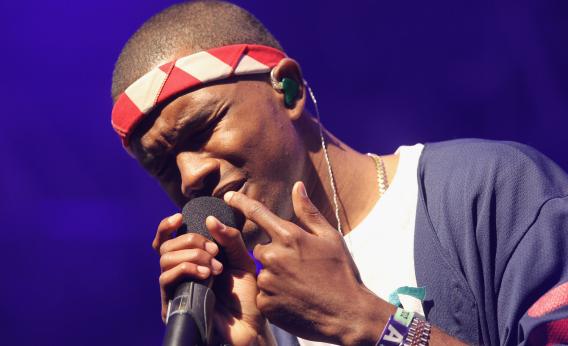 One of R&B's rising stars has come out. Singer Frank Ocean, a marquee member of the hip-hop collective Odd Future and a collaborator with many of music's biggest names—including Kanye West, Jay-Z, and Beyoncé—took to his Tumblr on Tuesday night to describe the "first love" that changed his life, which was with a man.

Ocean's open letter and love story, which describes how he and his beloved struggled with the powerful feelings inside them, is quite moving in its specificity, and is worth reading in full. Here's the passage in which he describes falling in love for the first time:
4 summers ago, I met somebody. I was 19 years old. He was too. We spent that summer, and the summer after, together. Everyday almost. And on the days we were together, time would glide. Most of the day I'd see him, and his smile. I'd hear his conversation and his silence … until it was time to sleep. Sleep I would often share with him. By the time I realized I was in love, it was malignant. It was hopeless. There was no escaping, no negotiation with the feeling. No choice. It was my first love, it changed my life.
As an out man (Ocean doesn't use the words "gay" or "bisexual" in his letter), Ocean has become a trailblazer in the worlds of hip-hop and R&B. While he is by no means the first gay artist in those genres—fellow Odd Future member Syd the Kid is a lesbian, and fellow up-and-comer Azealia Banks considers herself bisexual, to give two of the more noteworthy examples—Ocean has become the most prominent LGBT man in hip-hop. And as an LGBT man, Ocean may face more prejudice than his female colleagues. Just look at the Frank Ocean Twitter impersonator @Frank_Ocean_, which over the last 24 hours has retweeted some hateful messages.

Overwhelmingly, though, Ocean has received strong messages of support. Perhaps the most significant came from hip-hop pioneer Russell Simmons, co-founder of Def Jam, who thanked Ocean for his courage, and noted that his coming out "gives hope and light to so many young people still living in fear." Odd Future crew leader Tyler, the Creator—who used the word "faggot" more than 200 times on his most recent album Goblin, but says that people take his words too seriously—showed his support in his own distinctly Tyler way:


While the talk surrounding Anderson Cooper's coming out largely focused on the idea that coming out just isn't a big deal anymore, Ocean's coming out, at the most pivotal moment of his career (his debut LP hits stores this month), and just as hip-hop seems to be at a turning point—Jay-Z and 50 Cent each came out in support of gay marriage just two months ago—is undeniably a big deal.

Ocean's announcement comes after whisperings that some of the love songs on his upcoming album are aimed at men. While music fans should have no problem connecting with Ocean's same-sex love, the same way that they've long connected with straight singers of the opposite sex, Ocean's sexuality is likely to continue being a part of his music—much more than any newscaster's orientation is a part of his work.

One person who wondered about those pronouns was the critic Jon Caramanica, who profiled Ocean for the New York Times this week. Caramanica's profile makes no mention of Ocean's orientation—it was written before Ocean's announcement, and Caramanica chose not to pry when Ocean avoided gender pronouns in talking about his love life—but it does depict him as a talent who has worked to separate his own life from his work. In light of Ocean's moving coming-out statement, I wonder now if that will change.