Nora Ephron's Most Underrated Movie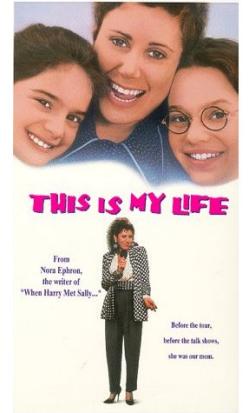 He's talking about This Is My Life, from 1992, based on the 1988 novel This Is Your Life, by Meg Wolitzer. It's about a single mother named Dottie (Julie Kavner) and her two daughters, Erica and Opal (Samantha Mathis and Gaby Hoffmann). After inheriting (and selling) her aunt's house in Queens, Dottie drops her job behind the makeup counter at Macy's and pursues her dream of becoming a stand-up comic. She does well, snagging a high-powered agent (Dan Akroyd) with an odd penchant for eating paper (an Ephron-added tribute to her own agent, Sam Cohn), and begins to hit the big-time. But this causes problems with her kids, who hardly to get to see her anymore.
McGrath isn't the only viewer who was disappointed. Reviewing the film for The New Yorker, Terrence Rafferty couldn't tell what Eprhon was "going for: the discreet, temperate tone doesn't betray any sense of urgency or purpose." He calls the film "modest," a word also used, interestingly, by Lawrence Frascella in a 1993 piece about Ephron for Rolling Stone. It's an oddly belittling adjective for a movie that is radically unapologetic about its focus on a single mother, her career, and her two daughters, and which is remarkably clear-eyed about the conflict between parenting and professional life. That subject matter gives the understated movie its urgency and purpose. (It's also on a short list of very good movies about stand-up comedy.)
Is it a coincidence that all these disappointed viewers are men? I'm going to say no. Consider the far better (in both senses) review by Janet Maslin, which called the movie a "picture-perfect slice of New York life … that even at its most generous and funny manages to retain a penetrating clarity."
I was only able to see the movie thanks to a recent film series at the Brooklyn Academy of Music, which was curated by Lena Dunham. The series was devoted to films about female friendship, and included some wildly underappreciated movies directed by women (such as Claudia Weill's great Girlfriends). After the screening, Dunham told Ephron that she watched This Is My Life over and over when it came out on video. Ephron (who was candid and hilarious) explained that the movie's development was thrown off when Dawn Steel, briefly the head of Columbia Pictures, was fired.
Jon Peters was now running Columbia and I had to have a meeting with him and his girlfriend at the time who was a Swedish model named Vendela. And he told me very proudly at the meeting that he had made 65 movies and had never once read a script and he wasn't going to start now, but could I tell him about my movie. It was a total nightmare and I walked out of the meeting and thought my life was in the hands of this person.
The movie ended up at Fox, but that studio was not terribly supportive; it remains unavailable on DVD, and is not on Netflix or Amazon, either. The sad thing about dismissals of the film by McGrath and others is that they make it less likely that this sorry state of affairs will be rectified. So consider this my pitch to Fox: Get this movie on DVD, and soon. Everyone should have the chance to see it.