Did You See This? All of Mitch Hedberg's Sandwich Ads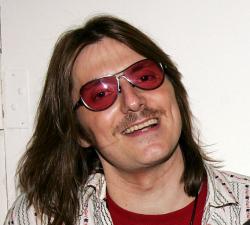 Today marks the seventh anniversary of the death of Mitch Hedberg, the brilliant comedian once hailed as the next Jerry Seinfeld (though his sensibility was probably too off-kilter for such mainstream mega-success). To commemorate the anniversary, Laughspin dug up the little-known radio spots Hedberg did for Jimmy John's Gourmet Sandwiches, which you'll find below.

While they may have been recorded primarily to earn some spare change (Hedberg is explicit about his "contractual obligations" in the spots), these recordings find Hedberg's sense of humor fully intact. One of the most striking moments comes when Hedberg first breaks from his signature slurred delivery, a key part of his stage persona. Otherwise the jokes come naturally to Hedberg, whose comedy was more loving than sardonic—and who was especially fond of joking about food (including bananas, burritos, Rice Krispies, rice…).

For those new to Hedberg, these spots are worth checking out, but the ideal starting place would be a CD like his Strategic Grill Locations, perhaps alongside Sam Anderson's 2005 obit in Slate. For hardcore fans, discovering new Hedberg material is sadly all too rare.