Oh Snap!: Stop Taking So Many Family Photos and Start Editing Them in More Interesting Ways
This holiday weekend, millions of family photos will be taken. Some images will make it onto Facebook or Picasa or even Flickr. Most, however, will sit on memory cards and computer hard drives for months, unviewed. 2011 was the year of too much picture-taking and too little picture-editing. When it comes to personal photos, I'm guilty of the same.
But it's not too late. In fact, it's the passage of time that often provides enough perspective to edit family photos in meaningful ways. I was reminded of this while looking through photographer Chris Verene's book, Family.
The latest edition came out nearly a year ago and had been sitting on my desk almost as long. "Do I care enough about these people to sift through an entire book of photos of them?" I asked myself while looking at the first image (below). My initial answer was no.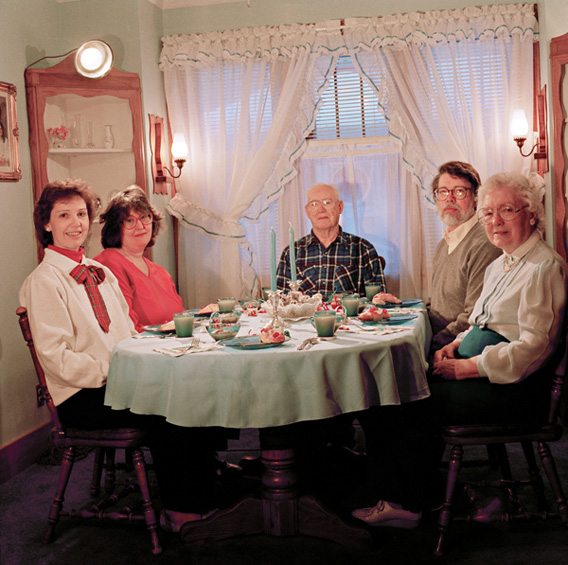 When I actually took the time, however, I discovered a moving act of editing genius. Entire, dramatic story arcs are presented through the careful juxtaposition of two or three photos. Verene has photographed three generations of his close and extended family in Galesburg, Illinois over the last few decades. This means thousands and thousands of photos—a potential disaster. But he presents the major developments in such succinct and yet personal ways that even a skeptical stranger like me can't avoid being sucked in.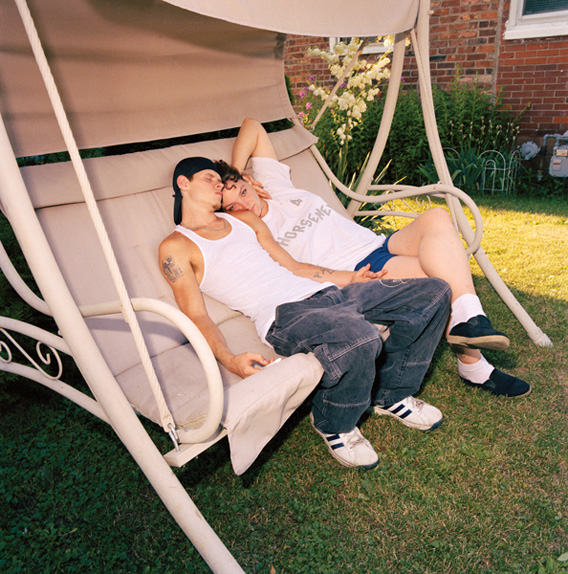 An image of a house with a tree on the roof (caption: "the same day they signed the divorce papers a tornado hit the house") is followed by "Craig's new house" (a barren room with deer heads on the wall) and then a sweet, awkward image of "Candi's new boyfriend." The young fellow holding a "pregnancy test" in one hand and his girlfriend's hand in the other is followed by a tiny baby and the caption "Mercedes has never seen her father."
Few people craft their family photo albums this way. When parents divorce, we hide away the photos of their early married days. When fathers disappear, we dump their smiling faces into a box in the basement. Rarely do we put the family dinner with our estranged family member next to the one the following year, without them. But two generations down the line, isn't it the honest edit we'll crave?
Verene's project began on Christmas day in the 1980s, he told me on the phone. He was still in high school and he printed out a photo he'd taken of his family sitting at the table (it's now the first image in his book) as a Christmas present to give to everyone.
"Some people I knew that saw it said, 'I think it's art.' And I hadn't intended it that way. I was too young to really know what it all was going to be." But this inspired him, and he decided to keep photographing his family, as well as other families in the town. As they grew comfortable with his role as community documentarian, they opened up during good times and bad. Divorces, homelessness, mental illness—these too are part of Family.
"I didn't know if the pictures were going to be important to some aspect of the story until later on," he explains.
Sometimes it's the seemingly bland moment that makes what follows poignant. Often, images that seemed exciting in the moment get tossed, Verene says. Unable to let go on his own, after he'd pared 1,000 pictures of a subject down to 100 and then down to 2, he'd call over someone who had little familiarity with that story to see what spoke to them.

Digital photos have made us all excessively snap-happy. This makes editing harder. But as Verene demonstrates, taking the time pays off. Thousands of family pictures are useless when sitting, forgotten and disorganized, on a computer heading toward extinction. But when carefully—and honestly—selected, they can move even a total stranger.

Oh Snap! is Brow Beat's weekly photo feature. Have you spotted a project that's worth profiling? Pitch to ohsnapidea@gmail.com.