Are the Muppets Communists?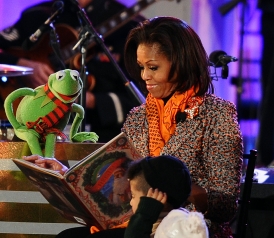 Fox Business Network did its best last week to match the Fox News Channel's great tradition of surreal, self-parodying, manufactured outrage. Their latest target: The Muppets.
In a Follow the Money segment, host Eric Bolling and guest Dan Gainor of the conservative Media Research Center went after the latest Muppet movie's anti-corporate message, equating the film with Communist propaganda. Though we can't wait to see how Jon Stewart handles the episode on The Daily Show, the Twitterverse seems to have already beat him to the best punch line.
The Twitterati have suggested that House Republicans investigate the potentially un-American activities of Kermit, Fozzy, Miss Piggy, and Gonzo (especially Gonzo, obviously) with the popular hashtag #GOPMuppetHearings. It seems to have started, or at least started to take off, with this straightforward Tweet by blogger Oliver Willis:
"Mr. The Frog, have you ever been a communist?" #GOPMuppetHearings
Slate's own judicial columnist Dahlia Lithwick helped keep the ball rolling:
Talk a little more about this whole "rainbow connection" #GOPMuppetHearings
And YOU Mister Swedish Chef, I assume that in your country "morp morp morp" signifies the means of production, yes?? #GOPMuppetHearings
Here are some of our other favorites from today's shenanigans:
@owillis: "Let me phrase it in a way you can understand: Elmo love redistribute income?" #GOPMuppetHearings
@julietlapidos: "Mr. The Grouch, the First Amendment protects speech, not your right to camp out in a tent, tarp, or garbage can" #GOPMuppetHearings
@nightoatmeal: "Well I believe that being green is a choice, Mr. The Frog." #GOPMuppetHearings
@phillipwserna: RT @jennygadget: "Mr. Frog, is it or is it not true that you and your cohorts once tried to 'take' Manhattan?" #GOPMuppetHearings
Your move, Mr. Stewart. You can watch the Fox Business Channel segment below.