Britain's Beloved Victorian-Era Pleasure Piers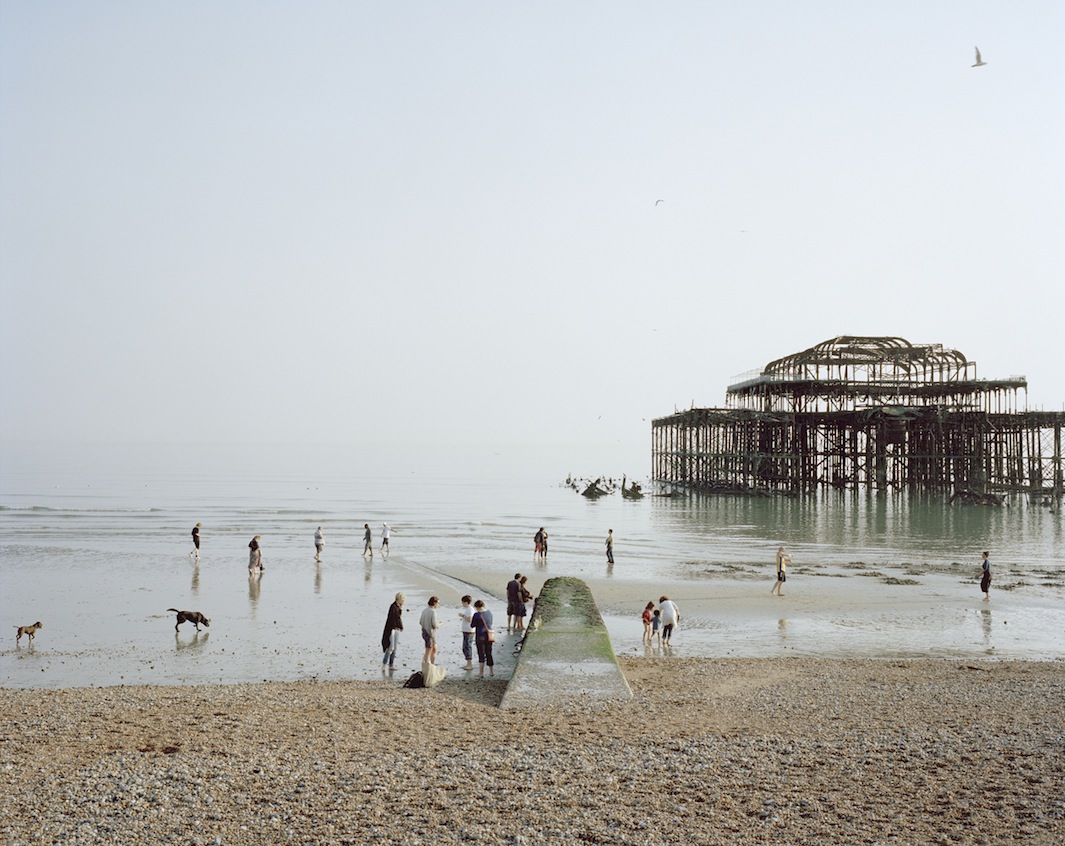 In Britain, seaside piers are a national treasure. Constructed mostly during the 19th century, they were built as landing strips for steamboats and then became destinations in themselves, particularly for visitors traveling by rail. While quite a few were once home to grand ballrooms and theaters, most now host slot machines and merry-go-rounds. A few retain their original architecture, while some have lost important structures. Of the approximately 100 piers that stood at the turn of the century, only 58 remain.
Simon Roberts became interested in the piers after the Telegraph commissioned him to photograph some of them for a feature a few years ago. "When I started researching, I realized there was no contemporary study of the piers. Yet they form such a part of the memory of a lot of British people, given that most of us have grown up by visiting a pier at some stage in our childhood," Roberts said.
The results of Roberts' research are now on display in an exhibition, "Pierdom," at Klompching Gallery in Brooklyn, N.Y. Roberts spent three years photographing all the surviving piers on the British coastline, as well as many of the so-called "lost piers," which have either been destroyed or demolished. Locating the piers or pier sites, which are all mapped through the National Piers Society, wasn't an issue. Finding the best way to photograph them, Roberts said, presented the real challenge. "Often I'd try to find an elevated perspective. That meant ringing on doorbells of apartments or trying to get on top of flats or shops around the piers so I could see them in the context of the landscape," he said.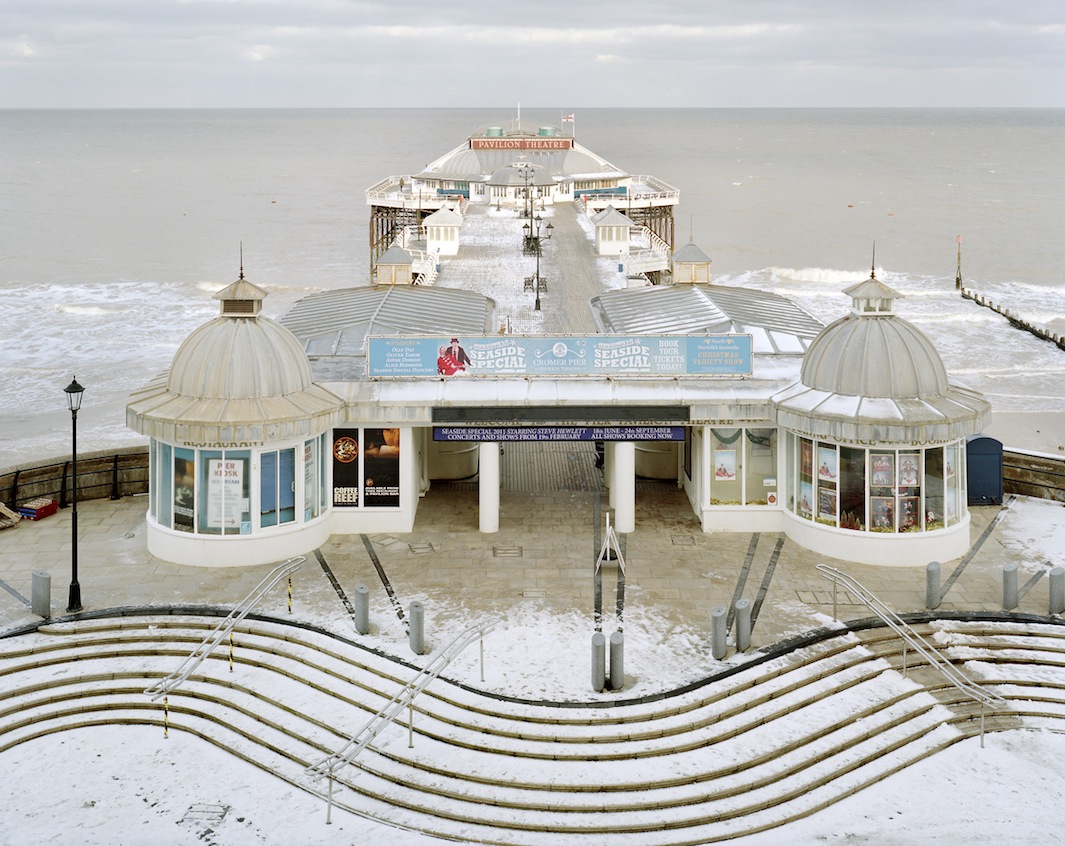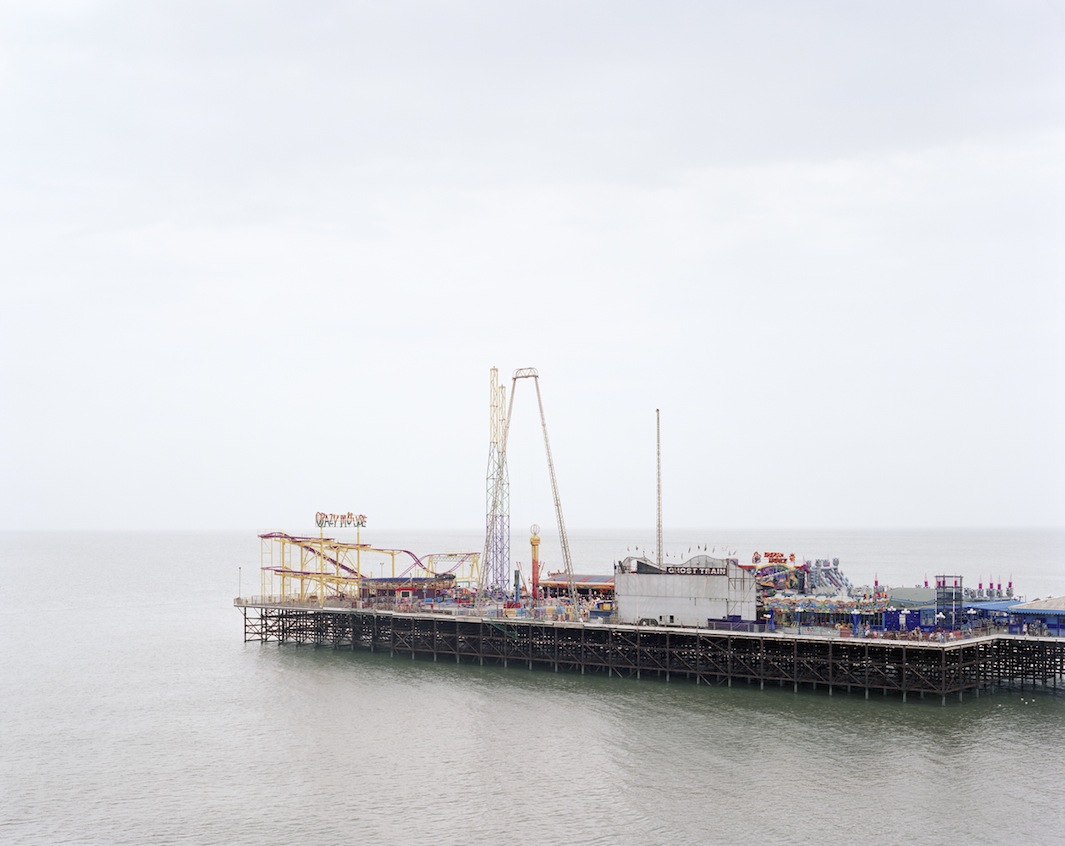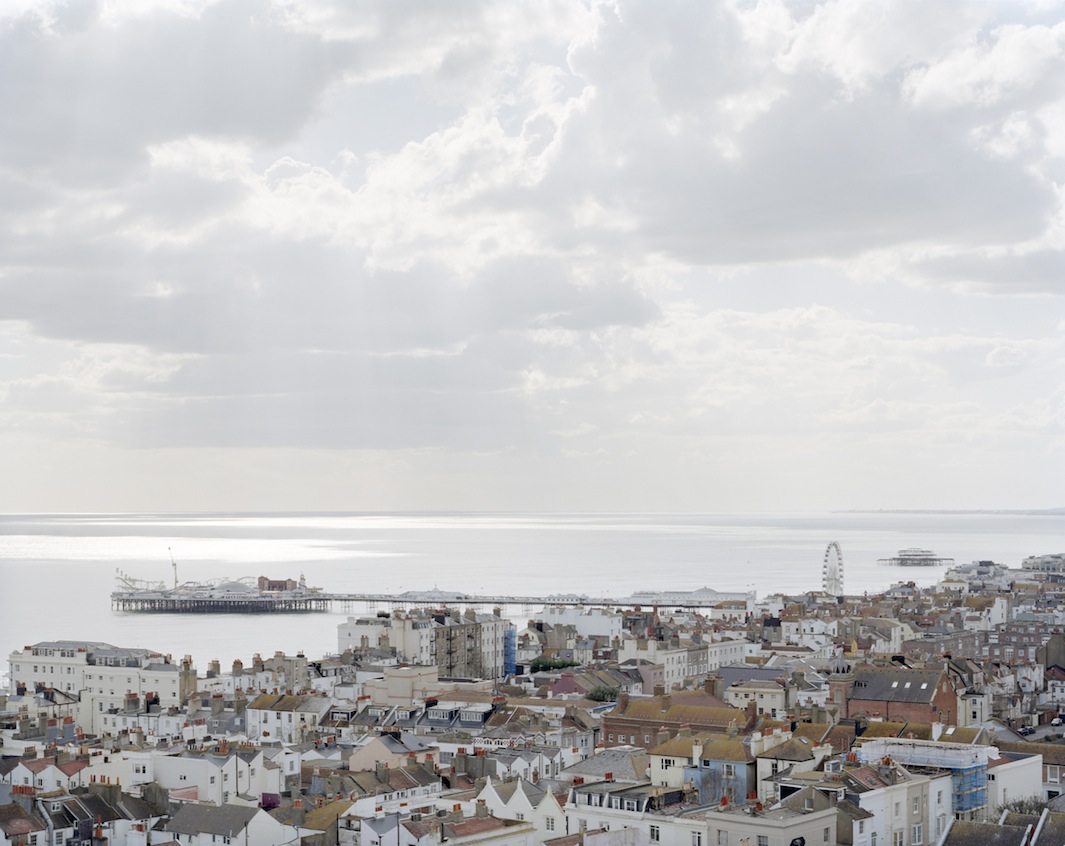 Roberts photographed in all seasons, even battling a snowstorm in one case to demonstrate the seasonal conditions the piers face. "If I'd photographed them all in the summer they'd have this very sort of amateurish postcard appearance," Roberts said. "Photographing them off-season often meant you had a very clear sky or a very gray sky, which often elevated the status of the pier because it's almost as if you're photographing them in a studio."
Some of the piers are spectacular creations, standing as grand monuments to Victorian engineering and industrialization. Others are more modest, built from concrete or steel. Eugenius Birch was one of the most famous pier builders, known for his eccentric designs that echoed Eastern architecture, including Brighton's West Pier in Roberts' hometown. Once a "thriving centre of seaside entertainment," the pier was closed to the public in 1975 and burned in 2003. Today, only the skeletal ruins of the pier remain. "It's a resting hulk in the sea, but for Brightonians it's a significant landmark. A lot of people wouldn't want to see it torn down because it's so much a part of the landscape of the town," he said.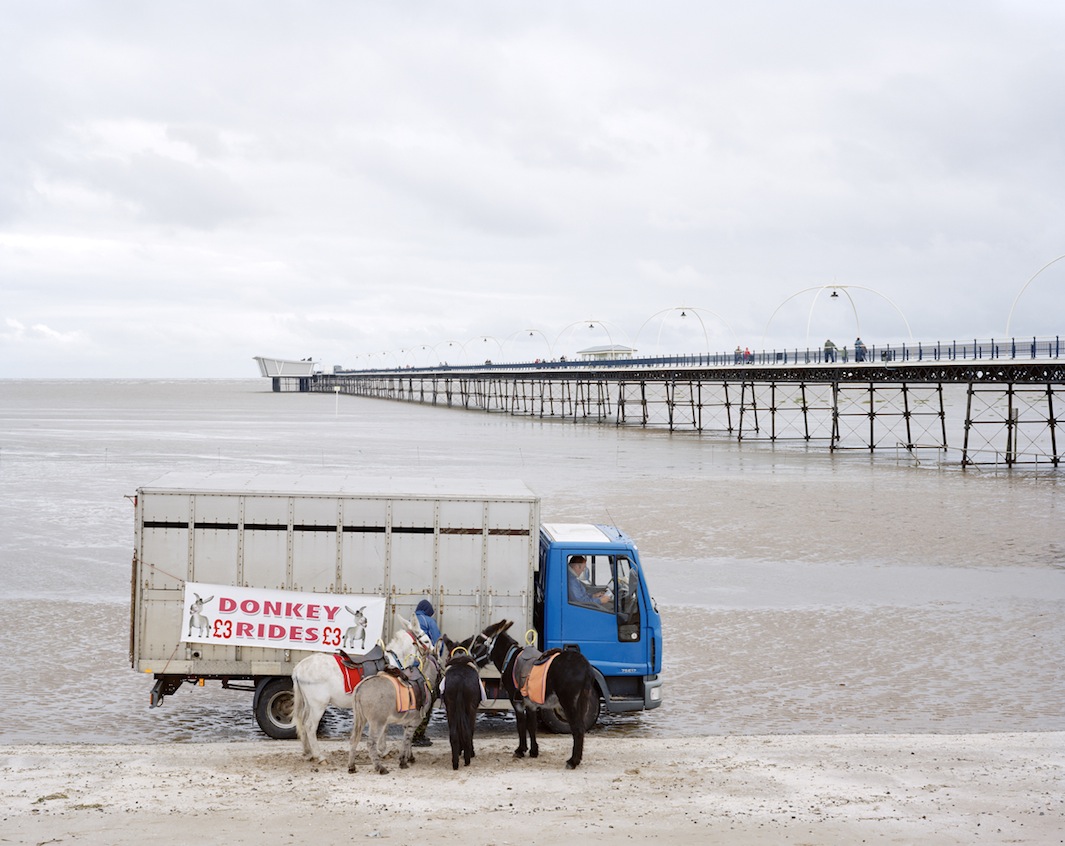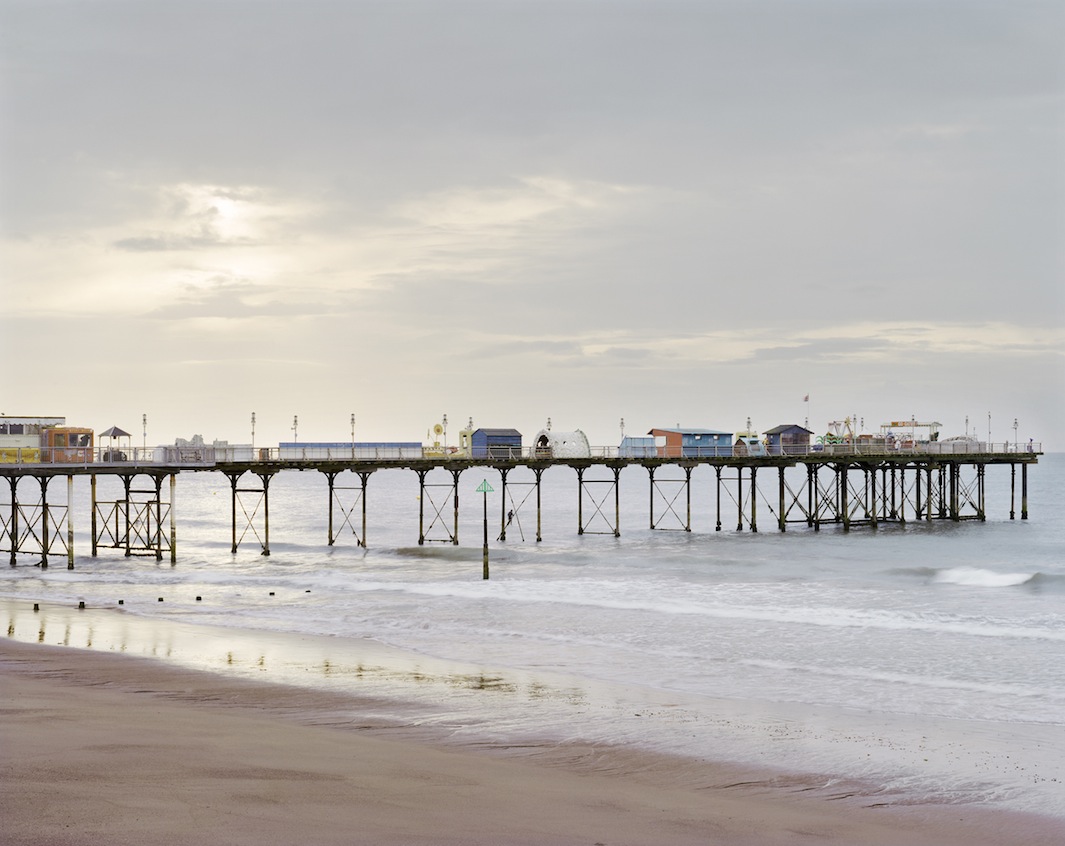 Indeed, the future of many of the surviving piers is up in the air. Local communities and organizations like the National Piers Society are fighting to preserve and save at-risk piers. As Roberts' photographs attest, these unique and beautiful structures are worth the effort. "There are very few countries that have anything like these. America has boardwalks and jetties, but these kind of quite eccentric structures are particularly British," Roberts said.
"Pierdom" is on view at Klompching Gallery through Dec. 21. You can purchase Pierdom, a collection of the pier photographs, on Roberts' website.