There's No Escaping the 40th Parallel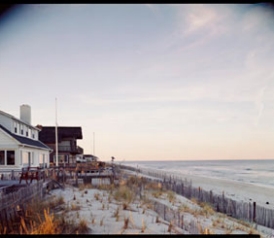 For the past 14 years, Bruce Myren has been photographing an imaginary line. That line, the 40th parallel north, runs across the United States, from the New Jersey shoreline to Northern California. The line is historically significant, as it delineates the Kansas/Nebraska border, which demarked disputed areas—slave and free—during the Civil War. It's also the line that 19th-century photographer Timothy O'Sullivan helped survey on three famous geological expeditions.
Myren, whose father was a surveyor and a civil engineer, says he's always been "obsessed with the idea of location." His series aims to capture every point of intersection between the 40th parallel and a full degree of longitude: 52 sites in the United States. For every location, Myren composes a triptych with the best panoramic view of the intersection, identified through GPS.
Myren started snapping shots in 1998, when he was able to buy an affordable GPS navigation system for the first time. Last summer, he ran a successful Kickstarter campaign, raising more than $17,000 to finish his project. He only has two states left to cover (Indiana and Illinois), which after a decade of work will give him a tangible record of an "imaginary" path.