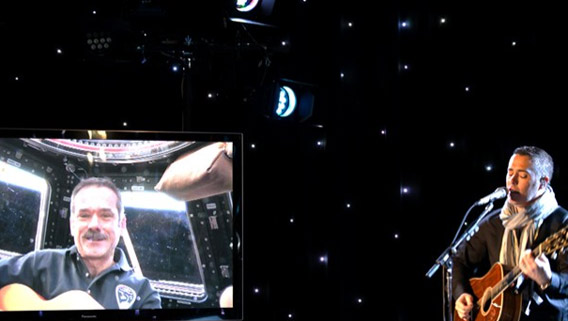 A lot of music has been written about space and space travel, but very few have been sung from space. And fewer still have involved a duet between someone in space and someone on the ground…and I can only think of one co-written by an astronaut and then recorded together via video link to space.
The song is about going into space, looking back on Earth, and wanting to go home again. Unlike Elton John's "Rocket Man", though, this isn't a song about loneliness and regrets, it's about how amazing it is that we can go to space at all. My favorite line: "What once was fueled by fear, now has 15 nations orbiting together here."
Which is kinda nice, don't you think?
And one final note: If you are not following Commander Hadfield on Twitter, you are seriously missing out. He posts pictures he takes from space every day, and they are incredible. Go.
[Correction: The Barenaked Ladies were originally referred to as Bare Naked Ladies, a mistake that I personally never thought I'd run across, but there you go. My apologies to BNL.]