The Towers of Svaneti, Built to Dissuade Invading Hordes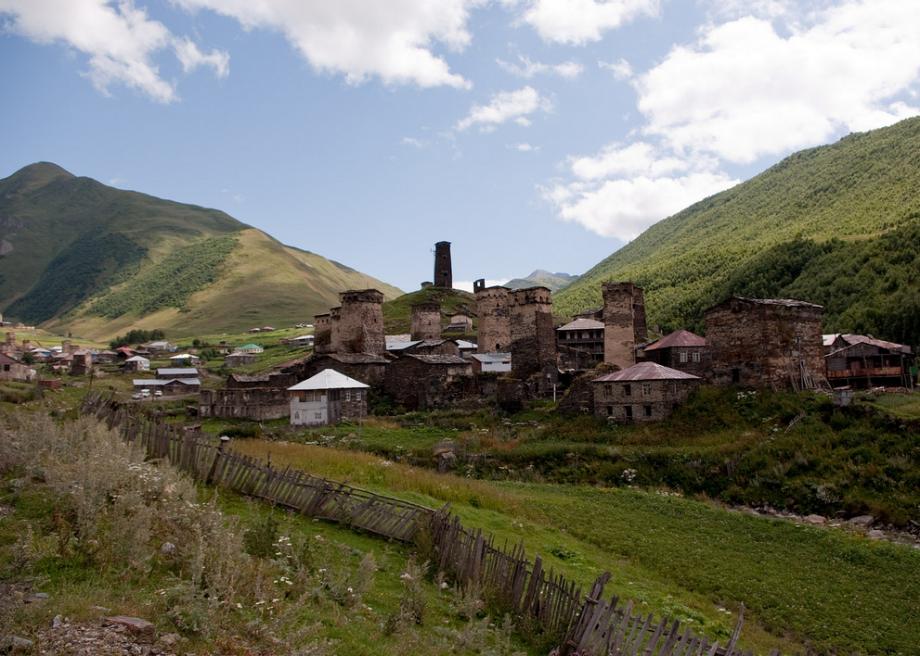 Atlas Obscura on Slate is a blog about the world's hidden wonders. Like us on Facebook and Tumblr, or follow us on Twitter.
Life was never easy in the high Caucasus. Nomads from northern steppes eager to get their hands on the riches of Mesopotamia, and empires battling for supremacy—Assyrians, Macedonians, Persians, Romans, Byzantines, Arabs, Turks, and Mongols—all clashed with the locals.
Svans—a subgroup of Georgians who speak their own unwritten Svan language, practice life-for-a-life blood revenge, and sing complicated polyphonic songs—were the traditional gatekeepers of mountain passes, and since time immemorial have been hardy survivors, the archetypal highland warriors. Villages in these rugged landscape were often too scattered to be encircled with a protective wall. Each individual house thus had to be separately fortified against invading armies.
The tower homes in Georgia's northwestern province of Svaneti were at the same time familial living quarters, fortresses of defense, and personal treasuries. They offered protection to their owners and to their livestock, and also served as shelters for the most valuable possessions of every family, as well as copies of holy scriptures and religious icons and relics. Most of the towers date back to between the ninth and 12th centuries.
The turbulent history of the region ensured that these fortifications remained in use long after similar defenses become redundant elsewhere in Europe. In recent times, families have slowly begun moving out into more comfortable living spaces. However, many Svan towers still remain in use, and the village of Chazhashi boasts as many as 200.
Similar dwellings can be found in a much wider area all over Caucasus. However, the typical Svaneti towers are concentrated in the Mestia district, 80 miles northeast of the regional capital of Zugdidi. Anyone wishing to see the towers should head to the remote village of Ushguli.
With an elevation of 6,844 feet, Ushguni is one of the highest inhabited places in Europe. According to local lore, in the Middle Ages it served as a summer retreat for fabled Queen Tamar. Since 1996 the traditional towers of upper Svaneti have been protected as a UNESCO World Heritage Site.
More incredible places around the world: