The Controversial Senegalese Monument Built by North Korean Propaganda Artists
On one of the twin hills in the Mamelles district of Dakar, Senegal, stands a mighty—and mightily confusing—monument.
At 160 feet tall, the bronze African Renaissance Monument is over one-and-a-half times the height of the Statue of Liberty. It depicts a man with a bare, ripped torso holding an infant aloft in one arm and guiding a woman with the other. The infant points ahead to indicate the glorious future, while the woman extends her arm behind to acknowledge the troubled past. Her hair is swept back by the wind, as are her scant, gossamer-like garments.
The colossal monument's Soviet-influenced, Socialist realism style makes sense when you consider that it was built by Mansudae Overseas Projects, a division of North Korea's government-run propaganda art factory.
Founded in 1959, Mansudae Art Studio employs around 4,000 North Koreans at its Pyongyang headquarters, 1,000 of which are artists handpicked from rigorous national institutions like Pyongyang University. These artists spend their days producing beautifully detailed propaganda, such as portraits of rosy-cheeked farm maidens, paintings of North Korea's glorious countryside, and One Can Always Lose, a series of 10 paintings depicting North Korea's 1-0 win over Italy during round one of the 1966 World Cup. All public images of Kim Jong-un, Kim Jong-il, and Kim Il-sung, including the enormous statues in Pyongyang, are the work of Mansudae artists.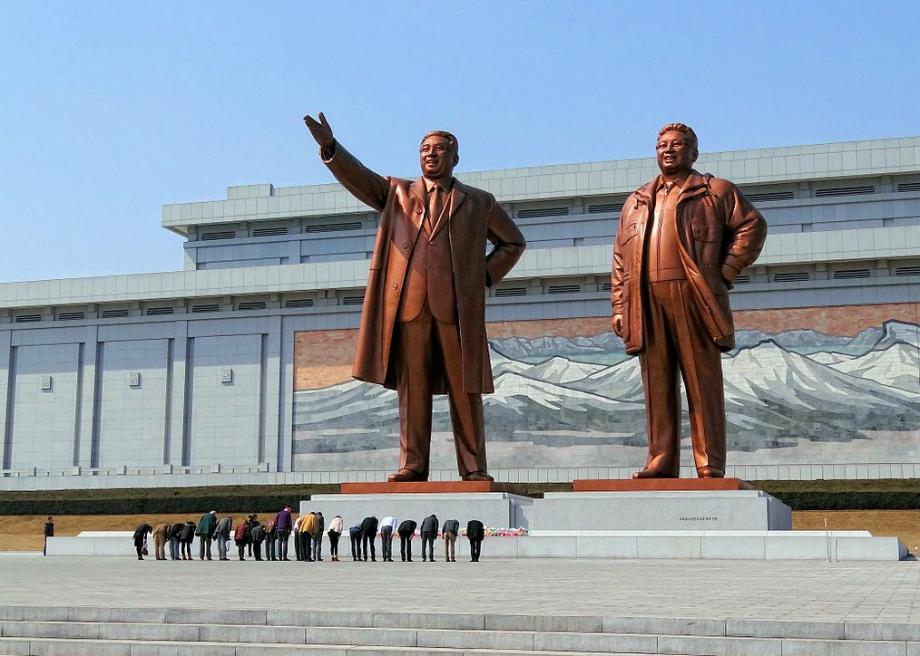 So how did members of North Korea's propaganda art factory wind up sculpting a monument in Senegal? Simple: it was all about the money. Mansudae Overseas Projects can build mammoth statues relatively cheaply, and has done so for 18 cash-strapped African and Asian nations thus far.
The Senegalese monument project began in 2006, when then-president Abdoulaye Wade began planning a massive hilltop monument that would represent Senegal—and Africa—emerging from centuries of slavery and colonialism. After years of planning and construction, the African Renaissance Monument was inaugurated in 2010 to mark the 50th anniversary of Senegal's independence from France. The final cost of the statue was $27 million. Unable to afford the payment in cash, Wade paid North Korea in the form of state-owned land in Senegal.
When the monument was unveiled, Wade was nearing the end of a 12-year presidency marred by alleged corruption, vote rigging, and changing the constitution to suit his own ends. His claim that intellectual property laws entitled him to 35 percent of revenue from tourism at the monument was met with understandable ire from fed-up Senegalese—47 percent of whom live below the poverty line, according to the World Bank. The statue's depiction of a near-naked man holding a woman with an exposed breast also caused consternation among the 92-percent-Muslim population.
Despite the controversy, the monument still stands, surrounded by half-built houses and piles of litter. You can pay to go inside and take the elevator to the giant man's head for a stunning view across Dakar. Just remember: 35 percent of your admission fee goes to Abdoulaye Wade. After fleeing Senegal following his 2012 defeat, Wade has returned to the country to support his son Karim, a former minister in the Wade government currently standing trial for allegedly embezzling $238 million.