Salton Sea: From Relaxing Resort to Skeleton-Filled Wasteland
In the 1950s and '60s, Bombay Beach in California was a thriving resort. Guests swam, water-skied, and golfed during the day, then headed to the yacht club to party into the night.
Now, Bombay Beach is a bleached, rusted, abandoned wasteland. The water smells of salt, petrol, and rotting fish. The shores, once lined with sunbathers, are covered in green sludge and desiccated fish carcasses. It's an apocalyptic landscape.
To understand how this place turned from paradise to purgatory, you need to know the story of Salton Sea. Bombay Beach lies not on the west coast, but in the Colorado Desert. In 1905, the Colorado River swelled, breached its levees, and flooded the desert valley known as the Salton Sink. The water flowed for two years, creating a 15- by 35-mile lake dubbed the Salton Sea.
Though the creation of this inland sea — the largest lake in California — was an accident, it initially appeared to deliver substantial benefits. Birds flocked to the area, and fish thrived in the Salton Sea. Developers seized upon the rare setting and branded it the "Salton Riviera," a "miracle in the desert." Hotels, yacht clubs, homes, and schools sprang up along the shores as the Salton Sea became a resort destination. But disaster loomed.
By the late 1970s, the ecosystem was deteriorating rapidly. With no drainage outlet, almost zero yearly rainfall, and runoff flowing in from nearby farms, the sea was polluted with pesticides and saltier than the Pacific Ocean. Periodic flooding brought the poisoned water further ashore. Depleted oxygen in the sea killed scores of fish and dragged their rotting bodies onto the beach, where they shriveled in the sun. As they decomposed, the sand became coated in a layer of fragmented fish skeletons.
Hints of the Salton Sea's heyday still litter the shores. Boarded-up motels, rusting boat frames, and cracked concrete swimming pools covered in graffiti are a few of the sights that remain. People do live here — Bombay Beach is home to around 250 residents, who travel the barren landscape by golf cart and must drive 40 miles to stock up on groceries.
There is one part of the Salton Sea that's shiny and new: the North Shore Yacht Club, long abandoned, was refurbished in 2010 and opened as a community center. The cheery, brightly colored building is an odd sight among a landscape of bones and sludge.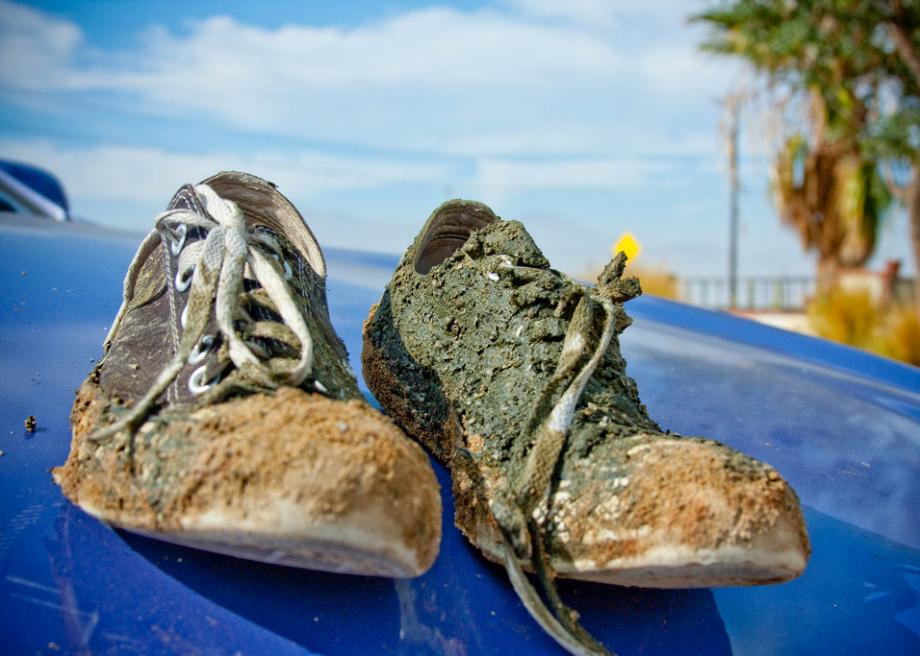 Other resorts gone wrong: