The Fight to Preserve an Ugly Albanian Pyramid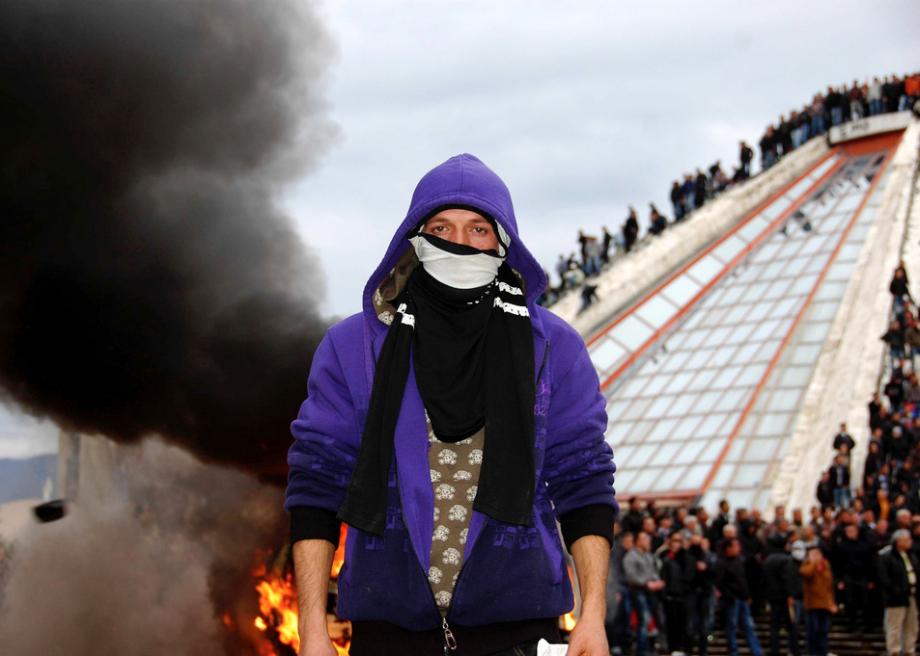 It was built to honor a reviled communist dictator. It's ugly — the cement is crumbling, several of the glass windows are smashed, and scrawled graffiti mars the slanted walls. But the Pyramid of Tirana, located at the center of Albania's capital city, has an emotional and political resonance that makes it difficult to destroy.
From 1944 to 1985, Enver Hoxha ruled Albania. A keen admirer of Stalin, Hoxha kept the Soviet ruler's legacy alive by overseeing purges, forced-labor camps, secret police, and frequent political executions. From September 1952, anyone over the age of 11 found to have been conspiring against the state received the death penalty. Over the decades, Albania also became increasingly socially and culturally isolated. Citizens were forbidden from traveling abroad unless on official business — a policy that remained in place until 1990.
After more than 40 years of repressive rule, Hoxha died in April 1985. His daughter and son-in-law soon got to work designing a building to house a Hoxha museum. After three years of construction — at great expense during a time of widespread poverty — the pyramid-shaped structure opened in 1988. Then came the collapse of communism.
Albania's transition from isolated Stalinist state to aspiring member of the EU has been reflected in the fortunes of Tirana's pyramid. In 1991, the building was renamed in honor of persecuted activist Pjeter Arbnori and became a conference center and exhibition venue. During the 1999 conflict in Kosovo, NATO set up a humanitarian headquarters inside the pyramid. In 2001, Albanian television station Top Channel moved in. January 2011 saw thousands storm the pyramid to protest government corruption and electoral fraud.
In 2010, the Albanian government decided to raze the pyramid and build a sleek new parliament building in its place. The target date for the opening of the new facility was November 28, 2012: the 100-year anniversary of Albania's independence from Ottoman rule.
The pyramid, however, still stands. Though many would like to destroy the specter of communist rule, a vociferous group Albanian intellectuals, activists, and even former political prisoners of Hoxha are in favor of its preservation. Ther argument: history, no matter how dark or ugly, must be remembered.
As debate continues, the pyramid sits dilapidated and vandalized, awaiting an uncertain future. Through all of its shifts, one thing has remained consistent: teenagers running up the slopes of the building to get a view from the top.