Cabbages and Condoms: The Restaurant That Serves Green Curry and Birth Control
"Our food is guaranteed not to cause pregnancy," boasts the slogan of Cabbages and Condoms, a Bangkok restaurant with a focus on family planning.
Mechai Viravaidya, a safe-sex activist and founder of Thailand's Population and Community Development Association (PDA), established the eatery with the philosophy that birth control should be as accessible and mundane as cabbages. Condoms dominate the restaurant's decor — mannequins wear outfits made from them, the lampshades are covered in them, and diners receive them at the end of their meal in lieu of mints.
Proceeds from the restaurant benefit PDA, which aims to break down taboos surrounding sex and HIV/AIDS through community outreach programs. Viravaidya's other quirky safe-sex awareness initiatives include condom-blowing contests for school children and free vasectomies for Cabbages and Condoms patrons. (There is a family-planning clinic next door to the restaurant.)
Viravaidya's devotion to safe-sex education has earned him widespread praise, including a global health award from the Bill & Melinda Gates Foundation and a slew of honorary doctorates. But the biggest honor bestowed on him comes from the communities he serves: "Mechai" is now a slang word for "condom."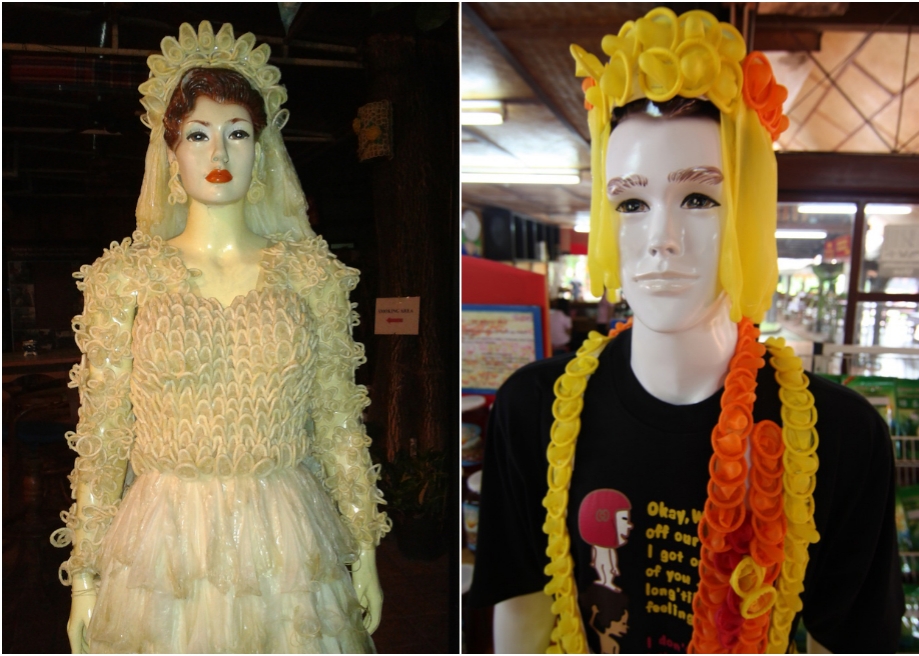 Other restaurants with double-take-worthy concepts: