Nature's Revenge: The Story of Consonno, Italy's Unfinished City of Toys
Until 1962, Consonno was a small medieval town with an economy based on harvesting chestnuts and celery. It population never exceeded 300, and, though just an hour from Milan, its location in the hills of Brianza was remote, secluded, and peaceful.
Then came Mario Bagno. The count and entrepreneur saw Consonno and had a vision: City of Toys. The glitzy resort town he had in mind would be a Las Vegas-style ode to wealth and hedonism, with casinos, bars, clubs, shopping arcades, and hotels.
Bagno handed over 22.5 million lire and Consonno was his. The first indication many of its residents received about the impending development was the sound of a bulldozer making its way toward their homes.
Bagno razed every building but the church, its graveyard, and its chaplain's house. He shifted the hills around to improve the view, dynamiting rock and building new peaks. The topographical alterations caused two landslides in 1966 and 1967, but construction work continued.
A man of mercurial moods, Bagno frequently changed his mind on how he wanted the City of Toys to look. His commercial gallery, topped with a minaret, resembled a mosque. It sat alongside a Chinese pagoda and a medieval castle. Occasionally Bagno would erect a building and then demolish it, his tastes having shifted during its construction.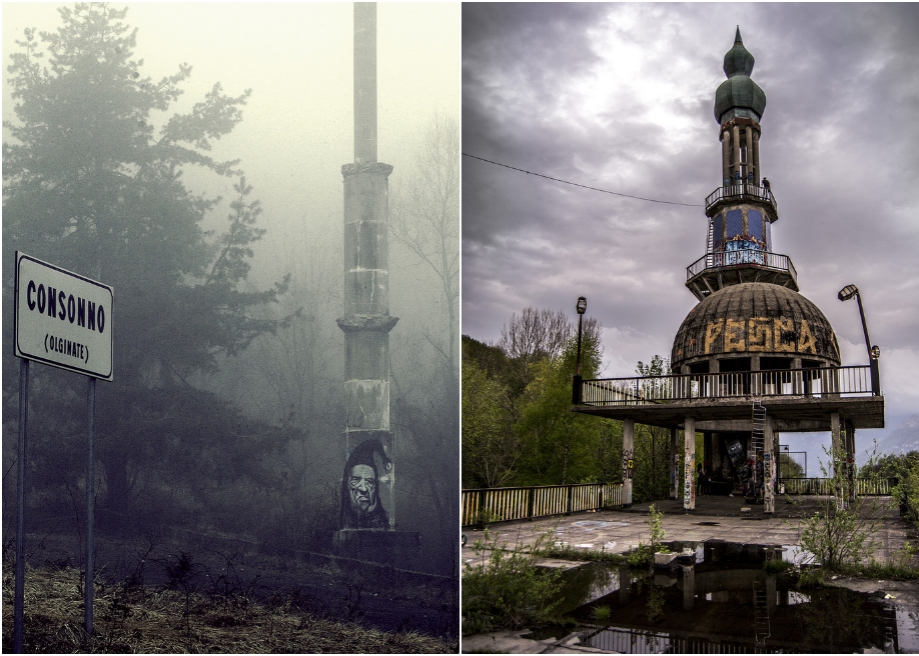 The new Consonno enjoyed a brief heyday during the late '60s and early '70s, but it was not yet finished. Bagno envisioned a zoo, a racecourse, basketball courts, and mini golf. The additions never arrived -- a landslide in 1976 buried Consonno's access road, severing supply lines and prohibiting visitors.
The half-finished City of Toys has been a ghost town ever since. Bagno did make one last attempt to revive Consonno -- in the 1980s he tried to convert it into an aged care facility. Construction began, but faltered, and when Bagno died in 1995, the idea was abandoned for good.
Consonno is officially a trespass-free zone following a 2007 rave that left its buildings damaged, trashed, and covered in graffiti.
Abandoned buildings where dreams were dashed: