Cactus Dome: A Concrete Cap for a Nuclear Crater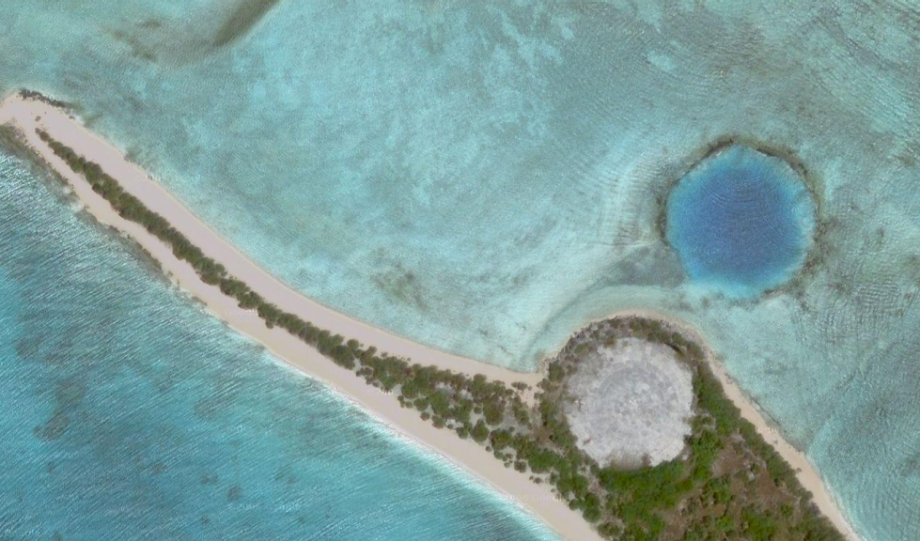 With its ring of verdant islands surrounding a deep sapphire lagoon, the Enewetak coral atoll was a beautiful place to launch the world's first hydrogen bomb. After capturing the atoll from the Japanese during World War II, the U.S. evacuated the islands, exhumed its fallen soldiers to send them home for reburial, and conducted a series of nuclear tests.
Between 1948 and 1958, 43 weapons exploded over Enewetak. Among these was Ivy Mike, a world-first hydrogen bomb, 500 times bigger than Hiroshima's Little Boy, that destroyed the entire island of Elugelab. By the time testing ceased, the entire atoll was highly radioactive, its reefs and islands dotted with craters that each measured several hundred feet in diameter. (Off the coast of Runnit what looks like a natural blue hole is the Lacrosse Crater, the results of an earlier fission test.)
Evacuated residents began returning to Enewetak during the 1970s. It was at this time that the U.S. government determined it ought to decontaminate the islands. In 1979, a military team arrived to gather up contaminated soil and debris, mixing it with cement and piling the sludge into a 350-foot-wide blast crater on Runit Island in the atoll's east. When the mound reached 25 feet high, army engineers covered it with a saucer-shaped concrete cap. It was dubbed the Cactus Dome, after the Cactus bomb that caused the crater.
The U.S. declared Enewetak safe for habitation in 1980. Currently, about 900 people live on the atoll though none live on the Cactus Dome. A 2008 field survey of the Cactus Dome noted that 219 of its 357 concrete panels contained defects such as cracks, chips, and vegetation taking root in joints.