The Joy and the Stick
A video game review for gamers and novices alike.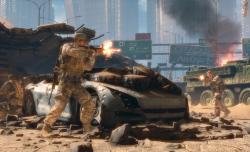 Let's say you're curious about video games or want to get back into them after years away, but you don't know where to begin and you feel like you need a guide.
That's where Slate V contributors Win Rosenfeld and Dan Pashman come in. A gamer and a gaming novice, they get together to test drive and discuss new releases. They recently sat down to play Spec Ops: The Line for XBox 360 and offered their impressions on how the first-person shooter stacks up and what it says about the current state of gaming.