Wes Anderson's Last Meal
The Oscar-nominated director reveals a taste for rabbit while answering Slate reader questions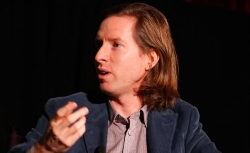 Wes Anderson doesn't love to talk about his work and he doesn't do a ton of interviews.
But in the lead-up to the release of his latest feature, Moonrise Kingdom, which premieres this week at the Cannes Film Festival, Anderson sat down with Slate's Jacob Weisberg to talk about the childhood fantasies at the heart of his new movie and the literary inspiration for them.
Anderson also answers Slate reader questions, discussing the influence of Louis Malle and Jean Renoir on his 2007 film The Darjeeling Limited and revealing that if he had to choose a last meal, he'd probably head to Hearth restaurant in New York's East Village. And Anderson explains how the music of Francois Hardy, Benjamin Britten, and Leonard Bernstein came to form the musical foundation of Moonrise Kingdom.
You can watch part one of Anderson's interview, in which he talks about the challenges of casting and working with child actors in Moonrise Kingdom. In the second segment, Anderson explains why he loves stop-motion animation. And in the days ahead, look for a final part, in which Anderson explains why he loves working with Bill Murray.