Life in Stop-Motion
Wes Anderson loves stop-motion animation, but will he ever make another animated feature film again?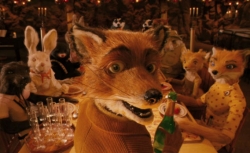 Fans of director Wes Anderson like a good argument over which of his meticulously crafted, slightly off-kilter feature films is their favorite.
In advance of the premiere of his latest feature, Moonrise Kingdom, at the Cannes Film Festival, Anderson sat down with Slate's Jacob Weisberg for a wide-ranging interview about everything from how he approaches directing commercials to why he is drawn to stop-motion animation. While the handmade textures of stop-motion in Fantastic Mr. Fox helped earn him an Oscar nomination, Anderson says the movie probably would have been far more successful at the box office if DreamWorks had produced it using CGI.
You can watch Part 1 of Anderson's interview, in which he talks about the challenges of casting and working with child actors in Moonrise Kingdom. In the days ahead, look for more of our interview, including why he loves working with Bill Murray and his answers to Slate reader questions.