California Is the Future
From Escape From L.A. to Star Trek, the Golden State has set the sci-fi agenda.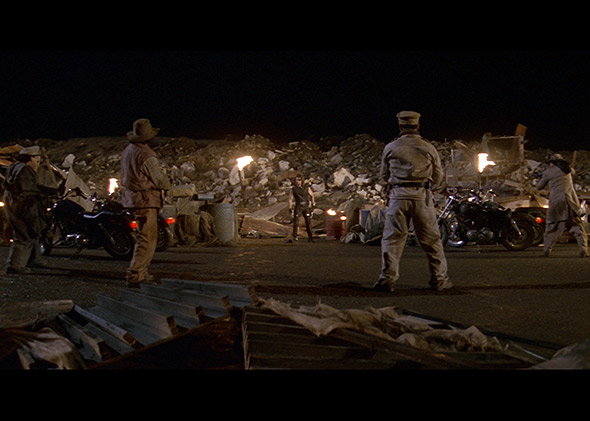 Touring around California, you could be forgiven for thinking you're living in the future, and not just because of the Silicon Valley wizardry that surrounds us all. We also have to thank Hollywood's movie magic, which has turned the state into a backdrop for countless science-fiction films presenting futures both terrible and wondrous. It's not just that so many are filmed here—writers and filmmakers have been exploring the future through California sets for decades.
In the early days of big-budget sci-fi, New York often embodied the worst fears about society, urban living, and technology: Soylent Green (1973), Escape From New York (1981), and others capitalized on New York's bankrupt and crime-ridden nadir—a genre that Miriam Greenberg refers to as "New York Exploitation." With New York's campaign to reposition itself in the 1990s, Los Angeles became the symbol of urban blight, perfectly demonstrated by John Carpenter's relocation of his Snake Plissken sequel, Escape From L.A. (1996). While dystopian sci-fi also has a home in the United Kingdom (thanks, George Orwell) and has been used for self-reflection by most of the world's filmmaking cultures, there is something about the frequency with which California and "the future" are used synonymously.
In sci-fi movies and the books that serve as their inspiration, the future of the Golden State goes something like this: Ten to 150 years from the present, California has succumbed to natural disaster/economic and governmental collapse/a pandemic, which leaves Southern California a corporate-fascist-military state with gross financial and racial inequality and urban squalor—while Northern California rips up its pavement, learns permaculture, gets spiritual, and models better living through technology and communitarian diversity.
This binary began in the 1940s with Earth Abides (1949), a book about a scientist starting over in Berkeley after a global pandemic, while in Aldous Huxley's Ape and Essence (1948) Los Angeles slouches toward the apocalypse. The movies Planet of the Apes, The Terminator, Escape from L.A., and Star Trek, and the books Ecotopia, The Fifth Sacred Thing (soon to be a feature film), and Snow Crash all play with variations on this theme. Collapse and division are almost a foregone conclusion at this point—not just a future that might happen but one many almost expect and therefore accept.
"Every American city boasts an official insignia and slogan. Some have municipal mascots, colors, songs, birds, trees, even rocks. But Los Angeles alone has adopted an official nightmare," writes Mike Davis in Ecology of Fear. Hollywood has perpetuated this dystopian vision of its own home in the southland. From the Planet of the Apes series (1968–1973) on, future L.A. has been routinely trashed by nuclear, technological, and automotive catastrophe, as well as police brutality, pollution, and crime. A Malthusian nightmare, the city is dark, filthy, and collapsing under the weight of its immigrant population, or barely held in check by totalitarian government and structural inequality—what Davis called L.A.'s "spatial apartheid."
Davis notes that this was so accepted as a likely trajectory for the city that it was written into an L.A. redevelopment plan as a warning of what could happen were the plan not adopted. The 1988 plan, "L.A. 2000: A City for the Future," calls this "the Blade Runner scenario: the fusion of individual cultures into a demotic polyglotism ominous with unresolved hostilities." While it might be tempting to dismiss this as the fever dream of the bad old days, before hipster gentrification, smart growth, and downtown redevelopment, Southland Tales (2006), In Time (2011), and Elysium (2013) have done little to alter its imagery.
Northern California as utopia, on the other hand, is strongly linked to the countercultural movement of the '60s, with its guides for technologically advanced back-to-the-land living. One can read Ernest Callenbach's influential novel Ecotopia (1975) as the possible future seeded by Whole Earth Catalog. Ecotopia is a fictional "field study" of a future Pacific Northwest society that has split from an apocalyptic United States and is governed according to ecological principles. While much technology has been abandoned, the Ecotopians have selectively retained public transit, electric cars, networked computers, and improved recycling. (Callenbach was a longtime resident of Berkeley.) Ecotopia's themes were later picked up and elaborated in the eco-feminist tales of Ursula K. Le Guin's Always Coming Home (1985), a cultural anthropology of latter-day Napa Valley–ites who have returned to indigenous ways; Starhawk's The Fifth Sacred Thing (1993) about a pagan, nonviolent San Francisco threatened by southern biological warfare; and Octavia Butler's Parable books (1993, 1998), where refugees from the L.A. wasteland grow a new eco-religion, Earthseed, in the forests of Mendocino.
These texts depict Northern California as central to both speculative and practical visions of sustainable survival. While Bay Area research parks, universities, and experiments in urban living serve as laboratories for near-term development, the region is also a visual and narrative shorthand for distant, alternative, and ideal futures. The twin giants of popular sci-fi, Star Trek and Star Wars, both used Northern California as a location—for the headquarters of the United Federation of Planets in the Star Trek universe and as the site of the water and forest planets (Naboo and Endor) of Star Wars' "galaxy far, far away." Wired published a paean to San Francisco upon the release of the latest Star Trek film, explaining why there couldn't be a more perfect location for its technologically idyllic future:
What sets Star Trek apart is the attention it pays to one little city, barely seven miles across, when the other points on its journey are not cities or countries, but planets and star systems. … And it's a city whose culture of curiosity, craftsmanship and tolerance have left an indelible mark on one of the world's most successful sci-fi franchises.
In the frontier myth of American history, California represents the completion of a manifestly destined expansion across the continent. It's easy to see Utopian San Francisco and "Hell A" as twin land's ends for idealists and cynics. In the north, beyond the Golden Gate there lies only "space, the final frontier." Conversely, in Richard Kelly's apocalyptic Southland Tales, the Santa Monica pier is where the world ends "not with a whimper, but with a bang," taking L.A.'s palimpsest of corrupt politicians, soulless celebs, activist porn stars, and deranged cops with it.
A third, smaller, but consistent vein of sci-fi unites both utopian and dystopian futures without mapping them onto a Nor Cal–So Cal binary and dispenses with the quasi-biblical tales of Sodom and Eden. More importantly, it allows the possibility of multiple futures for rethinking the present. A number of films depict the north as a dystopia-within-utopia: Gattaca (1997) is set in a near future where genetic modification is cheaply available while in earlier films such as THX 1138 (1971) and Colossus: The Forbin Project (1970) developments that promised well-being and peace surveil and threaten human civilization. Both speak to an unease with the promise of information technology.
Similarly, the rebooted Planet of the Apes films have replaced fortress L.A. with the sleek research complexes of Silicon Valley. In William Gibson's Bridge trilogy, San Francisco suffers the noir-ish malaise of Blade Runner L.A.—this time due to free-agent capitalism run amok, with a community of squatters inhabiting the rusting hulk of the Bay Bridge and bike messengers, data pattern analysts, and a rogue pop idol with artificial intelligence in the lead roles. In the south, Kim Stanley Robinson's Three Californias trilogy (1984–1990) posits three possible directions for Orange County: The Wild Shore follows nuclear apocalypse, The Gold Coast extrapolates a 2027 "autopia" from 1980s suburbia and hyperconsumption, and Pacific Edge allows that even the O.C. might have access to a sustainable future, as communities reclaim the coast from cars and concrete.
The sci-fi imagination has a strong link (one might even call it a feedback loop) to the tech and entertainment industries that drive California's economy, and therefore, its very real, near-term growth. Sci-fi narratives are, after all, allegories for the times in which they are created, but they also generate a nostalgia for past images of the future, which shape communities' actions as they build and plan—and as those communities experience their lived environments. Some critics have made much of the fact that Ridley Scott originally planned to film Blade Runner in New York and the studio requested a location change. But this is largely irrelevant, as the movie's imagery and subject matter have resonated with audiences and have played a huge role in how L.A. is viewed and how the city has imagined itself over the past few decades. On the day I visited to photograph the atrium of the Bradbury Building, the only other people present were fans of the movie looking for traces of that elegantly distressed future. Repetition of the tropes of urban decay vs. ecotopia might become self-reinforcing in a way that precludes thinking differently about the present, or even seeing that the future that we've come to expect might not be the one we're likely to get.
Fredric Jameson argues that the value of utopian/dystopian sci-fi is not that it delivers images of possible futures but instead is its ability to "defamiliarize and restructure our own present." The photographs in the map show how filmmakers have taken familiar California locations from downtown Los Angeles to Berkeley to do just that.