Slate is an Amazon affiliate and may receive a commission from purchases you make through our links.
The Everything Store
A new book tells the story of Jeff Bezos and Amazon, but misses what really makes the online retailer revolutionary.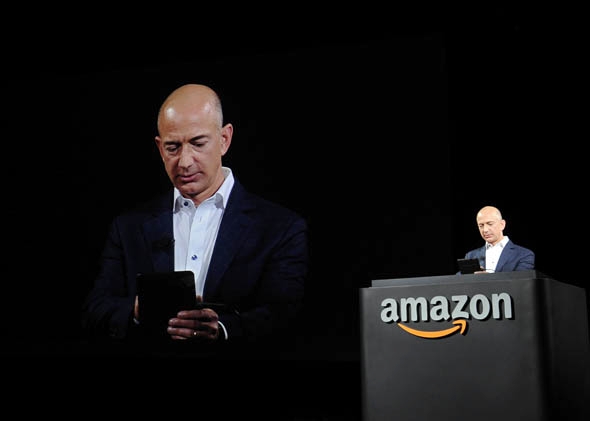 One dreary October Saturday I was sitting in a Starbucks in downtown Washington reading my review copy of Brad Stone's The Everything Store: Jeff Bezos and the Age of Amazon. My iPhone was running low on charge, and the charger I normally keep in my bag was gone. There was a Radio Shack across the street. They had the charger I needed and the price was perfectly reasonable. While ringing me up, the cashier asked the inevitable question: Would I like to pay Radio Shack extra money for a worthless one-year warranty that clearly made no sense whatsoever for such a low-value piece of commodity electronics?
Of course he didn't exactly put it that way. But that was the value proposition. And you could tell by his demoralized tone that he neither expected nor wanted me to buy the warranty. Yet whether at Radio Shack, at Best Buy, or at the former Circuit City, this sort of tactic is integral to the business model. Stone doesn't have much to say about Radio Shack or Best Buy or Barnes & Noble in his book. But he should, because the real nature of Amazon's achievement is about customer relations, not just online ordering.
The story of Bezos' personal life is well-told in The Everything Store, forming a sort of entrepreneurial stations of the cross. There's a childhood gifted with educational opportunities but marred by the absence of his biological father ("belonging to a unicycle troupe didn't pay much," Stone writes). There's the relentless drive and determination from an early age. There's the youthful job at D. E. Shaw & Company, the hedge fund whose mercurial founder redefined the industry and showed the power of thinking outside the box. We've got the daring decision to start a new company—literally in a garage at first. Then comes the key early six-figure investment in the company by Bezos' mom and stepdad—a forceful reminder of the deeply uneven playing field in American life.
If you're interested in the company, Stone's history is consistently engaging and full of amusing anecdotes. Bezos' high-school valedictorian speech outlined "his dream of saving humanity by creating permanent colonies in orbiting space stations while turning the planet into an enormous nature preserve." During the company's early years, executives from Seattle had to help staff up distribution centers during the holiday rush. The strong labor market made it hard to obtain quality temp help; one early hire dispatched to Delaware "watched one worker get fired for intoxication and then wet himself while he tried to protest." At a high-level executive meeting shortly before the launch of Amazon Web Services, Bezos unilaterally lowered the price. When warned that would cause the company to lose money on AWS for a long time, the CEO simply replied, "Great!"—he thought high profits would only attract competition.
The best part of the book is set during the early-to-mid aughts, when the post-dot-com blues raised serious questions as to whether the company could continue to exist at all. Of today's tech giants, the vast majority either went public well before (Apple, Microsoft) or well after (Google, Facebook) the great technology mania of the 1990s.* Most companies from that era failed, of course. And most of the survivors such as AOL, Yahoo, and eBay, are more or less struggling. Amazon stands alone as a dial-up-era company thriving in the present day. But this was a close thing. The 1999 iteration of Amazon had all the problems of a classic money-bleeding bubble company. It was only a well-timed European bond issue that let Amazon avoid a disastrous financial crunch.
Amazon subsisted for several years thanks to cash injections from deals it made to run the website back-ends of several big box retailers, including Toys-R-Us, Target, Borders, and Circuit City. These tales, coming from a time when Amazon was neither a fascinating startup nor a dominant player, are not well-known, and they nicely illustrate the combination of hard work, intelligence, and old-fashioned dumb luck it takes to succeed in business.
As the book goes on and Amazon survives, then thrives, then dominates, the shrewd business dealings of its CEO can begin to look more menacing. Scrappy negotiating from a startup feels more like bullying from an incumbent. Stone's recounting of the hardball tactics Bezos used to acquire Zappos and Diapers.com are slightly horrifying. Faced with promising newcomers to e-commerce spaces that he wanted to add to his empire, Bezos in both cases opened with lowball acquisition offers. When rebuffed, instead of negotiating he launched ferocious price wars, selling shoes and diapers at far below wholesale cost. Once it was clear Bezos would rather lose millions destroying rivals than spend them on higher acquisition prices, both firms were induced to sell and join the Amazon family. And hey, at least those Web startups got buyout offers and ultimately made money from Bezos' empire-building. Bookstore chains just got stomped on.
But throughout it all, Amazon stays remarkably true to its core vision of long-term growth via customer satisfaction. The company and its CEO are not without their dark sides, but it's never consumers who have cause to complain. When Bezos throws sharp elbows his tactic is almost always to lower prices. The official company line that everything they do is in pursuit of better serving their customers sounds self-serving, but as best anyone can tell it's true. Even in its best years, Amazon's profit margins are thin, and in recent quarters they've been losing money. I once described the company as "a charitable organization being run by elements of the investment community for the benefit of consumers," which prompted a reply from Bezos who explained that long-term shareholder value is created by building long-term relationships with customers.
This is where the absence of a comparative perspective in Stone's book hurts it. Bezos' core ideas—long-term focus, consumers first—are correct but hardly earth-shattering. But while most companies just pay lip service to this stuff, Amazon stands out by actually doing it. The deep structure of American financial capitalism almost compels focus on the next quarterly earnings report. That, rather than stupidity, is what leaves Radio Shack addicted to brand-killing warranty pitches and kept Barnes & Noble perennially a day late and a dollar short on the Web. CEOs are loath to deliberately take a short-term profit hit, no matter the long-term upside. Companies change and adapt not when they should, but when they have no choice—and by then it's usually too late.
What makes Bezos probably the greatest businessman in America today (I should note that Slate has an affiliate relationship with Amazon, though unlike our former corporate partners at the Washington Post we're not owned by Jeff Bezos) is his ability to actually stick with these ideas. It's not so much that he sees things other executives miss, but that he manages to actually do them. Nobody has been better at keeping Wall Street's confidence even during a quarter or two of bad earnings, or at keeping his team's confidence even during a year or two of bad stock performance. Stone's narrow focus occasionally exaggerates the originality of Bezos' vision (Amazon wasn't the first online bookstore, or the first company to focus on everyday low prices, or the first vendor of cloud computing services) while understating his unusual mastery of the larger corporate game.
At the same time, those interested in a broader discussion of Amazon's implications for the future of small business, commercial real estate, wages and working conditions, book publishing, or the American economy as a whole will be disappointed. Such matters all rate mention, but little in the way of sustained engagement or discussion. But if Stone and Bezos are right that Amazon will only grow and grow in the years to come—and I think they are—there will be time for other books. For now, Stone's tale of the birth, near-death, and impressive revival of an iconic American company is well worth your time.
Correction, Oct. 15, 2013: An earlier version of this article said Google was founded after the dot-com boom of the 1990s. In fact it was founded in 1998 during NASDAQ-mania but didn't go public until 2004, well after the bubble was burst. (Return.)