The Man With 18 Miles of Books
An interview with Fred Bass, owner of New York's Strand bookstore.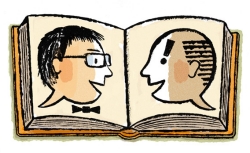 Listen to Episode 27 of The Afterword:
Fred Bass has worked for more than 60 years at New York's Strand bookstore, which his father, Ben Bass, founded in 1927. In this interview he talks about how the Internet has affected the used-book business, how unionizing the workforce has been good for the store, and how sidelines—like the famous Strand tote bags—now make up more than 15 percent of the store's sales. The discussion lasts about 22 minutes.

The podcast is produced by June Thomas. The executive producer of Slate's podcasts is Andy Bowers.