Is the Print Dictionary Doomed?
Introducing June Thomas' new podcast about nonfiction books and their authors.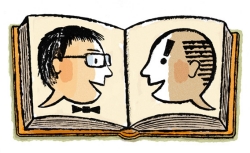 Listen to Episode 1 of Slate's new podcast, The Afterword:
The newly published fifth edition of the American Heritage Dictionary is a 2,000-page book packed with thousands of definitions, etymologies, and illustrations. It's a gorgeous volume, but have the Internet and smartphones (along with apps like the AHD's electronic version) rendered the print dictionary redundant? In the premiere of a new Slate podcast, the AHD's executive editor, Steve Kleinedler, talks about some of the words that have been added to the latest edition, why it matters which dictionary people use, and whether lexicographers have favorite words.
Podcast produced by June Thomas. Executive producer: Andy Bowers.