The Ocean at the End of the Lane
Fantasy writer Neil Gaiman talks about how he came to pen (indeed, he writes longhand) his latest novel.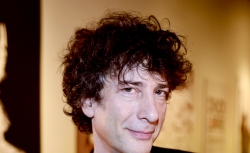 How to describe Neil Gaiman to the uninitiated? To start, he's a novelist, graphic-novelist screenwriter, YA-fiction author, blogger, prolific short storyist, frequent tweeter, and occasional Doctor Who episode writer. I guess you could say that he uses words a lot, mostly to craft dark, fantastical worlds—including those of Neverwhere, American Gods, and The Sandman series—that have gained him an adoring and devoted following. His latest novel is The Ocean at the End of the Lane, published in June. Earlier this summer, Gaiman read from the book and took audience questions at George Washington University's Lisner Auditorium in Washington, D.C.
Live at Politics & Prose is a biweekly program from Slate Radio featuring some of today's best writers reading from their new work and answering audience questions at Washington D.C.'s famous bookstore. You can subscribe for free through iTunes or with our RSS Feed to catch all upcoming episodes.
You can also scan this QR code on your iPhone and subscribe to the podcast right away: