Colon Pal
Mary Roach discusses her new book about the human digestive system, Gulp.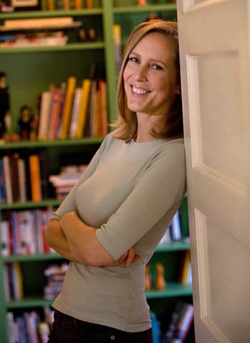 Mary Roach prides herself on exploring places that make us uncomfortable. Her first book, Stiff, chronicled what happens to corpses after we die. When I interviewed her in 2008 about her book on sex, Bonk, she shared footage of her and her husband having intercourse. (Trust me, it's the most G-rated sex tape you'll ever see.) Her latest book, Gulp, takes us to places we depend on for our very lives but that most of us would prefer not to see: our mouths, stomachs, and intestines. Listen to Roach's April 6 talk at Politics & Prose, in which she ponders questions like "Why would we be repulsed by spitting into our own bowl of soup, when the same soup comes into contact with the same saliva in our mouths?"
"Live at Politics & Prose" is a new show from Slate Radio that features some of today's best writers reading from their new work and answering audience questions at Washington, D.C.'s, famous bookstore. You can subscribe for free through iTunes or with our RSS Feed to catch all upcoming episodes.
You can also scan this QR code on your iPhone and subscribe to the podcast right away: