Hang Up and Listen: The 138! Edition
Slate's sports podcast on the resurgence of Notre Dame. Plus: interviews with Grinnell basketball coach Dave Arseneault Jr. and Houston Rockets GM Daryl Morey.
Listen to "Hang Up and Listen" with Stefan Fatsis, Josh Levin, and Mike Pesca by clicking the arrow on the audio player below:
Hang Up and Listen is brought to you by Stamps.com. Click on the radio microphone and enter HANGUP to get our $110 bonus offer.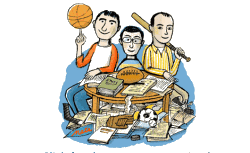 In this week's episode of Slate's sports podcast Hang Up and Listen, Stefan Fatsis, Josh Levin, and Mike Pesca discuss the resurgence of Notre Dame football and how the Fighting Irish have stayed so popular in spite of decades of mediocrity. They also speak with Grinnell associate head coach Dave Arseneault Jr. about Jack Taylor's NCAA record 138-point game and the Pioneers' fast-paced offensive system. Lastly, Houston Rockets general manager Daryl Morey joins the show to talk about Jeremy Lin, James Harden, Royce White, and the state of advanced statistics in professional basketball.
You can read the transcript of the interview with Rockets GM Daryl Morey below.
Here are links to some of the articles and other items mentioned on the show:
Notre Dame beat USC on Saturday night to finish the regular season 12-0.
In August, ESPN's Rick Reilly told the Fighting Irish to "go back a grade."
In the New York Times, Greg Bishop writes about the power of the Notre Dame brand.
Notre Dame's undefeated season has been good for ratings and merchandise sales, writes Howard Bloom in Sports Business News.
Notre Dame is joining the ACC, but not in football and hockey.
Fighting Irish senior Manti Te'o wrote a letter to the parents of a dying 12-year-old girl.
Notre Dame has been criticized for its handling of sexual assault allegations against football players.
Radio announcer Allen Pinkett was suspended for saying that Notre Dame needs more criminals.
Grinnell College guard Jack Taylor scored 138 points in a 179-104 win over Faith Baptist Bible.
Associate head coach David Arseneault Jr. holds the NCAA single game assist record (34).
Video of Taylor's 138-point effort, with commentary by Grinnell students Rob Storrick and Daniel Nellis.
Basketball Prospectus' Kevin Pelton breaks down the 138-point performance.
CBS Sports' Gregg Doyel says running up the score was "a bully move" and Deadspin's Barry Petchesky calls the record "empty and artificial."
Head coach David Arseneault's system explained.
An advanced statistical analysis of the system, by Thomas L. Moore, Benjamin Johannsen, and Eric Ohrn.
Houston Rockets general manager Daryl Morey is a founder and co-chair of the MIT Sloan Sports Analytics Conference.
Michael Lewis' 2009 New York Times Magazine story on Morey, Shane Battier, and advanced metrics in the NBA.
In the Economist, Morey wrote about Jeremy Lin and compared NBA teams to "elephant mothers."
Jonathan Hock documented White's draft day experience on Grantland and discussed it on "Hang Up and Listen." (Fast-forward to the 47:45 mark.)
Hang Up and Listen's weekly Chekovs:
Podcast production and edit by Mike Vuolo. Our intern is Eric Goldwein.

Transcript of interview with Rockets general manager Daryl Morey.

JOSH: The Houston Rockets are, in my professional opinion, the most interesting team in the world. This offseason they signed Jeremy Lin to an offer sheet the Knicks didn't dare to match. They traded for Oklahoma City guard James Harden when the Thunder couldn't afford to pay him. And they drafted Royce White, who has struggled with an anxiety disorder and has yet to play this year. The man behind all those moves is Rockets general manager Daryl Morey. Daryl came into sports from a background in consulting and also worked for STATS, Inc. before moving to a career in the NBA. Now, in addition to running the Rockets, he's the co-chair of the MIT Sloan Sports Analytics Conference. Daryl Morey, thanks for coming on the show.
DARYL MOREY: Thanks for having me on.
JOSH: Sure thing, and after buttering you up I'm going to reverse pivot here and note that you're the guy who cut Jeremy Lin right before he went to the Knicks and Linsanity commenced. You noted on Twitter last February that you made a mistake, and that you didn't know he was that good and that nobody else knew he was that good either. You then re-signed Lin this offseason, paying $25.1 million over three years to rectify that initial mistake. So can you walk us through each of these decisions and explain how Lin shows what analytics can and can't tell us about basketball players.
DARYL MOREY: Yeah, Jeremy, obviously someone we were always very interested [in], we thought could be a good player just not nearly as good as he is. You know, Golden State actually should probably get the most credit at the NBA level. After all 30 teams had a chance to draft him and sign him, Golden State gave him the biggest commitment in terms of a guaranteed contract. They waived him, and when they did waive him we pounced on him last year. And after playing very well for us during our preseason and in our abbreviated camp last year, we waived him because we had two very good guards ahead of him in Lowry and Dragic, and we were bringing in the center Dalembert. All that said, if we had known he could be as good as he is, then we would have done some painful things and maneuvered to try and make sure we could keep him at that time.
STEFAN: And Daryl, putting Lin in a broader context, you made a point in a piece you wrote for the Economist—very impressive, the Economist—earlier this year in which you compared baseball to basketball. You said that baseball teams have freedom, the ability to select dozens and dozens of players and nurture them for several years, and have them come through their system, and then determine whether they are ready for the major-league level. In basketball, you said the NBA is more like "elephant mothers," who give birth to very few babies and have to gestate them for almost two years. How has analytics helped get beyond that reality and how does that reality figure into your day-to-day thinking about basketball talent?
DARYL MOREY: Well, I do think that is the reality. I'll give an example of a baseball GM I was talking to. They do get to be like salmon, where they can, you know, spawn thousands and thousands of fish and wait for the ones that make it back. He was excited in telling me about a guy who was playing for like a junior college that no one maybe knew about and was doing these amazing things … and he probably wouldn't pan out, but we're excited to take a shot at him. We got 60 rounds, why not use a pick on him. To your point, we don't have that. We have 15 sort of precious spots where we have to take our bets on who is going to pan out. And what goes into that is a lot of things, which is not only what we see with our eyes but also, how do we compare them to players who have come before? And the reality is Jeremy is unlike really any player that has come before. Many, many players play at his level in college—which was extremely good—against poor competition. And it's our job to sort of sift through those. But data is only useful when it applies to, you know, there's someone currently in the NBA that has either succeeded or failed, that looks like that player in the past. And Jeremy is very unique, so data was helpful, but not extraordinarily helpful, in figuring out whether or not he was someone we should have invested all our resources into and put all our eggs into, you know, that one sort of baby elephant mother basket, as I wrote. And we initially cut him because we felt like there were better ones for us to look at, and obviously that turned out to be wrong.
MIKE: Sometimes the things you realize are about evaluating a player. But in the Lin case … it seemed like you realized something about contract structure that no one else realized. I was critical of the media, saying, how come no one picked up on the fact that there was this poison pill that really would be so much harder for the Knicks to swallow than the Rockets? Were you sitting there at some point, saying, maybe to your cohorts in the Houston office, Guys, I don't think that everyone else is realizing what we're realizing about structuring this contract.
DARYL MOREY: Yeah, his contract structure came into play in both things. So in his release, the other thing we looked at was that he would be a free agent months from now and for us he wasn't going to play. So, for us, it felt like we would be investing a spot in a guy who is going to be a free agent. Take the flip side, Chandler Parsons, someone we decided to invest in but we had a four-year deal for him. So if you've got a long runway, it's better to choose an investment in something like that. On the other side, when you're trying to create an edge in your sport, there's a couple ways to do it. One is, you know hopefully forecasting which players are going to be good, better than your competition, or figuring out how they fit into your context better than the competition. But another way, yeah, is finding hopefully areas within the collective bargaining agreement where you can take advantage. And really all our moves this summer were about that latter one. Jeremy Lin and Omer Asik, both guys who we really believe in, both playing well to this point, they were to your point, a contract artifact where we could structure in such a way that for us, it was a flat eight-million contract, but for the team who held them it was a ballooned contract, and that was, that was something that made it harder for them to keep him than for us to sign them. And then Harden obviously, you know I don't think Oklahoma City makes that trade unless the collective bargaining agreement was making it very tough for them to keep all their stars at the financial level that they were looking for.
JOSH: So, your strategy before any of these deals was to pursue kind of what the Celtics did before they got Kevin Garnett and kind of clear some room. You amnestied a great player for you, Luis Scola, and what the amnesty does is it allows you to release a player without having their usually large salary apply towards the cap. It seems like this worked out for you as well as it's worked out for any NBA team. My question is, is this a good thing for the NBA that the Thunder kind of had to get rid of James Harden and that a team like yourself was able to kind of swoop in just due to the rules of the salary cap?
DARYL MOREY: I'll get to that answer in a second but I would just say that, in general, what you're on is our general strategy which is to try and take hopefully smart, fairly significant gambles. Not once, not twice, but as many times as possible. So, Omer Asik, the gamble was, how can he play into a bigger role? We thought that was a good gamble. Jeremy Lin, it was, can he play at that all-star level that he did for only a short amount of time. We felt like it was a good gamble at eight million a year because he doesn't even have to play at an all-star level to live up to that. Harden was someone, you know, is he worth the gamble moving into the number one role from the number three role? Royce White, big gamble. And we feel like, you need to take these gambles. You're not going to hit all the time because it's a competition of 30. You're really not trying to be above average. You're trying to be the best of 30. So you need to be taking these gambles all the time. And whether or not it's good for the league, that Oklahoma City felt like they had to move James Harden, you know frankly is not my really my concern. I'm just trying to do the best for the Rockets and wherever there's opportunity, we're going to chase it down and try to help our club.
STEFAN: You mentioned Royce White in your list of gambles and you deservedly got a lot of praise for the due diligence and the willingness to draft a player in the first round who had some very serious issues with his anxiety disorder in college, at Iowa State where they became manageable thanks to what was a very rigorous program and close monitoring of him, and he had trouble before that. What influenced you first to pick Royce, basketball and non-basketball, and if you're willing to talk about the current state of the situation that would be great and sort of enlighten us about what the Rockets' thinking is long-term.
DARYL MOREY: Basketball is sort of an interesting sport that, you know, the top player on your team makes so much more of an impact than the top player in any other sport. Any other of the major team sports, I should say. There's no other sport where LeBron James can have a team winning three out of four games or 60 games out of 80, and then when he leaves, that basically the same team wins 20 games out of 80. That kind of a swing just shows you the impact. You need these elite talents to win in this league. We think Royce is an elite talent—top five talent in this last draft, which was very deep. Obviously if we're getting him at 16 in the draft, there's going to be something wrong, or something that's a gamble with the player, and really you're just choosing the gamble. Maybe they've got an injury history. Maybe they've got a particular part of their game that could be an Achilles' heel that would make them fail. Maybe they've never gone against that level of competition. So there's going to be something wrong, so you're really just picking among things that are potentially going to derail that player and which ones you're most comfortable with. Royce was someone who played every game at Iowa State, played it well. So even with his issues, he showed that he is very functional. We knew going in that potentially there could be issues and right now obviously things are bumpy at this point, I'd say, but you know it takes a little time for him to get going at the various stops he's had in his career to this point. We're trying to work things through with Royce, and hopeful that we can. That's sort of the current state.
JOSH: So Daryl, you kind of first came to prominence in the national media in Michael Lewis' New York Times Magazine article about Shane Battier and about how you recognized him as a guy whose contribution to a team was not shown in conventional statistics. Do you think that Shane Battier was the reason that the Heat won the championship, their acquisition of him, did he make an outsized contribution that that we wouldn't see in the numbers?
STEFAN: And therefore, do you get credit for the Heat's championship?
DARYL MOREY: I do think Shane was a big part of their championship, and frankly even Shane would be the first to say the biggest parts of their championship were LeBron and Dwyane and Bosh. I mean, those were the three guys that everything hinges around and the other players need to fit around those guys and I think Shane's a fantastic fit and I was really happy for him for the title. He was just here and showing us his ring. A better person you couldn't find to win a title. And really his talents fit perfectly with a team like the Heat that's really close to winning. And we didn't want to move him but he really didn't fit the phase we were in at the time and he understood that.
STEFAN: Daryl, the point of that article was largely that it's difficult to measure the contribution that each individual player makes to such a team sport as basketball. Do you think in the three years since Michael Lewis wrote that piece and in which you stated that someone created the box score and he should be shot, do you think we're closer at better understanding—do you feel like you're closer at better untangling—what makes a successful basketball player?
DARYL MOREY: Yeah, I mean we obviously invest heavily in answering that question and really answering the question, what players will get us a higher probability of winning the title? And three years down the road I don't feel like we have all the answers, but I do think the public domain information has gotten better. A lot of the public domain stuff has been stagnated by the fact that teams are hiring away a lot of the best people that were out there. So it's sort of, it's an interesting thing, the development of basketball analytics and the best work is going on within the teams I think. And not just us, there are other teams that are working hard on this as well. Whereas baseball, it's very clear the history there that the best work is always done external to the teams until recently.
STEFAN: Well, can you give us one or two examples of how you think the thinking has evolved? What do we know now that we didn't know five years ago?
DARYL MOREY: Great question—hard for me to answer sometimes without revealing too much. You know, I think things like the evolution of understanding the value of like, the corner three-point shot, has been something that's become pretty public domain and into the coaching world that wasn't there five years ago.
MIKE: By the way, the huge genius insight is: It's closer.
DARYL MOREY: Yeah, isn't that amazing? Honestly whenever you find these insights and apply them and you explain it to someone, they'll be like, Well, OK, thanks. So it's better if it's closer. Or if you put it in the hoop more than the other guy. That's your insight. Good Daryl, thanks. How much did you work on that? You work on so many things, you don't know what's going to pan out. When you find the one that pans out, at the end of the day, often it turns out to be fairly obvious, to your point.
MIKE: You've been self-critical saying your teams are good, pretty good, they make the playoffs, but they don't go far in the playoffs and they're never bad enough to get a top draft pick. It's actually not optimal strategy as a way to run a basketball team. But I think there may be a secret there and, you're right in terms of wins and losses, but the Rockets have been really, really profitable as you've pursued your strategy. That's somewhat because of you but that's also because of how many luxury suites and things like that are going on. But is that the unremarked upon secret that allows Daryl Morey to keep doing what he's doing?
DARYL MOREY: Well, we really don't feel like we've accomplished much yet. I mean, I would say if we can turn the corner and get back to being a championship contender, and we haven't been since Yao [Ming] and Tracy [McGrady] both went down, if we can turn that corner without having to go through a season where we're really bad, or you know, losing more games than we win—which we haven't done—that will be the first time that's done. Now I don't know if anyone should hold a parade for us because, to your point, the way that it's been done in the past is a team, either by design or by just because it happens when you lose a star, you know, dropping down and getting a top-five pick, which is really where all these talents that you need to win the title come. We were pursuing a strategy that frankly didn't have a lot of history, which is, stay competitive and try to turn the corner at the same time. Definitely has a degree of difficulty but, you know, we feel like we've got a guy to build around now in James Harden. He did happen to go in the top five in the draft which is where most of these guys go. And, usually these guys don't move when they're age 23. So time will tell if we're right, if James is the guy to build around. But we really think he is, and you know we've still got a lot of work to do. We've got to add at least one more top-level talent and then fill around that. That's the overwhelming evidence if you look to the history of the NBA as what it takes to win.