The "Actually We Don't Work for Jeff Bezos" Edition
Listen to Slate's show about the surprising sale of the Washington Post, Mitch McConnell's Tea Party trouble, and the outrageous extremes of civil forfeiture law.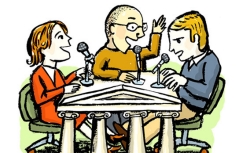 Become a fan of the Political Gabfest on Facebook. We post to the Facebook page throughout the week, so keep the conversation going by joining us there. Or follow us @SlateGabfest!
To listen to the discussion, use the player below:
On this week's Slate Political Gabfest, David Plotz and Emily Bazelon are joined by special guest Jack Hitt, a contributor to the New York Times Magazine and This American Life, and author of Bunch of Amateurs: A Search for the American Character. They discuss Amazon founder Jeff Bezos' purchase of the Washington Post and the challenges, from the left and right, to Senate Minority Leader Mitch McConnell's reelection campaign. They also discuss a New Yorker exposé on American civil forfeiture laws by Sarah Stillman.
Here are some of the links and references mentioned during this week's show:
Topic ideas for next week? You can tweet suggestions, links, and questions to @SlateGabfest. The email address for the Political Gabfest is gabfest@slate.com. (Email may be quoted by name unless the writer stipulates otherwise.)
Podcast production by Andy Bowers. Links compiled by Jeff Friedrich.