The Please Don't Baptize Me When I Die Gabfest
Listen to Slate's show about the GOP primaries, the Blunt Amendment and Sen. Olympia Snowe's retirement, and the death of Andrew Breitbart.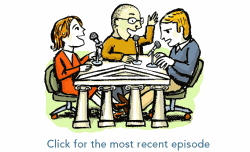 Become a fan of the Political Gabfest on Facebook. We post to the Facebook page throughout the week, so keep the conversation going by joining us there.
To listen to the discussion, use the player below:
John, David and Emily will be returning to Purdue University for a live show on April 18. Stay tuned for more details.
On this week's Slate Political Gabfest, Emily Bazelon, John Dickerson, and David Plotz discuss Tuesday's Arizona and Michigan primaries, the Blunt Amendment to Obama's contraception coverage mandate, the retirement of moderate Maine Sen. Olympia Snowe, and the death of conservative new media tycoon Andrew Breitbart.
Here are some of the links and references mentioned during this week's show:
The exit polls from Michigan.
John's Slate piece on Romney's narrow win in Michigan.
Ann Romney's Pinterest page.
John's Slate piece on Santorum's martyr complex.
David Greenberg's Slate piece on Rick Santorum's misinterpretation of JFK's religious freedom speech.
The latest Quinnipiac poll finding a slight lead for Santorum in the Ohio race.
Olympia Snowe's Washington Post op-ed explaining her decision to retire.
Joe Klein's Time post about Romney's claim that he wouldn't set his "hair on fire" to win.
A CBS News/New York Times poll showing a majority of Americans support mandatory coverage of contraception.
Christopher Beam's Slate profile of Andrew Breitbart.
David Weigel's Slate blog post about the Breitbart truthers.
Matthew Yglesias' reaction to Breitbart's death.
Josh Marshall's Talking Points Memo post remembering Breitbart.
John chatters about Bad Lip Reading's video of Rick Santorum and a PBS documentary, Bombing Hitler's Dams.
Emily chatters about an ongoing fight with David over the Mormons' posthumous baptism of Jews.
David chatters about a Kottke blog post linking to Lists of Note's reproduction of "Ten Commandments for Con Men" by con man Victor Lustig.
The e-mail address for the Political Gabfest is gabfest@slate.com. (E-mail may be quoted by name unless the writer stipulates otherwise.)
Podcast production by Andrew Bouvé and Dale Willman. Links compiled by Aviva Shen.