DoubleX Gabfest: The Gluten-Free Thanksgiving Edition
Listen to Slate's show about Elizabeth Warren, Great Recession survival strategies, and unruly children on airplanes.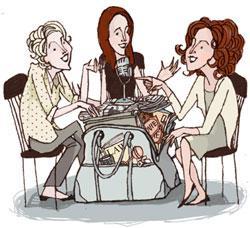 Listen to the DoubleX Gabfest by clicking the arrow on the audio player below or by opening this player in another tab:
In this week's gabfest, DoubleX senior editor Kate Julian and special guests Slate Editor David Plotz and Dear Prudence columnist Emily Yoffe discuss Elizabeth Warren's bid for Scott Brown's Senate seat in Massachusetts, Emily's recent DoubleX piece on how readers are surviving the Great Recession, public hostility toward small children on airplanes, and the specter of a gluten-free Thanksgiving.
The DoubleX "coffee talk" endorsements:
David Plotz recommends the day before Thanksgiving, possibly his second favorite day of the entire year (after Thanskgiving), involving as it does an evening of pie-making and the anticipation of a four-day weekend. Emily Yoffe likes the Showtime series Homeland. She is particularly taken with Claire Danes and says this is the first recent show with the potential to fill the Sopranos-sized hole in her heart.
Kate Julian endorses "Xiao Xiao," a segment from the public radio show Snap Judgment. In it, a little girl adopted from China campaigns to bring "her baby"—a toddler left behind in her former orphanage—to the United States. The segment is less than six minutes long, and it might make you cry.
Links to other things we've read this week: