The Culture Gabfest "Life, Money, Art" Edition
Slate's Culture Gabfest on Inside Out, the new $10 bill, and the new Whitney Museum.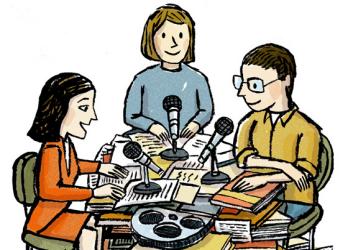 Listen to Culture Gabfest No. 353 with Stephen Metcalf, Dana Stevens, and Julia Turner with the audio player below.
Go to slate.com/cultureplus to learn more about Slate Plus and join today. This week on Slate Plus, the critics travel back in time to give some advice to themselves at 18.
On this week's Slate Culture Gabfest, the gabbers discuss Pixar's Inside Out. Do they agree with the overwhelming critical consensus that the film is a triumph? Next up, the $10 bill will undergo a facelift in 2020, and a yet undetermined woman might join or replace Alexander Hamilton. Is this an important symbolic move or a fairly meaningless quota-filling exercise? Finally, the Whitney Museum of American Art recently moved to a new downtown Manhattan location. Dana and Julia interview chief curator Scott Rothkopf about the new space and the opening show, America Is Hard to See.
Links to some of the things we discussed this week follow:
The Gabfest is sponsored this week by Squarespace. Start building your website today at Squarespace.com. Enter offer code CULTURE at checkout to get 10 percent off.
The Gabfest is also sponsored by the Great Courses. Order from eight of their best-selling courses at up to 80 percent off the original price. Go to thegreatcourses.com/CULTURE.
Finally, the Gabfest is sponsored by Boll & Branch, which makes buying sheets cheap, easy, and devoid of hype. Visit BollandBranch.com to get $50 off of a set of sheets and free shipping when you use the promo code CULTURE.
This podcast was produced by Ann Heppermann. Our interns are Lindsey Albracht and Marissa Visci.