The Culture Gabfest "Mmmm … Simpsons" Edition
Slate's Culture Gabfest on The Simpsons, The One I Love, and the ALS ice bucket challenge.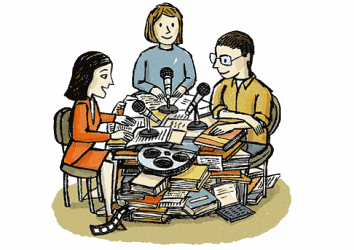 Listen to Culture Gabfest No. 310 with David Haglund, John Swansburg, and Julia Turner.
This week Slate Plus listeners will hear David Haglund describe and discuss the fall cultural releases he's most excited about. Go to slate.com/cultureplus to learn more about Slate Plus and join today.
On this week's episode, Julia is joined by Slate senior editor David Haglund and deputy editor John Swansburg to talk about the many joys and sorrows of The Simpsons, on the occasion of FXX's syndication and complete rerun of the show. Next up, Elisabeth Moss and Mark Duplass star in the surreal romance The One I Love. Can surrealism and romance reach a happy equilibrium, or is this movie just too strange to be good? Finally, the gabbers take on the ice bucket challenge. It might be impossible to critique a charitable enterprise without veering into gauche territory, but they give it their best shot.
Links to some of the things we discussed this week follow:
John: Comedy podcast The Champs, especially the episodes featuring Blake Griffin, MC Serch, Arsenio Hall, and Chris Rock.
Julia: "See My Vest" from the "Two Dozen and One Greyhounds" episode of The Simpsons.
This podcast was produced by Ann Heppermann. Our intern is Josephine Livingstone.