The Culture Gabfest "Green Handshake" Edition
Slate's Culture Gabfest on Muppets Most Wanted, High Maintenance, and the evolution of tipping.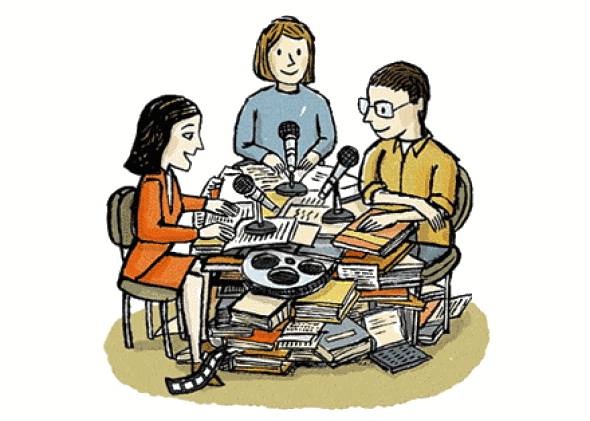 Listen to Culture Gabfest No. 288 with Mike Pesca, John Swansburg, and Jessica Winter with the audio player below.
Culturefest is on the radio! "Gabfest Radio" combines Slate's Culture and Political Gabfests in one show—listen on Saturdays at 7 a.m. and Sundays at 6 p.m. on WNYC's AM820.
Steve, Dana, and Julia will be back next week. And on an upcoming show, they'll be discussing Walter Kirn's new book, Blood Will Out. Get a copy and start reading now.
On May 4, the Culture Gabfest will be hosting a live show in Montreal as part of the Blue Metropolis Literary Festival. Stay tuned for tickets to the show and a cocktail party with the gabbers on May 3. Tickets will go on sale April 2.
On this week's episode, the critics discuss Muppets Most Wanted and the place of Jim Henson's creations in today's culture. Next, the gabbers turn to the Web series High Maintenance about a marijuana deliveryman in Brooklyn and the lives of his diverse clientele. And finally, in light of Jordan Weissmann's recent Slate piece about the effects of e-commerce on gratuities, the critics talk tipping: Do we tip out of good will or a sense of obligation? And should you really tip your Starbucks baristas?
Links to some of the things we discussed this week follow:
Jessica: Smiley Face, an overlooked comedy by Gregg Araki, which features a star turn by Anna Faris.
Outro: James and Bobby Purify's "I'm Your Puppet," performed by Yo La Tengo.
You can email us at culturefest@slate.com.
This podcast was produced by Ann Heppermann. Our intern is Anna Shechtman, with assistance from Lance Richardson.