The Culture Gabfest: Sprang Braake 4eva Edition
Slate's podcast about David Mamet's Phil Spector biopic, Harmony Korine's Spring Breakers, and Ben-Hur author Lew Wallace.
Listen to Culture Gabfest No. 236 with Dana Stevens, John Swansburg, and June Thomas with the audio player below:
The sponsors of today's show are 23andme.com and Stamps.com. Go to 23andme.com/Slate for your $99 personal genetic profile. Go to Stamps.com and use the promo code "CULTUREFEST" for your no-risk free trial and bonus offer.
Culturefest is on the radio! Gabfest Radio combines Slate's Culture and Political Gabfests in one show. Listen on Saturdays at 7 a.m. and Sundays at 6 p.m. on WNYC's AM820.
On this week's episode, our critics discuss Phil Spector, David Mamet's HBO movie about the music producer's murder trial, from its soggy, static scenes to its intense wig action. The Culturefesters then ponder Spring Breakers: Does Harmony Korine's latest movie offer ecstatic freedom and transcendence or merely a lecherous camera focused on bikini-clad gyrations? Finally, they discuss Lew Wallace, the disgraced Civil War general and author of the best-selling novel Ben-Hur: A Tale of the Christ.
Here are links to some of the things we discussed this week: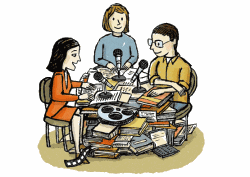 June's pick: The British soap opera Coronation Street, which has been on the air for more than 50 years (and is the best TV show in the history of the world) and is now available on Hulu.
John's pick: James Salter's forthcoming novel All That Is.
Outro: "Spanish Harlem" by Ben E. King
You can email us at culturefest@slate.com.

This podcast was produced by Julia Furlan. Our intern is Sally Tamarkin.