Play the Slate News Quiz
With Jeopardy! superchampion Ken Jennings.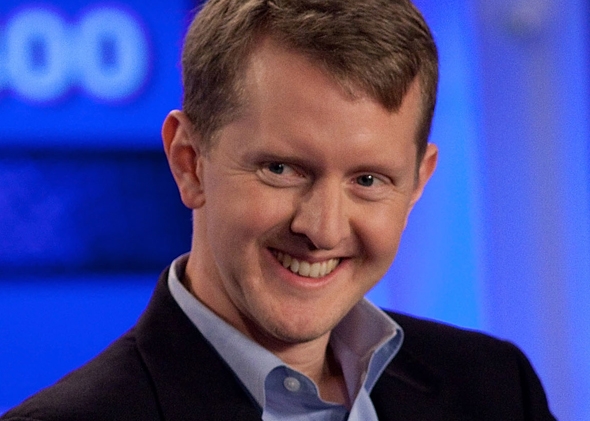 Welcome back to Slate's weekly news quiz. I'm your host, 74-time Jeopardy! winner Ken Jennings.
Every Friday I'll be testing your knowledge with 12 challenging questions on the week's news events, big and small, including happenings in science, sports, politics, and culture both high and low. The questions are multiple-choice, and time is of the essence: You have 30 seconds to answer, and as the seconds tick away, the question's point value drops from 50 all the way down to zero, so you'll want to click on your answer as fast as you possibly can. There's no penalty for an incorrect answer, so feel free to take a guess if your puny human brain fails you.
At the end of the quiz, you'll be able to compare your score with that of the average contestant, as well as with the score of a Slate-ster whom I've talked into taking the quiz on the record. This week's contestant is Torie Bosch, who edits Future Tense, Slate's partnership with the New America Foundation and Arizona State University.
Think you can ace my quiz and beat Torie Bosch? Good luck!

The Slate Quiz with quizmaster Ken Jennings


In New Zealand a candy company was forced to recall 7,200 bags of its gummy fruit snacks after parents complained that some of the bags contained realistically sculpted gummy penises. The snacks came from China, where penis-shaped candy is a traditional fertility symbol, insisted the importer, who apologized for the mistake. Can you get through this week's Slate News Quiz without any embarrassing goofs?
Question 1
of 12
"We do not want this family of nations to be ripped apart," pleaded a prime minister this week. He was referring to next week's independence referendum to be held where?
British Prime Minister David Cameron called the specter of Scottish independence "a leap into the dark."
Question 2
of 12
A new combination of experimental vaccinations has kept a group of macaque monkeys free, for 10 months, from what?
Human aid workers may begin receiving new Ebola vaccines in as little as two months, a pace that the World Health Organization calls "absolutely unprecedented."
Question 3
of 12
President Obama gave a televised speech Wednesday night announcing to the nation his plan to do what?
Question 4
of 12
The National Organization for Women this week called for the resignation of whom?
The Associated Press reported that the NFL had been sent tapes of the infamous Ray Rice elevator video back in April, contrary to Goodell's claims.
Question 5
of 12
Last weekend what mysteriously appeared outside the Managua airport, to the confusion and consternation of many Nicaraguans?
The crater was initially reported as a meteor impact, but since no one saw a streaking meteorite, scientists are now skeptical.
Question 6
of 12
What organization named a replacement for its leader Ahmed Abdi Godane, confirmed killed by an American drone strike last week?
Godane was the mastermind behind the expansion of the Somali terrorist group al-Shabaab, including the 2013 attack on Nairobi's Westgate mall.
Question 7
of 12
The Bureau of Labor Statistics reports that, for the first time ever, fewer than half of all American adults are now what?
The agency says that 50.2 percent of all American adults are now single; the number has risen from 37.4 percent when the BLS started tracking it in 1976.
Question 8
of 12
According to a new book, DNA testing has revealed that a Polish-born barber named Aaron Kosminski might have been responsible for what?
Question 9
of 12
What kind of natural disaster caused hundreds of deaths in India and Pakistan—as well as a few in Arizona—this week?
More than 420 people have been killed by the epic flooding due to heavy monsoon rains in Kashmir and nearby provinces.
Question 10
of 12
The Apple Watch, announced to great fanfare this week, will be Apple's first product to have a screen made out of what ultra-hard substance?
After diamond, sapphire is the hardest transparent material on Earth. All Apple Watches except the Sport model will feature the new screens.
Question 11
of 12
Over the past week in Germany, Frankfurt and Munich have both been plagued by strikes being staged by what workers?
Hundreds of flights have been delayed or canceled as Lufthansa and its pilots are stalled in talks over early retirement benefits.
Question 12
of 12
A woman in Enid, Oklahoma, took advantage of the state's "religious headwear" laws to take a driver's license photo while wearing what?
Shawna Hammond claims "Pastafarian" faith, a jokey quasi-religion beloved of insufferable people on the Internet.

September 12, 2014


Anonymous User
Log in to track your scores!
vs.

Torie Bosch
Future Tense editor
Send NATO troops to Ukraine
Launch airstrikes against ISIS
South Carolina Rep. Mark Sanford
American Apparel CEO Dov Charney
The Voice judge Cee Lo Green
NFL Commissioner Roger Goodell
A nude statue of the Pope
The "Jack the Ripper" killings

Average
0 points

You
0 points


Torie Bosch
Future Tense editor
0 points
Answer quickly to earn more points!
Quiz Template by Chris Kirk and Andrew Morgan