Play the Slate News Quiz
With Jeopardy! superchampion Ken Jennings.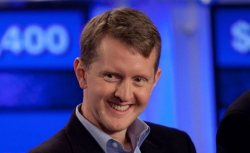 Welcome back to Slate's weekly news quiz. I'm your host, 74-time Jeopardy! winner Ken Jennings.
Every Friday I'll be testing your knowledge with 12 challenging questions on the week's news events, big and small, including happenings in science, sports, politics, and culture both high and low. The questions are multiple-choice, and time is of the essence: You have 30 seconds to answer, and as the seconds tick away, the question's point value drops from 50 all the way down to zero, so you'll want to click on your answer as fast as you possibly can. There's no penalty for an incorrect answer, so feel free to take a guess if your puny human brain fails you.
At the end of the quiz, you'll be able to compare your score with that of the average contestant, as well as to the score of a Slate staffer whom I've talked into taking the quiz on the record. This week's contestant is David Haglund, the editor of Slate's culture blog, "Brow Beat."
Think you can ace my quiz and beat Haglund? Good luck!
Anyone who says that the best things in life are free hasn't been watching the news lately. Last week, a seat next to Leonardo DiCaprio on a Virgin Galactic space flight sold for $1.5 million. A rare 1953 Ferrari sold in Italy for $13 million. And one of the six remaining operational Apple 1 computers sold for $671,000—that's more than $150 for each byte of RAM it came with! Thankfully there are still some small pleasures that are free—like the Slate News Quiz.
Question 1
of 12
In a major speech on May 23, President Obama announced his administration's goal to end what?
Question 2
of 12
Over the weekend, the Institute for Species Exploration announced its top 10 newly discovered organisms of 2012. Which of these was not on the list?
Also getting a shoutout: a fungus that eats cave paintings, the world's smallest frog, and a Malaysian butterfly that was the first new species ever discovered on social media.
Question 3
of 12
On Tuesday, Judge Debra Nelson refused to delay the June 10 start date for whose trial?
Nelson also granted the prosecution's motion that many details about Trayvon Martin's past not be discussed in front of jurors.
Question 4
of 12
JC Penney has sold out of the "Michael Graves Design Bells and Whistles Stainless Steel Tea Kettle" that ignited an Internet furor this week. Why was the tea kettle suddenly so controversial?
The kettle, as advertised on a Southern California billboard, does indeed look uncomfortably like the Fuhrer.
Question 5
of 12
On Monday, Sen. John McCain made an unexpected appearance where?
McCain, an advocate for U.S. intervention in the ongoing civil war, snuck into Syria to meet with rebel leaders near the Turkish border.
Question 6
of 12
What major U.S. city saw severe flooding that stranded hundreds of residents on their roofs due to torrential rains last weekend?
Question 7
of 12
The Pew Research Center reported Wednesday that the primary breadwinners in a record 4 out of 10 American households are now what?
Roughly two-thirds were single moms; the rest just out-earned their husbands.
Question 8
of 12
Why was the founder of the Costa Rica-based Liberty Reserve currency exchange arrested in Spain this week?
U.S. officials believe the Liberty Reserve prosecution to be the biggest online money-laundering case in history.
Question 9
of 12
Which 2012 Republican presidential hopeful announced plans this week not to run for re-election next year?
Bachmann insisted her decision had nothing to do with her re-election chances or an ongoing ethics probe.
Question 10
of 12
Last week, Pakistan issued an unusual new dress code in which government workers are no longer allowed to wear what?
A heat wave has led to nationwide power shortages, and the government doesn't want sock-wearing civil servants to overheat and turn on their office air conditioning.
Question 11
of 12
A 15-year-old Nanjing resident named Ding Jinhao became internationally famous this week for writing his name where?
The teen's parents apologized this week after a photo of the Luxor vandalism became a Chinese Internet sensation.
Question 12
of 12
President Obama's approval rating has held steady despite a growing list of scandals. Last week, Nate Silver and the Washington Post both credited this resilience to what?
You got 8 out of 12 answers correct in 20 minutes 30 seconds.
Answer quickly to earn more points!
May 31, 2013
Anonymous User
Log in to track your scores!
vs.
David Haglund
editor of "Brow Beat"
U.S. reliance on foreign energy
Federal marriage discrimination
A glow-in-the-dark cockroach
A swallow that nests upside down
A monkey with blue genitals
Its Arabic script is from the Quran
It's actually a discontinued toilet float marked up 3,000 percent
Amanda Bynes used it as a bong
Unemployed or underemployed
Thousands of counts of digital piracy
Killing three women in a DUI
Money laundering of $6 billion
Smuggling arms into Nigeria and Yemen
On an ancient Egyptian temple
On more than 75,000 gingko leaves
On his newborn baby brother
The popularity of Obamacare
The troop drawdowns in Iraq and Afghanistan
The return of Arrested Development
Average
0 points
You
0 points
David Haglund
editor of "Brow Beat"
0 points
Recent Quizzes
Loading your quiz history...
←
→
Quiz Template by Chris Kirk and Andrew Morgan