Dispatches From the Democratic National Convention
In Charlotte, Democrats will strive to sound optimistic—without seeming clueless.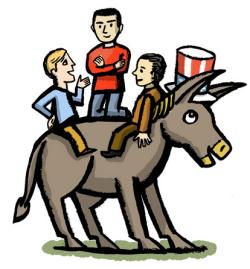 I'm glad you made it safely to Charlotte. Now we wait for the rain. The president is scheduled to speak in the elements at the Bank of America stadium on Thursday. Since I got here Saturday, it has rained every afternoon. Rain is predicted on Thursday as well. Hurricane Isaac didn't disrupt the Republican National Convention, but summer storms may interfere with the president's outdoor moment. (In fact, moments ago I got a flash flood warning on my phone.) You're not allowed to bring umbrellas to the stadium, so prudent attendees should probably dress like they do on Deadliest Catch.

The Obama team also seems to have been unprepared for other things that were as predictable as summer rainstorms in North Carolina. Over the weekend they appeared to be caught off-guard by the are-you-better-off question. No one could say "Yes!" and leave it at that. This isn't news, of course. The president is up for re-election in a sluggish economy, so this was always going to be a hard question. Maryland Gov. Martin O'Malley answered "no," which was a little farther in the wrong direction than the Obama folks wanted to go. It's a hard balance to maintain. No Obama surrogate wants to seem out of step with voters who think things aren't better. The majority of responses from the Obama camp were that progress is slow, but at least we're not where we were, which was negative growth and hundreds of thousands of jobs lost each month. Things are better, just not much and certainly not as much as Obama promised. This will be the balancing act that everyone will be trying to maintain all week: Optimistic enough about current conditions to make Obama worth re-electing but not so sanguine that they seem clueless. This has been the issue for the last many months, but when you get everyone in town and ask them the same question you're bound to get different answers. We'll be certain to have this conversation on Friday when the new jobs numbers come out.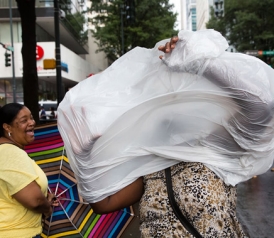 So what is this week going to be about? Choice. You may have heard that before. It's not a referendum. To the extent Obama talks about the past, he'll talk about the hard calls he made despite the fact that they were unpopular. This is what Romney and Ryan say they'll do: take on hard choices. Obama of course has, with the car bailout and health care reform. The political pain he has felt is part of what the Romney team has been avoiding: the pain that comes from offering specifics. So, just as the Romney team wants bravery points for deeds yet to be done (just don't focus on the details), Obama wants bravery points for deeds done (just don't focus on the details). The main argument though, will be about the future. The president will argue that Romney represents policies of the past and that he represents policies for an enduring future.

They're promising specifics. This is where they'll draw a contrast to Romney. I can see how that might work, just as long as the specifics are comfortable ones. There will no doubt be talk about student loans and help with housing and worker retraining and other programs that help people who are hurting. There will be stories of those who have struggled and gotten back up on their feet. The message will be that Obama has a salve for what ails you. Will we hear any talk about shrinking government in a time of scarce resources? Probably not much, I would imagine. Why throw a wet blanket on everything? The weather is already preparing to do that.