Who's Been Most Shut Down by the Shutdown?
Which federal agencies are untouched, and which are ghost towns?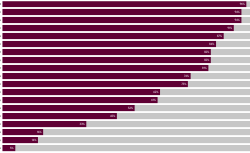 Percent of Workers Furloughed, by Agency
Housing and Urban Development
National Institutes of Health
Small Business Administration
Health and Human Services
Food and Drug Administration
Securities and Exchange Commission
United States Postal Service
* Department of Defense total includes military personnel. Half of civilian personnel have been furloughed.
Source: Washington Post
Congress' failure to pass a budget has led to a federal government shutdown, but some offices are emptier than others on Tuesday because some federal workers are deemed too essential to stop working and certain agencies have independent sources of funding.
Hardest hit by the shutdown are NASA, the Department of Housing and Urban Development, the Department of Education, and the Environmental Protection Agency. These agencies and others have basically gone on life support, with nine out of 10 employees furloughed, according to the Washington Post.
The effect of the shutdown on the Department of Veterans Affairs, Department of Homeland Security, Department of Justice, and Department of Defense is comparatively slight, with less than 20 percent of employees furloughed in each.
The Federal Reserve and the Postal Service will continue operating because they are self-funded agencies, and the State Department has the funding to operate normally and issue passports for a limited time.
For a full rundown of how the shutdown is impacting the services of each of these agencies, head to the Washington Post.
Correction, Oct. 1, 2013: This article originally understated the proportion of employees of the Department of Defense who have been furloughed. About 18 percent of the department's total employees have been furloughed, not 5 percent. This article also originally misstated that 91 percent of SEC employees have been furloughed. The SEC has the funds to continue running normally for a few more weeks.