Trouble in Utopia
India's Auroville was envisioned as an international community free of government, money, religion, and strife. It hasn't exactly worked out quite as planned.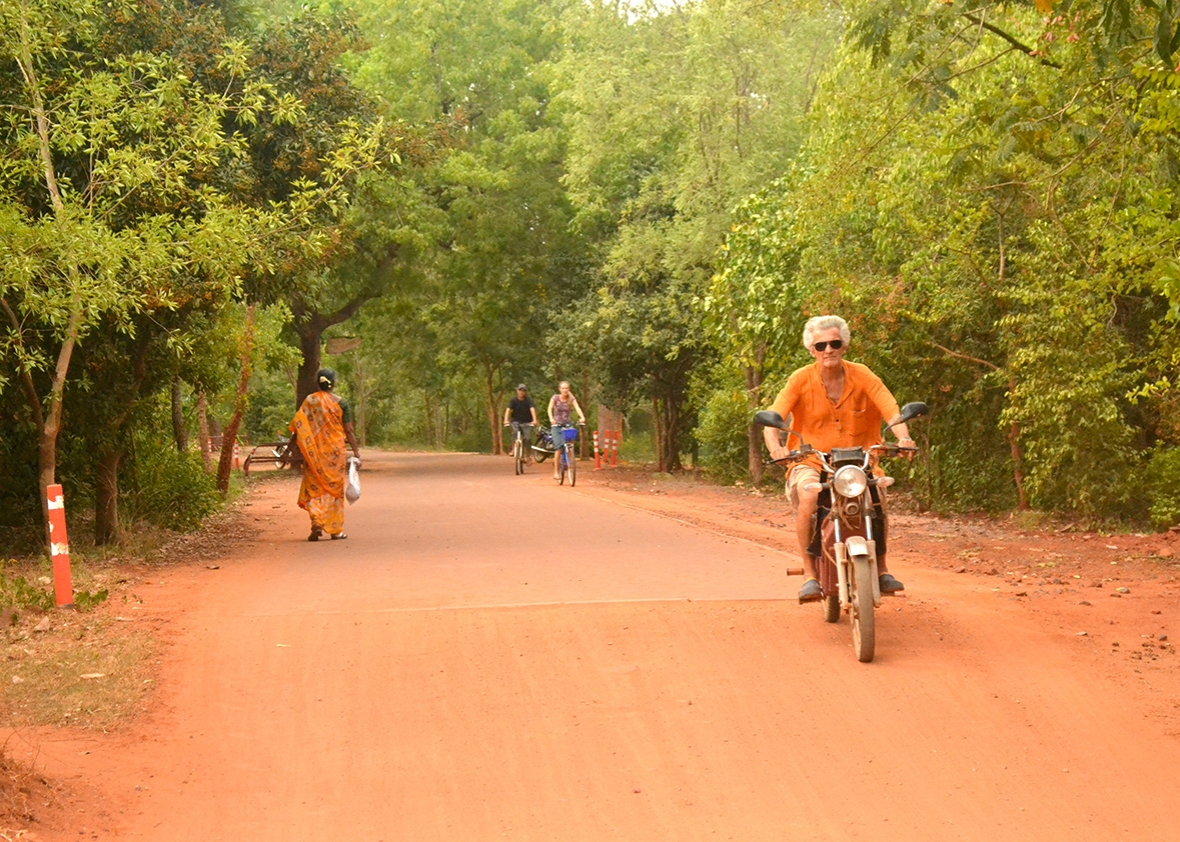 I thought a bottle of red wine would be an appropriate gift to bring to utopia. It was June in Pondicherry, a sleepy beach town off the Bay of Bengal characterized by its post-colonial French influence, and the mid-afternoon heat was oppressive, peaking just above 100 degrees. My clothes were damp by the time I found a liquor store, a grungy hole-in-the-wall shop on the corner of a typically South Indian pastel temple-crammed street.
After a three-hour flight from Delhi to Chennai, and a "three-hour" bus ride from Chennai to Pondicherry that took more than five hours, I'd finally reached the last leg of the journey to the world's largest existing spiritual utopia, Auroville, aka "the City of Dawn."
I called Maha Travels, a taxi service provided to me by my host in Auroville, a woman I'll call Shanta whom I'd found on a website called AuroHost. "I need to go to Auroville," I said over the phone, giving the name of the nearest landmark I could see from outside the liquor store in Pondicherry—a restaurant with the word Auro in the title. (An obsession, if not borderline fanaticism, with the Indian philosopher and spiritual guru Sri Aurobindo has resulted in Auro being plastered across many of the shops and restaurants in Pondicherry.)
Within the hour, a sleek, air-conditioned car was there to pick me up. The taxi driver, a man originally from Tamil Nadu wearing a freshly pressed collared shirt, eyed the bottle of wine. "Please hide this," he told me. He put the bottle in his glove compartment and gave a vague answer about police charging fines for liquor.
I asked if alcohol was allowed in Auroville.
"No," he said. "But no one follows this rule."
We drove in silence for 20 minutes down East Coast Road, a highway jammed with motorbikes, passing brightly colored tea and samosa stalls. In a sharp, 90-degree turn, the taxi lurched off the highway onto an unmarked dirt road where a wall of leafy trees brought the chaos and the color to a jolting stop. And suddenly, we weren't in India anymore.
Auroville was built by hand by the flower-power generation of the 1960s. It was a "psychological revolution," as W.M. Sullivan noted in his book The Dawning of Auroville—a venture in which Marxist-flavored socialism met anarchy. There is no money, no government, no religion, no skyscrapers or expressways, no newspapers with headlines of war, poverty, and genocide. Built for 50,000 people, Auroville today has only about 2,500 permanent residents and roughly 5,000 visitors—self-selected exiles from more than 100 countries. Auroville wasn't just some hippie haven; it was designed to be a poster child for India itself. According to a 1982 Indian Supreme Court ruling, Auroville is in "conformity with India's highest ideals and aspirations." The Indian government donates more than $200,000 to Auroville every year, and UNESCO has protected the township since its birth in 1968.
But for a professed utopia, Auroville has a laundry list of problems; high up on the list are robbery and sexual harassment cases in the non-gated community surrounded by local villages, but there have been more drastic cases of rape, suicide, and even murder.
My taxi snaked through bright red dust roads deeper into the forest, passing shops with Bob Marley T-shirts hung like laundry outside. Dusty signs with vague arrows pointed in different directions toward the "Psychiatric Healing Centre, 1 KM," or the "Centre for Evolutionary Consciousness." The deeper into the forest we got, the more futuristic the signs and buildings became: Contoured, modern glass structures sprung up from hidden crevices in the forest, with names like Aspiration, Certitude, Solitude, Discipline, and Grace.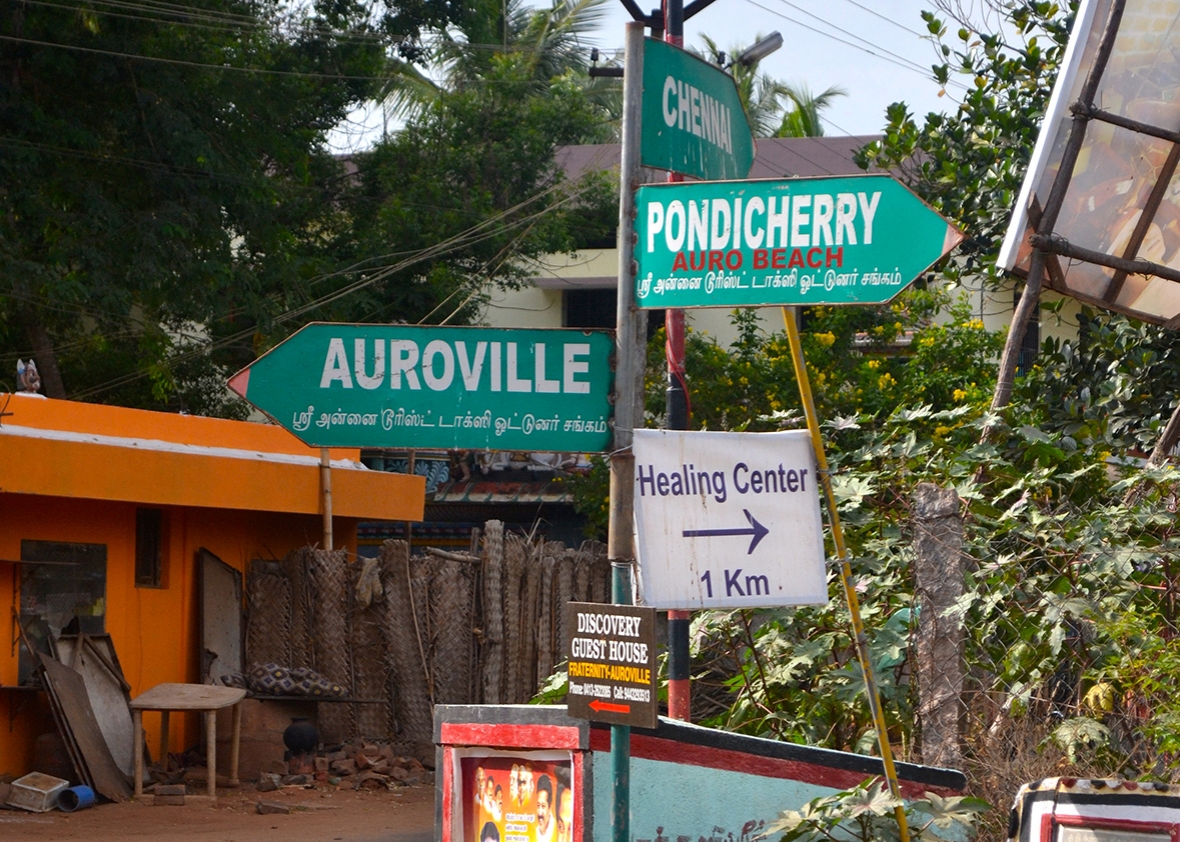 Whether we were driving in a giant circle or a straight path I did not know: The roads were a labyrinth of complicated unlabeled paths and dead ends. Eventually we hit a giant, Buckminster Fuller–esque golden dome that sprouted from the ground.
"The Matrimandir," my driver said, pointing out the window. "The soul of Auroville."
"What is it?" I asked. The building was shaped like a golf ball but seemed to function like an anthill, with clumps of people in tour groups walking toward the center, which was constructed of real gold plates and has a two-story, sterile white interior with a staircase that spirals to the top of a dark and air-conditioned meditation chamber that seats about 100. A few foreigners disappeared inside, while others slipped out. Some lingered cross-legged on benches beneath shady trees, meditating in the blistering heat.
"Place for meditation," the driver explained.
As we crawled deeper into the forest, dotted with mango, jackfruit, lime, and fern trees, a random, dusty sign reading, "Get out of the office" poked from the trees. Soon we reached a small white house built from cement and a wooden thatched roof. A woman appeared at the door with a naked baby in her arms, introducing herself, as most Aurovilians do, by one name: Shanta, my host. She was born in Auroville roughly 30 years ago, and her presence was casual and exceptionally calm. I presented the bottle of wine, which she accepted immediately, if not eagerly.
She gave me a tour of the house in which she lived with her American husband and two small children. It was modest, with two small bedrooms and a bathroom. One of the bedrooms had an air conditioner, and the family huddled around it during the scorching daylight hours.
Upstairs, the terrace had been converted into a makeshift apartment, featuring a room with a bed, a desk, and some candles. There was an outdoor shower and giant solar panel that powered half the house. It was the first solar panel I'd seen in my 10 months in India. And one of hundreds, if not thousands, I'd come to see during my stay in Auroville.
I asked how much it cost to rent the room, a detail that was unlisted online.
"We don't really set a fixed rate," Shanta said. "You have to pay Auroville 150 rupees ($2.50) a night as a guest, and you can pay us whatever contribution you feel is appropriate."
We settled on 300 rupees ($5) a night. Shanta gave me the keys to a rusty blue Mahindra motorbike, and I followed her down the labyrinth of dusty red roads to a place called Town Hall.
I would quickly discover that for an anarchical township, Auroville's bureaucracy rivals that of India itself. Aside from the fact that you had to take your shoes off before entering, Town Hall seemed no different from any other government building anywhere in the world: A swath of administration desks lined the rooms in what felt like a slow-paced newsroom as long lines of customers waited to be called on. Everyone seemed to be wearing the same get me out of here expression.
An Indian woman in a bright green sari greeted me from behind the counter with an uninterested nod. She asked for a copy of my Indian visa, which I'd forgotten to make. I was sent to a separate building around the corner in a room labeled with an 8-by-12 sheet of paper that read, "Photocopy." From where I sat, I could see that Town Hall stretched out in a corridor of two-story glass buildings with labeled rooms for well-established groups like Working Committee, Entry Services, and Outreach Media—groups, I'd come to learn, that were the closest thing to a government in a stateless state.
Back in Town Hall, with a photocopy of my passport, I filled out a standard visa form required by the Indian government. I was sent to another desk, where I paid in cash. The woman behind the counter told me if I left Auroville's premises, even to spend the night in Pondicherry, I had to check out and list my external whereabouts.
I headed out on a quick tour of the "neighborhood," following the red roads down deserted paths to an empty skate park colored with graffiti, a pottery-making barn, a "gym" with a few dumbbells, and a dry field where I'd soon take my daily run. Then I retired to my new apartment above Shanta's home. Exhausted, I dipped beneath my mosquito net and fell into bed at 10 p.m.
Auroville was officially founded in 1968 by Mirra Alfassa, a French woman known locally as "the Mother." Her photo is plastered on nearly every wall inside nearly every home, building, and public space.
The idea for Auroville was inspired by her close—and secretive—relationship with the Indian philosopher and yoga guru Sri Aurobindo. Born in 1872 in Kolkata and educated at Cambridge, Aurobindo started a "Go Home British" campaign in Kolkata. After being imprisoned for a year by the British in 1908, he sought political asylum in the French colony of Pondicherry, and converted from a political figure to a leading spiritual guru. He wanted to awaken the soul of India.
"The nineteenth century in India was imitative, self-forgetful, artificial. It aimed at a successful reproduction of Europe in India," he wrote in his publication Karmayogin in 1909. "If we had succeeded in Europeanizing ourselves we would have lost for ever our spiritual capacity, our intellectual force, our national elasticity, and the power of self-renovation."
The Mother turned Aurobindo's ideas into an international project to "realize human unity and establish an ideal society." On Feb. 28, 1968, more than 5,000 people from 124 countries flocked to what, at the time, was a desolate red desert and a dream. They carried flags and soil from their home countries. The Mother declared Auroville would create "a new consciousness."
She decided who could join by looking them in the eye; many recount meeting her as being a surreal and deeply spiritual experience. If she approved—often in the form of a single rose or nod of the head—the newly ordained Aurovilian was instructed to "go plant a tree." In a few years, the forest formed.
I woke in the heat at 7 the next morning. Aside from an Israeli family living next door, there was no one else around. The jungle surrounding the house was silent.
Shanta's family lived primarily on organic food homegrown in Auroville: freshly baked bread, eggs, millet, vegetables, and banana and mango lassi from fruit in the backyard. Water was carefully conserved in the house; there was no filter, and every day someone had to refill the bottles by driving to the nearby elementary school. They recycled and reused everything, from baby diapers to bottles to feminine pads and an old hair tie that I still use.
I spent hours on the terrace, lying in the shade and listening to the trees in the wind. Shanta brought me a fresh cup of Italian-pressed coffee. I told her Auroville was the quietest place I'd seen in months.
"You have to be careful here, alone," she told me. She was smoking a cigarette, squinting every time she exhaled.
I said I'd heard women can get attacked at night. Auroville has 32 entrances and no fences; women, especially when alone, are vulnerable to harassment. There have been several cases of rape. A few years ago, a young woman from the United States was attacked during a jog the middle of the day.
She shook her head. "The energy here can be really harsh at times. You can get stuck in a dark loop. It's really hard to get out alone."
I nodded vaguely. Energy was a word I'd come to hear a lot in Auroville—an all-inclusive description for good and bad moods, personality types, various anxieties, certain places. In a way, all of Auroville was gauged by energy.
She told me the house where we were staying "had bad energy." Two suicides had occurred there in years prior, and it had been hard to give away. Before the family moved in, they had the energy levels tested with a device that sounded like something from Ghostbusters, and found what Shanta explained as "three vortexes."
"The energy just disappeared," she explained, behind wide eyes.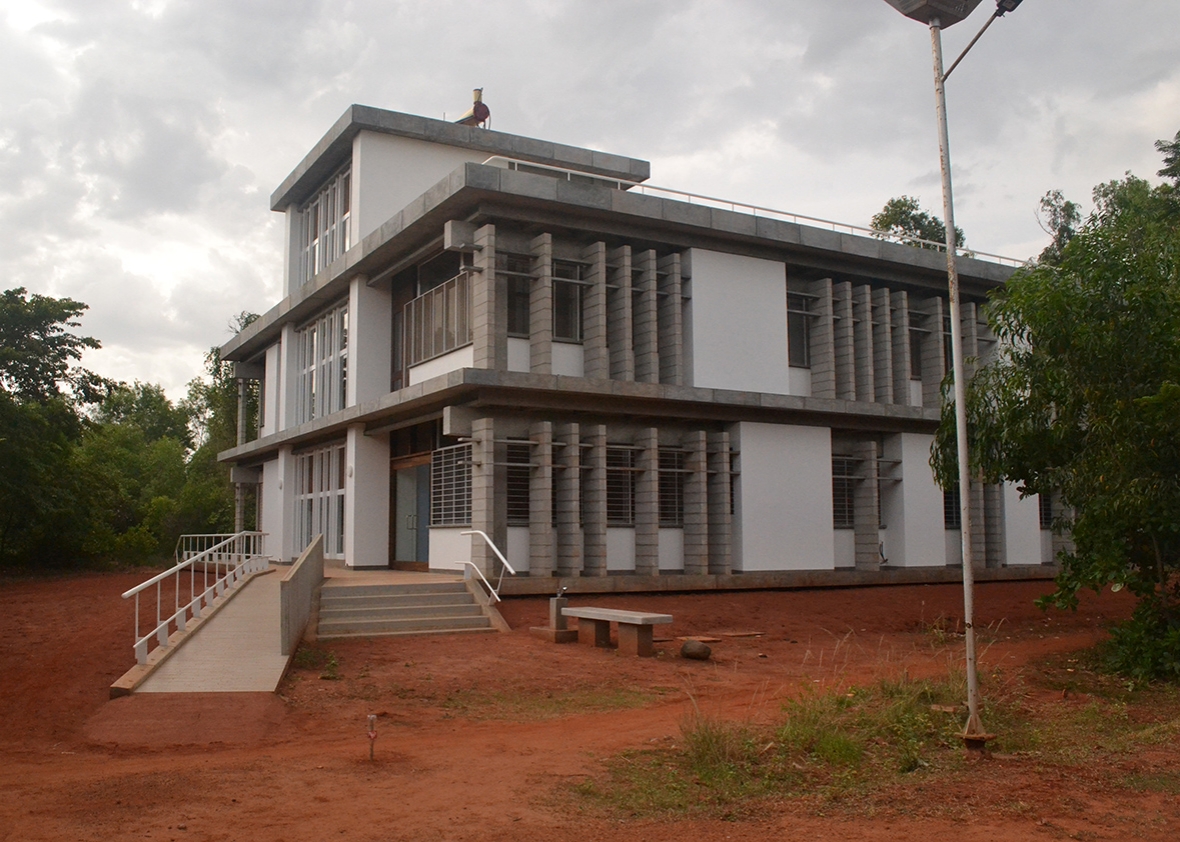 The next morning, amma, the Tamil word for "mother" used to describe daily maids, came. She was a local Tamil villager who cleaned the house and watched the kids. Pretty much every Aurovilian had an amma, and a gardener from the nearby village of Villupuram, Shanta explained. It was a way for the wealthy township to employ the local villagers.
That day I decided to take the sputtering motorbike I had rented out on the red roads to explore and get lost, the only way to properly orient oneself in a new place.
My landmarks soon became the shapes of trees and the varying colors of the dirt: Buildings were tucked away and not visible from the road. I was staying at the heart of Auroville, which actually meant the opposite of what it would in most new places—the deeper you go inside Auroville, the more deserted it becomes. Most of the actual shops selling food, coffee, and clothes lay on the outskirts, outside of what is referred to as "the green belt," a cylindrical, invisible barrier that marks the official parameters of Auroville.
I found a bakery called Ganesh that made fresh sesame bread every morning and was a hub for food and fast Wi-Fi inside the forest. Foreigners in dreadlocks and dhotis—a single piece of cloth worn by most Indian farmers—congregated under fans outside, smoking cigarettes and thumbing through Facebook on cellphone screens.
Posted outside was a bulletin board with fliers from April and May advertising leftover events: Nirvana Yoga Dance, Brazilian Dance Fighting, Improv Theatre, African Culture Fundraisers, and intensive Hindi and Italian lessons. The only event I found that was ongoing was a weekly discussion on the integral yoga of Sri Aurobindo.
I asked the bakery owner, an unsmiling Indian man, why there were no events in June. "Everyone leaves in the summer," he told me. "It's too hot." He explained that most of the foreigners leave for a few months, sometimes for half a year, to return to their home countries to see family and, more importantly, earn money.
Inside, the bakery was full of visitors—young foreigners who had come for a few months, or for some a few years, to farm and meditate. Most I met were exceptionally warm-hearted, friendly, and lost; lonely in the particular way of those searching to belong somewhere.
Though a place to actualize "human unity," Auroville is also a place for a rare and dedicated breed of introspection; a space established primarily to worship the "divine consciousness"—a slippery term that, as a young German visitor I spoke with inside Ganesh bakery explained behind closed eyes, "you just feel." She told me that she'd come to Auroville because she felt stifled in the West.
Another woman I met from America told me that she'd moved to Auroville because everything in the States "just feels really fake." She was on the waiting list to become an Aurovilian, a two-year process that requires applicants to prove they are self-sustainable and dedicated to the cause. Applicants are not allowed to leave Auroville for two years and must work for free as a contribution to the township. After two years they face the Entry Services, a small group that reviews applications and ultimately decides who can become an Aurovilian. An Aurovilian from Germany who worked for Entry Services told me her primary job was to weed out what she called "the cuckoos." I didn't ask what that meant.
While Auroville houses a recorded 2,500-odd residents, I was told that the actual number was much higher, roughly 10,000. The waiting list to become an Aurovilian is becoming longer because of a housing shortage.
When I told people I talked to I was working on an article about Auroville, they asked, almost uniformly, if I'd checked in with the Outreach Media Centre—a committee established to monitor any articles, films, and photo essays about Auroville. When I reached Outreach, there was only one woman sitting in the large office, an Aurovilian named Elaine Catherine who was originally from Canada. She was helping a sick friend that day and asked if we could talk at her house; I followed her on my motorbike through the thick forest to her home in one of the first-built settlements of Auroville.
"When you start to scratch the surface of Auroville, it's a lot more ugly than from the outside. You start to see all the problems here, and it's deeply layered," she told me in the backyard of her house as we sipped fresh juice from limes she'd picked in her backyard. "The reality is a lot more different once you're a part of it."
She recounted nightmarish accounts I'd never imagined could have existed in Auroville; one in 2010 involved a bloody murder where a local villager was decapitated by gang members from Kuilapalayam, the village that borders Auroville, over an unresolved dispute. His head was dumped inside Town Hall. The gang was caught and incarcerated, Elaine told me, and there have been no incidents since.
I'd stumbled upon other cases of murder: A young Dutch man named Sydo, who was an outspoken advocate for increasing Auroville's safety standards, was brutally murdered by Kuilapalayam villagers living on the outskirts of Auroville who were trying to rob him. Auroville now employs local security guards, but the forest is vast and they are able to cover only main intersections. I was strongly encouraged not to go out alone at night.
Elaine came to Auroville first as a volunteer, and then quit her corporate job to move to the township permanently. She was the first Aurovilian I'd met who spoke completely openly about Auroville's problems; one being that neighbors did little to help one another. "I broke my arm, and my friend from Pune had to fly down to help me," she said.
In spite of the dangers, she's chosen to stay, alone, in Auroville. "I didn't choose this path, it chose me—for now!" She wrote to me later. "I believe in the dream and trust I can help manifest the creation of the Township."
But the bigger problem, she explained, was the question of who controlled the money in a "money-less" society. "I paid 31 lakh (roughly $48,000) to the Housing Committee as a mandatory donation for my house five years ago. Later I found a photo of the house in an architecture magazine, and saw it had been sold for 13 lakh ($20,400). I don't know where that money went. I don't know who controls the funds," she explained to me, with a hint of frustration.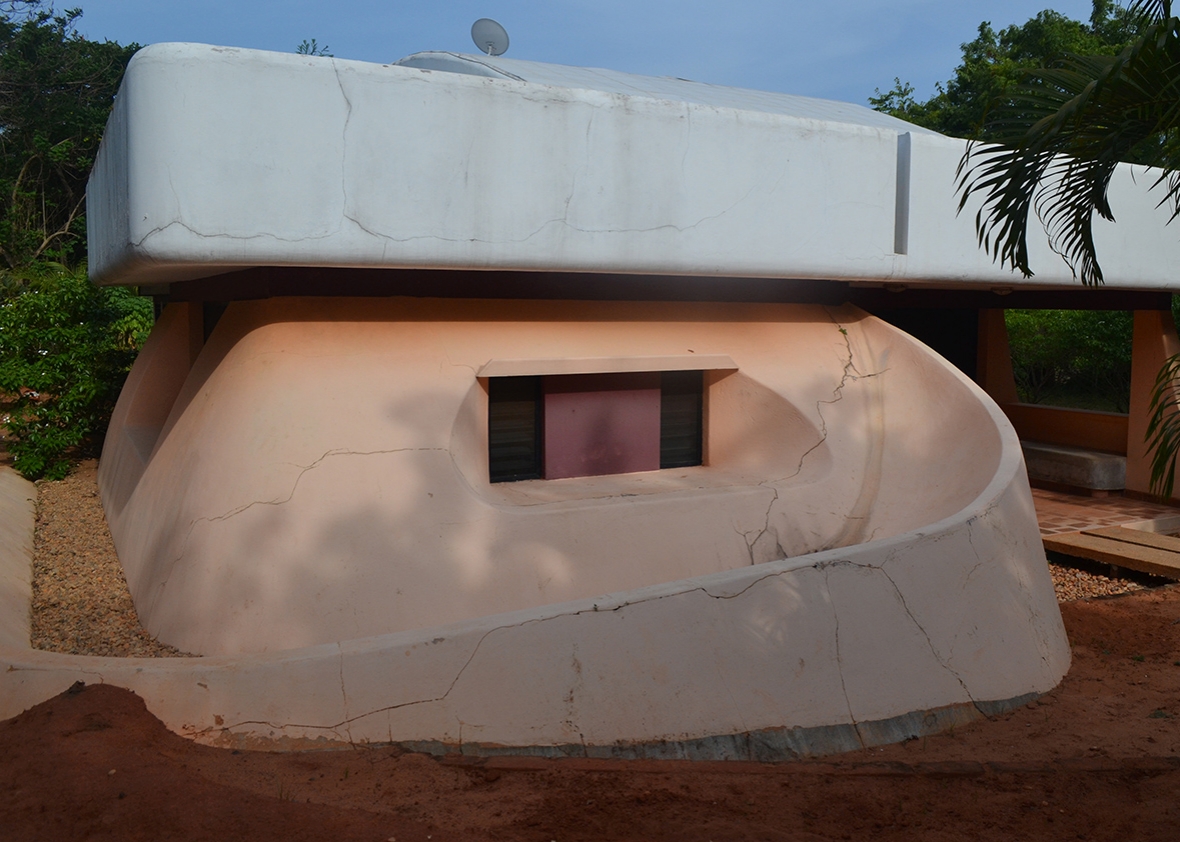 I couldn't figure out who controlled the funds either. Although Auroville doesn't have a self-sustaining economy—most Aurovilians either come in with savings or leave for a few months to work in their home countries—Auroville has a lot of money. On top of the steep donations Aurovilians pay to become "stewards" of their houses, the Indian government donates tens of millions of rupees each year. As do private donors, and visitors when they come.
Where the money goes seems to be a central question, but whom to ask is maybe the better question. In lieu of a government, Auroville consists of spontaneous, self-formed committees that loosely run the place: Housing, Working, Women's Safety Task Force, Funds and Assets Management, Entry, International, Green Group, Board of Services. Beneath committees there are subcommittees and councils, startups and private groups, volunteers, and visitors. Elaine referred me to a group called the Unity Fund, but after several attempts to get in touch, no one would respond to my inquiries.
The government of India also employs a permanent "secretary" of Auroville, a man named Srinivas Martin, who agreed to meet with me. But an hour after I arranged the interview, I was contacted via email by the Media Centre and told that he was unavailable for interviews. Other groups, like the Working Committee, wrote a similar response to my inquiry: "We are too busy and unable to meet."
No one seemed able to answer the question of who controlled the funds; I was told to check the website, which has a child-friendly pie chart with the percentages of money donated. Nowhere does it state the actual numbers.
Still, most Aurovilians aren't interested in the question of who controls the funds. After all, Auroville isn't supposed to have currency—a principle the township is still trying to enforce.
When I arrived I was forced to buy (with cash) an Aurocard, and told to use it in shops and restaurants around the township. It was a bit like a meal card in college: If I lost it, I would have to pay a $10 fine (in cash). But the idea hadn't quite caught on. The first shop where I tried my Aurocard asked for cash instead. As did the second. When the third asked for cash, I asked why the Aurocard existed. The shopkeeper shrugged uninterestedly.
Most Aurovilians I met didn't seem bothered by money. They were artists, spiritual dreamers, eco-farmers, and creative adventurers. They moved into a world that allowed them to forget the real one.
At a café on the outskirts of Auroville one day, I met a French man who called himself Pavitra. He was Aurovilian, and had been living in Auroville on and off since the '80s.
He told me that the day before he had slept for 24 consecutive hours. He explained that he was obsessed with remembering his dreams. In the most recent one, he recounted, he was floating in outer space, slowly cascading back to a giant glowing Earth.
"Maybe I left my body last night," he smiled. "Who knows?"
He gave me a tour of his house: a gorgeous two-story room under a thatched roof with a bookshelf as high as the ceiling. We drank real French coffee and chewed on fresh dates. He told me he was making his way through the Star Wars series for the first time in his life. We began to discuss spirituality and consciousness.
I asked him if he used the Matrimandir, the giant dome I'd passed every day that sits at the heart of Auroville. I'd tried and failed twice already to get inside—both times I tried to register, the office was closed—and I was desperate to see what lay inside the "heart of Auroville."
"Maybe once a month," he shrugged. He explained it had mostly become a place for visitors, but offered to take me. Visitors can skip the bureaucratic nightmare of signing up for guided tours if they are accompanied inside by Aurovilians.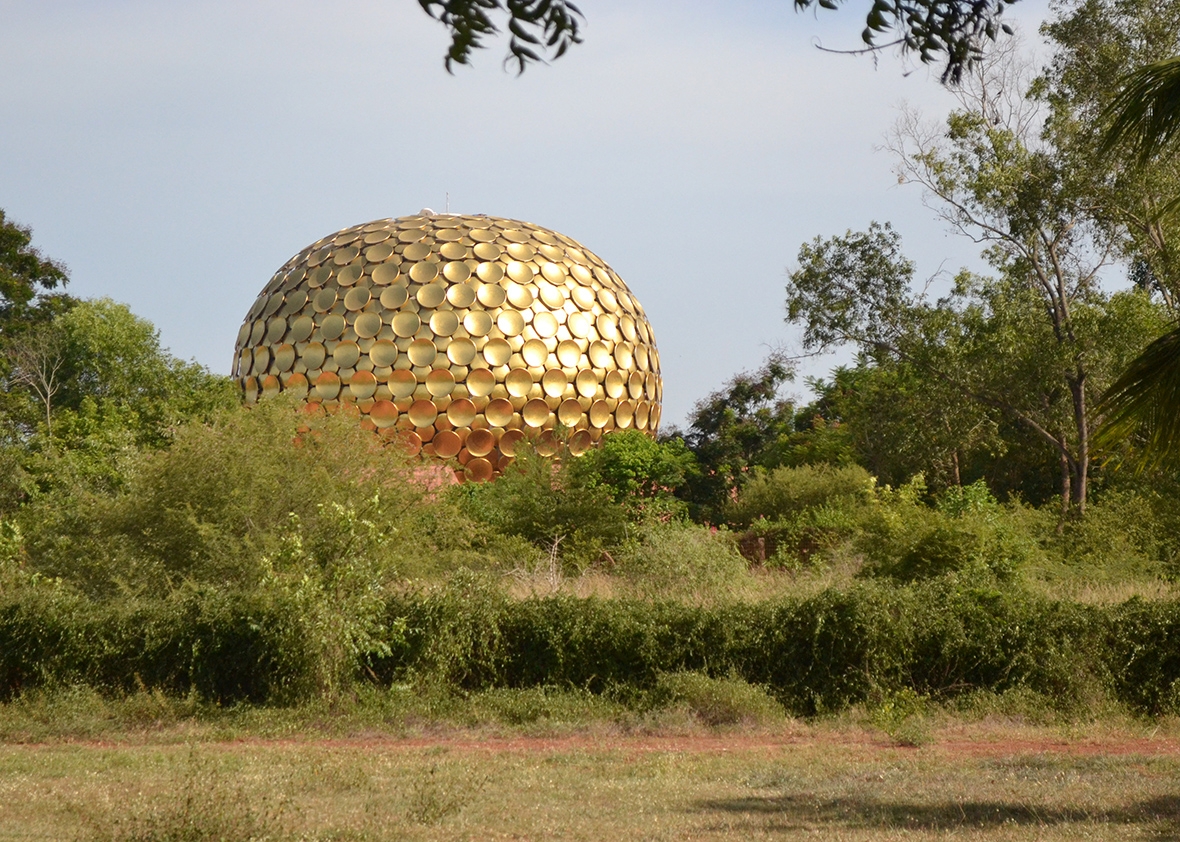 He arranged a visit for me at 8:30 a.m., and we walked in circles around it, waiting to go inside, conversing in Franglish for fun. Already dripping in the blazing June heat as we waited our turn to enter, I started to wonder if it was worth it.
Although Auroville insists upon its secularity, the ideals of the township are dogmatically and fundamentally "spiritual." The Matrimandir, it seemed to me, was like any other religion's place of worship.
Inside, I realized the visit was a good decision. The interior glowed with a dark bronze shadow from the gold and was constructed from white marble; it was futuristic, bizarre, and confusing. The only visible light was a single ray of sun, piercing the bottom of the dome. I walked, in white socks handed to me by a silent foreigner guarding the doorway in a white kurta, up the spiraling ramp to the inner chamber, a dark room with meditation mats and a large crystal ball at the center. I sat alone with the sliver of sunlight for 45 minutes. This was where the dreamers came to dream.
Built in the '70s, the Matrimandir is still a symbol of what Auroville is all about: "Your inner world," an Aurovilian named Clare Fanning, an American in her late 60s, told me. We drank black tea and ate Indian chikki in her light-filled apartment in one of the oldest colonies built in Auroville, a place named Acceptance. "Five hours a day is what you're asked to give Auroville," she explained. "The rest of the time, you give attention to your inner world."
Fanning was one of the first to arrive and help build Auroville, a product of a generation filled with restless, idealistic youth attracted to metaphysics and spirituality. "We were trying to create a better world, not necessarily for ourselves, but for the next generation," she said.
Fanning found Auroville from a flier she received from the Theosophical Society while living in Bordeaux, she told me, and soon afterward she packed up her life and moved. There she met her first husband, a French man. He had discovered Auroville while on a road trip from Paris to Beijing; someone told him about the township while he was stopped at the Tibetan border.
At the time, Auroville was a giant arid desert and an idea. Most who came had nothing and lived off nothing. The plan was to build it all from scratch. "Our first home in Auroville was a hole in a polyester shed with a single cupboard," Fanning said. "Eighty percent of us in the beginning had nothing."
She was one of the few Aurovilians left to have known the Mother personally. I asked if the Mother possessed the supernatural qualities I'd so often heard her spoken about her.
"Oh, she would consciously leave her body often," Fanning mentioned casually. "She was trying to create a golden tunnel for the soul to pass through."
Fanning had been in Auroville since the beginning, and had chosen to stick around. I wanted to know what, if anything, kept Auroville together. What bound what seemed to me to be a dysfunctional and oxymoronic township together?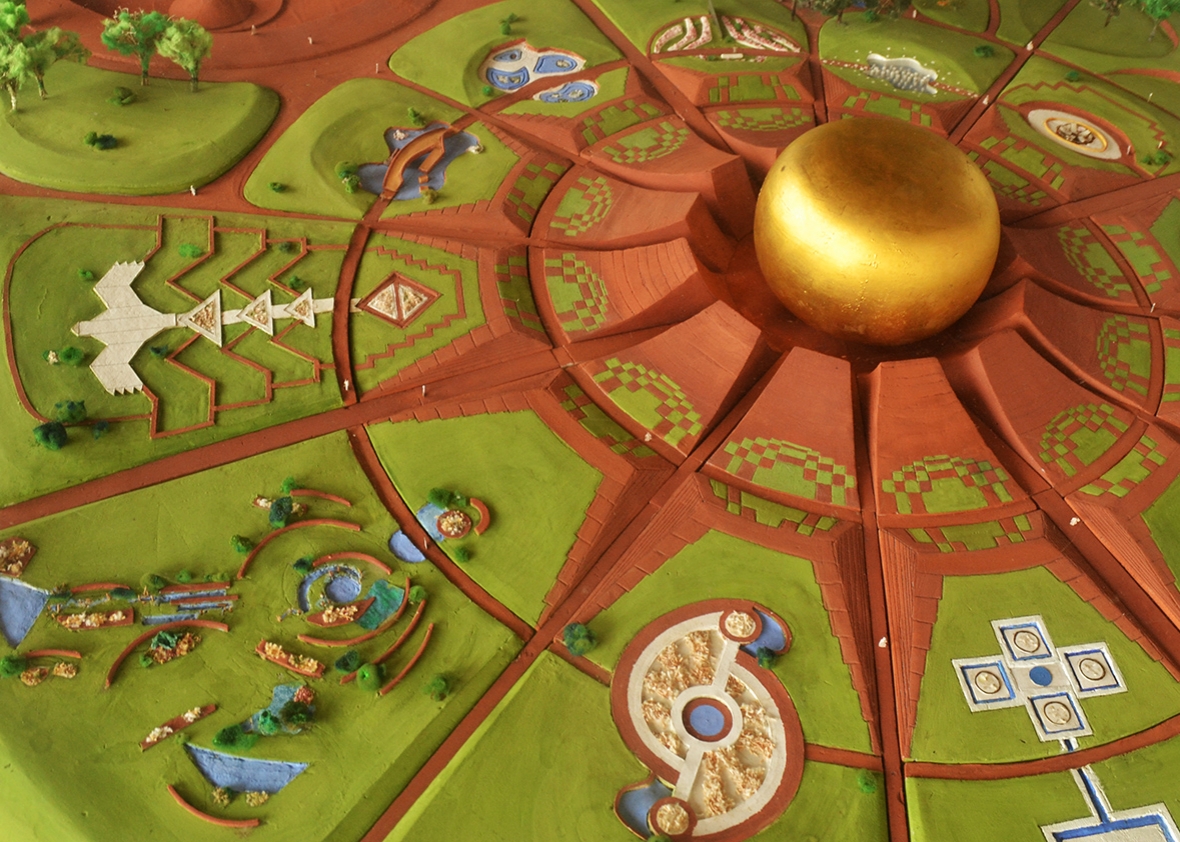 "The Charter, the Charter, the Charter," Fanning told me. "The Charter is everything."
Inscribed on a lotus urn next to the Matrimandir, Auroville's Charter states the original vision, the original dream:
Auroville belongs to nobody in particular. Auroville belongs to humanity as a whole. But to live in Auroville, one must be a willing servitor of the Divine Consciousness.
Auroville will be the place of an unending education, of constant progress, and a youth that never ages.
Auroville wants to be the bridge between the past and the future. Taking advantage of all discoveries from without and from within, Auroville will boldly spring towards future realizations.
Auroville will be a site of material and spiritual researches for a living embodiment of an actual Human Unity.
I started to feel, wandering the empty roads on my motorbike, that Auroville's problems were looking like an endless list of Sisyphean tasks: a limited supply of water, an unsustainable economy, tangles of bureaucracy, secreted money, and no way to keep record of it all. But a lot of innovative stuff was happening as well. Half of Auroville is run on solar panels; there is organic farming, spontaneous art and theater shows, free education, and, in whatever private capacity this means, an allocated space to further one's own consciousness.
But by the time I left Auroville after two weeks, I was craving the brashness of Indian traffic and the clutter that comes with being a part of a society; the shouting and bargaining, the accessibility to shops and people and conversations about what was happening in the world.
When I arrived back in Pondicherry, I began talking with a bar owner there about Auroville. Originally from Delhi, he told me he'd spent some time in Auroville, mostly, he admitted, because he was chasing a girl.
I asked him what he thought of Auroville.
"That place," he waved his hand at the ground. "They're all looking to be cured. The ones who are cured, they leave. The rest, they're stuck."
"Cured of what?" I asked.
"That," he responded, "is the question."
Correction: A photo caption in this story originally misidentified Auroville's Integral Health Center as a guest house. The story also misidentified Auroville's Entry Services office as its Selection Committee.