Pickett's Charge
In a 1971 CBS News clip, Vietnam vet Delmar Pickett Jr. describes an airport spit incident.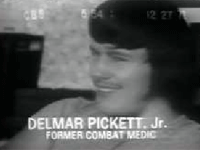 Were veterans spat upon as they returned from serving in Vietnam? When Holy Cross College scholar Jerry Lembcke studied the allegations for his 1998 book Spitting Image: Myth, Memory, and the Legacy of Vietnam, he found no evidence to back the claim.
Since 2000, I've been using this column to track Vietnam vet spit allegations as they appear in the press, and have found nothing that contradicts Lembcke's basic assessment. On Jan. 30, when I wrote a column criticizing a current Newsweek story that offhandedly asserted that vets had been spat upon as if it was established fact, I asked readers to forward to me accounts from the Vietnam era they found reliable. On Feb. 5 and Feb. 12, I published pieces that looked at newspaper stories everybody's research had unearthed.
The news stories undermine Lembcke's belief that the spat-upon-returning-vet meme didn't really start circulating until about 1980, but none documents a spit incident with any specificity. I still believe the stories deserve the "urban legend" status assigned to them by Lembcke.
But a spit tip offered by reader Kevin Bowman proves difficult to dismiss. Bowman sent me a link to the Television News Archive at Vanderbilt University that describes a segment about returning veteran Delmar Pickett Jr. from the Dec. 27, 1971, edition of the CBS Evening News. The abstract to the segment reads:
Headline: Vietnam Veteran

Abstract: (Studio) January, 1971, report on medics in Vietnam recalled; retd. medic featured.

REPORTER: Charles Collingwood

(Manhattan, Kansas) Delmar Pickett, Junior, hero, returns from Vietnam, finds US indifferent to war; vets' unemployment high; returns to school at Kansas State University as better student than before Vietnam experience. [Student Gwyn STEERE - speaks of Pickett's modesty.] [Vietnam film from earlier feature shown.] Pickett home is in Olsburg, Kansas. [PICKETT - tells of being spit on in Seattle, WA.] Disillusioned but not downed by Vietnam experience. [PICKETT - tells of experience as medic in Vietnam.] [Father Delmar PICKETT, Senior - says son more settled.] [MOTHER - says son a much better student than formerly.] Drugs no problem for Pickett. 2 1/2 million Vietnam vets.

REPORTER: Morton Dean
I ordered the CBS Evening News segment from Vanderbilt and have excerpted the most relevant half-minute from it so it can be viewed here.
Much-decorated Delmar Pickett Jr. has returned to Kansas after two years in Vietnam and is now attending a state university. The segment reprises parts of a January 1971 CBS News dispatch about Pickett's service as a medic in a combat zone, so there can be no doubt of his service. CBS News correspondent Morton Dean reports both segments.
In voice-over, Dean says:
Minutes after arriving back in the states on the West Coast, he got the feeling that no one really cared about where he had been, what he had done.
Man, I got into the airport and these two dudes walked up—one of them spit at me.
Later, Dean reports that the spitting took place in "Seattle."
Oddly, neither Dean nor Pickett provide the context to help viewers judge whether the alleged spitting was an unexpected outrage or a common "welcome home" rained down on vets. Pickett is described as formerly "hawkish" on the war, but now thinks U.S. involvement makes no sense, yet he doesn't come across as a peacenik. His biggest complaint doesn't seem to be the spit incident but about the war apathy he faces. "Nobody really cares" about war, he says, and "nobody seemed interested" in what he did there. He calls U.S. troops in Vietnam a "forgotten Army."
If Delmar Pickett Jr. is still alive, he would be about 59 years old. If you know of Pickett's whereabouts, have him drop me a line at slate.pressbox@gmail.com. I want to hear more about the Seattle spit take. (Addendum, March 7: I've now spoken to Pickett. See this piece for more.)
(E-mail may be quoted by name unless the writer stipulates otherwise. Permanent disclosure: Slate is owned by the Washington Post Co.)