When Super PACs Attack
Watch the money fly as they spend millions to tear down or bolster the candidates.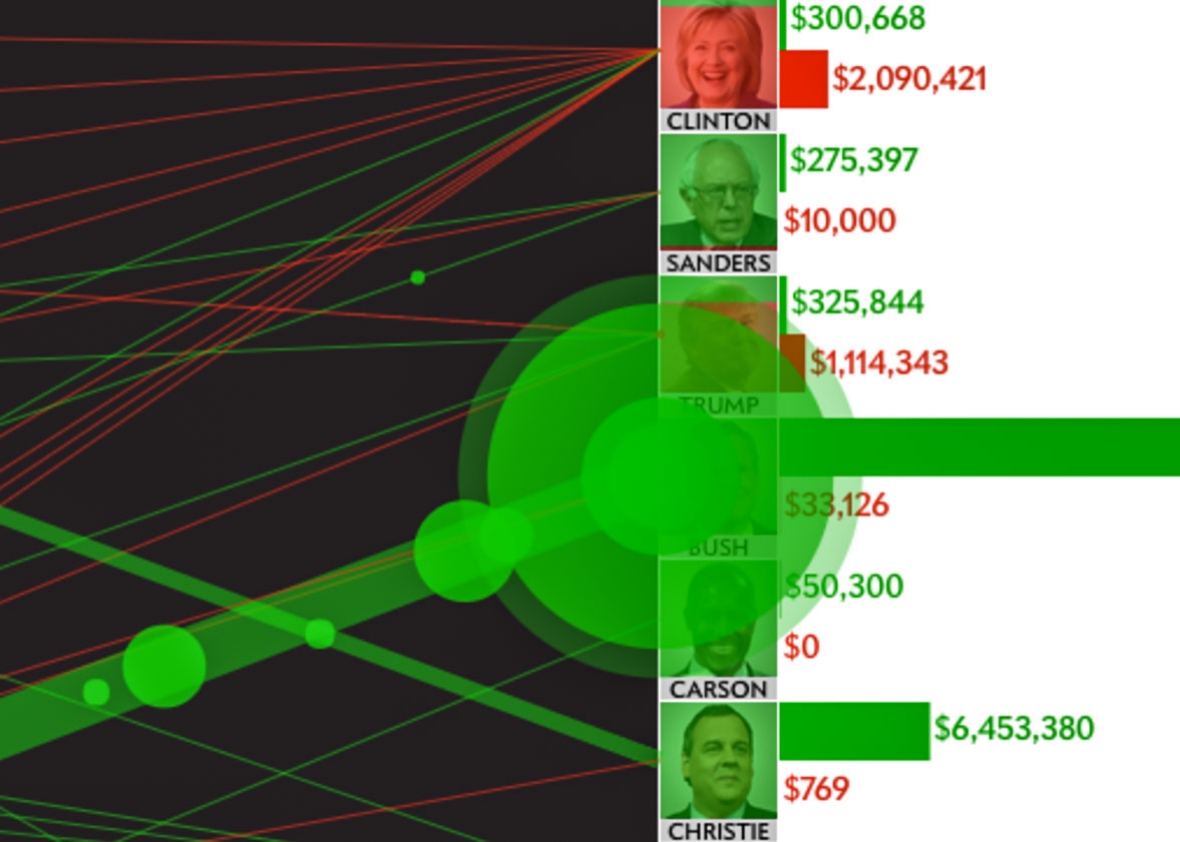 Update, Feb. 3, 2016: The Iowa caucuses have finally come and gone, and the super PAC wars continue. What the results in Iowa make clear, though, is that super PAC spending alone doesn't ensure votes. Although Jeb Bush's leading super PAC has burned through tens of millions of dollars in his name, he came in sixth, behind even Rand Paul (who has since dropped out) and earned only one delegate. Other candidates who have had comparatively strong super PAC support, such as Govs. John Kasich and Chris Christie, earned one and zero delegates, respectively. Even so, expect many more millions to be spent before the primary season is over. We've updated the interactive below to show data through Feb. 1 and will update it regularly throughout the season.
Original article, Nov. 17, 2015: American voters won't cast their ballots in presidential primaries until next year, but super PACs have already spent nearly $63 million influencing this election. In the interactive below, we've illustrated this electoral money war for some of the biggest (and best funded) candidates. Each blob that flies across the screen represents a chunk of money a super PAC spent to either attack (in red) or bolster (in green) the target candidate. Small blobs represent small purchases, such as online advertising and press releases, while big blobs represent bigger buys, such as TV ads. Pause the interactive and click a blob to learn more about the expenditure it represents.
Interactive by
Chris Kirk
. Sources: Federal Election Commission, Real Clear Politics. Data last updated on Feb. 1, 2016.
To see the full interactive, visit this page on a larger device.
Super PACs can accept limitless donations from virtually anyone and spend unlimited amounts on political advertising, as long as they do not coordinate with a campaign. Although super PACs must eventually disclose their donors, they can accept cash from "dark money" organizations, which aren't required to reveal their backers. Nearly 40 people have donated more than $1 million each to super PACs in this election season already, with three donating $10 million or more.
As the interactive shows, multiple conservative super PACs have been steadily barraging Hillary Clinton since April. But it's also clear that money alone can't win the White House—just ask Jeb Bush. Since his poll numbers started to sink, the pro-Bush super PAC Right to Rise USA has spent $32 million trying to inject new life into his campaign, but to no apparent avail. Gov. Chris Christie, Gov. John Kasich, and Sen. Rand Paul have received millions in super PAC support but lag behind the others in the polls. Leading the pack instead is Donald Trump, the target of the most negative spending among the Republican candidates, and Ben Carson, who has seen comparatively little super PAC support. Meanwhile, Sens. Marco Rubio's and Ted Cruz's poll numbers continue to rise even as their super PACs, which have raised tens of millions of dollars, hold their fire. (Only a single expenditure about Carly Fiorina, not shown, was filed: $6.33 for "Copywriting for email communications," filed by a super PAC supporting Planned Parenthood.)
This is only the beginning. In 2012, outside groups spent $653 million influencing the presidential election. Slate will continue to update this interactive throughout the election.
A few caveats: PACs do not need to report expenditures on any communication that cost less than $10,000, though some do anyway to play it safe with the confusing election laws. The graphic does not, therefore, show all super PAC spending, but it does capture major media buys. Also not shown here is spending from dark money groups, known legally as 501(c)(4) or 501(c)(6) nonprofits. They can do more than just funnel funds into super PACs; they can also raise unlimited money from anyone and spend unlimited money running political ads as long as the nonprofits' political activities do not comprise the majority of their spending and as long as their ads are "issue" ads that do not explicitly tell people to vote for or against a particular candidate—although such ads often blatantly smear or praise politicians. These groups never need to disclose their donors, and unlike super PACs, they disclose their expenditures only through their tax filings, which often become available after the election ends. In the 2012 election cycle, these groups accounted for 37 percent of independent spending across all elections.