The Aging World
The world's oldest populations, mapped.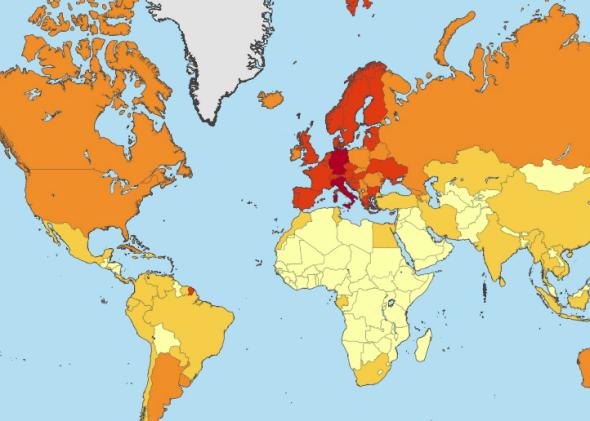 The Aging World
Percent of population 65 or older
Less than 5%
5% to 10%
10% to 15%
15% to 20%
Greater than 20%
No data
In a recent Simpsons episode, a Japanese tourist moves in with Comic Book Guy, infuriating her father, who exclaims: "Daughter, you are coming back to Japan; there are 87 old people who need you to take care of them!"
Japan's exceptionally old population—23 percent of it is 65 or older, the largest percentage in the world and almost twice the U.S.'s—may be American joke fodder for now, but we won't be laughing for long. In the next four decades, the populations of the U.S. and most other developed countries are going to be as old as Japan's current population, according recent U.N. data.
Increasing longevity and decreasing birthrates together will mean a smaller working-age population must support a growing retired population. That, in turn, may lead to higher taxes on the workforce and reduce capital available for investment elsewhere, cause recessions, and slow recoveries. In the U.S., where the 65-plus population is expected to hit 21 percent by 2050, spending on Social Security, Medicare, and Medicare is expected to double in the next decade alone.
It's no surprise, then, that Japan, where adult diapers are set to start outselling baby diapers, is seriously worried. Some European countries are already grappling with the problem as well. Italy, where people 65 and older account for a fifth of the population, spends more than any other European nation on caring for its old people, equal to more than half of total social spending. Germany has gone so far as to send some retirees abroad to receive long-term care as a way to reduce the immense costs of caring for its aging, dwindling population.
For these, the oldest populations, the aging problem will only get worse in the next few decades, according to the U.N. data. In Japan, Italy, and Germany, the 65-plus population will account for a third of the total population by 2050, and Spain will join their ranks. Fortunately, the U.S. population will age more slowly than many others due to a high rate of immigration.